Types of Cooking Education Degrees in Washington, D.C.
Washington, D.C. is a world-class city that draws visitors from around the globe. It is no surprise that the wine and food industry in the city is diverse, vibrant, and first-class. Opportunities abound for culinary arts practitioners from entry-level to presidential chef. Educational offerings in and near the city include the prestigious Art Institute of Washington, part of the AI Cooking School consortium and a variety of colleges and universities.
Degrees and certification in culinary arts
Although you can enter the culinary arts field without education, progression in the profession is greatly enhanced by a firm educational foundation. At a minimum a one- or two-year certificate from a community college gives needed fundamental knowledge and opens employment doors. An Associate of Arts degree has greater weight in the job market. For serious culinary arts students, universities offer Bachelor of Arts degrees that position students for management positions in the field. Online courses, offered from institutions around the country, are designed for those working in the culinary arts field who want to move from the kitchen to management or further hone their skills.
Job market in Washington, D.C. and the nation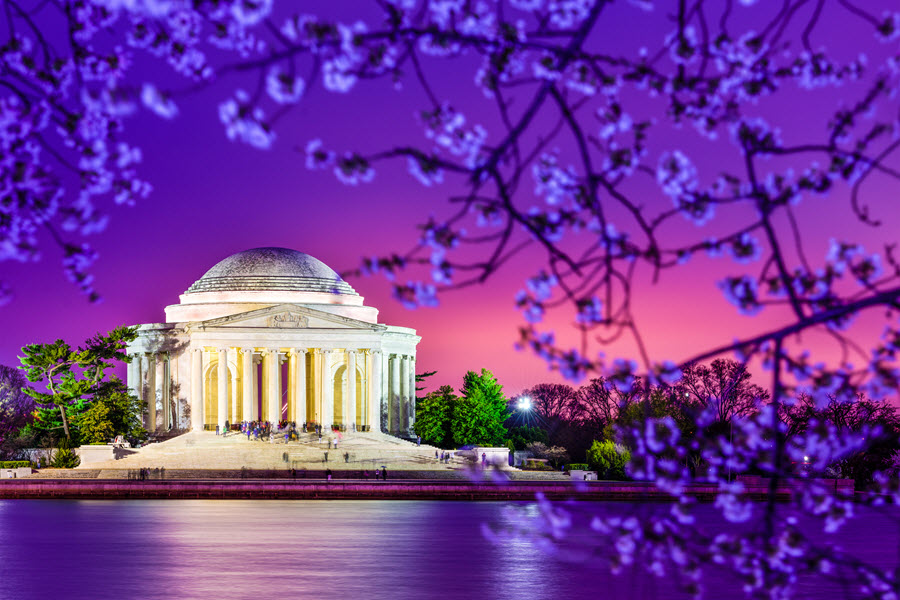 The current growth of the federal government in the Washington, D.C. area brings with it a solid job growth outlook for the culinary arts industry. Nation-wide, more than 50 percent of family food finances are spent eating out. The government projects an 10 percent job growth through 2024. Currently, 4.7 million people are employed in the culinary arts industry. With a national move to healthier foods, the need for well-educated chefs will continue to expand. Specialties to consider for a professional track include: prep-chef, pastry chef, bakery chef, line cooks, sous chef, executive chef, and the top job of regional chef. Restaurants provide 65 percent of the jobs in the field with hotels, convention centers, spas and cruise ships adding further opportunities. A growing number of qualified chefs find employment as personal chefs.
Graduates are likely to find a job they love in any of the thousands of restaurants, resorts, schools, and hotels in Washington D.C. Typical food industry salaries in Washington D.C. range according to position, city, and experience. A waiter/waitress will earn an annual average salary of $49,570; a Registered Dietitian earns $69,030; a first-line supervisor will earn about $45,060; a head chef will earn approximately $65,870; and a restaurant cook earns an average salary of around $35,170.
2019 wage data sourced from the BLS Occupational Outlook Handbook. Current wage conditions in your area may vary.
Selecting a school to meet your needs
Before selecting a school and course of study, carefully determine what career track you want to pursue, then tailor your program to meet that need. Since the heart of culinary arts is food preparation, look for a school with state-of-the-art cooking facilities. A quality program will employ quality instructors who have solid credentials in the field. The instructors should have contacts in the industry that will help you get known and help you get that first job. A valuable part of the education includes  apprenticeships & externships, working off-campus. These programs give you needed experience and get you known. As in any field, education gives basic skills and a foot in the door; a solid work ethic, dedication, and dependability lead to success.
On Campus Educational Programs
The Art Institute of Washington
1820 North Fort Myer Drive
Arlington, Va. 22209
1-800-896-9208
artinstitutes.edu/Arlington
Bakery and pastry diploma
Wine and Spirits and Beverage Management
Culinary Arts
Stratford University
7777 Leesburg Pike
Falls Church, Va 22043
stratford.edu
Culinary arts diploma
Bakery and Pastry Arts
Hotel and Restaurant Management
Hospitality management
ASCISC Accredited
Howard University
2400 Sixth Street NW
Washington, D.C. 20059
202-806-6100
howard.edu
Foods and Nutrition Studies
Hospitality Management
MSACS Accredited
University of the District of Columbia
4200 Connecticut Avenue NW
Washington, D.C. 20008
202-274-5000
udc.edu
Nutrition and Dietetics
MSACS Accredited
George Washington University
2121 Street NW
Washington, D.C. 20052
gwu.edu
Hospitality Management
MSACS Accredited
Online-based programs
American Culinary Federation
The ACF has over 200 chapters in the United States; its main campus is located in Florida
180 Center Place Way
St. Augustine, FL
904-824-4468
www.acfchefs.org
Continuing Education
Chef Certification
Chef Educators
Food Safety Certification
ACFEFAC Accredited
The Art Institutes of Pittsburgh – Online Division
The Ai has over 40 campus locations across North America, plus this online campus
420 Blvd of the Allies
Pittsburgh, PA
412-291-6200
www.aionline.edu
Hotel and Restaurant Management
Culinary Management
MSCHE Accredited
Ashworth College
430 Technology Pkwy
Norcross, GA
770-729-9400
www.ashworthcolleg.edu
Professional Gourmet Cooking and Catering
Hotel and Restaurant Management
DETC Accredited
DeVry University
This University has 90 campus locations in 26 different states
One Tower Lane
Oakbrook Terrace, IL
1-866-338-7934
www.devry.edu
Hospitality Management
HLC Accredited
eCornell
eCornell is an online program and subsidiary of Cornell University, located in New York
950 Danby Road, Suite 150
Ithaca, NY
607-330-3200
www.ecornell.com
Leadership and Strategic Management
Project Leadership and Systems Design
Financial Management
Management Essentials
Human Resources Management
Hospitality and Foodservice Management
Certificate in plant-based nutrition
HRCI and PMI Approved
Johnson and Wales University
JWU has campuses in Providence, Charlotte, and North Miami; its largest campus is in Rhode Island
8 Abbott Park Place, Providence, RI 02903
1-800-DIAL-JWU
www.jwu.edu
Baking & Pastry Arts and Food Service Management
Culinary Arts and Food Service Management
NEASC Accredited
New England Culinary Institute
NECI has two campuses in Vermont; its main campus is in Montpelier
56 College Street
Montpelier, VT 05602
877-223-6324
www.neci.edu
Hospitality and Restaurant Management
ACCSC Accredited
Penn Foster Career School
925 Oak Street
Scranton, PA 18515
570-343-9635
www.pennfoster.edu
Hotel and Restaurant Management
Catering
DETC & CHEA Accredited
Sullivan University
SU has three campuses in Louisville, Lexington and Fort Knox. The main campus for its Global e-Learning program is located in Louisville
2100 Gardiner Lane
Louisville, Kentucky 40205
502-413-8830
1-866-755-7887
www.sullivan.edu
Beverage Management
CCSACS & ACF Accredited
University of Phoenix
This University has campuses in over 40 states, and two locations in Canada
4602 East Elwood Street
Phoenix, AZ
480-968-0587
www.phoenix.edu
Hospitality, Travel and Tourism
HLC Accredited
Explore Local Schools Today
3 Responses to "Types of Cooking Education Degrees in Washington, D.C."
Jessica Cattrell Says:


I'm active duty military and looking for the right online school to get a B.A. in hospitality management and baking and pastry arts. I'm stationed at Andrews AFB and it is close to Washington DC. If labs are needed to be done, I could go to a school in DC. Thank you!

Malika Says:


Hello
I don't see listed the Carlos Rosario Charter school Academy for Culinary Arts, based in Washington DC.
It's fairly new but I would like to know if you've heard anything about the quality of the culinary education they provide?
With Best Regards
M
Have Questions or Feedback?