Information About Becoming an Assistant Chef
Never underestimate the role of an assistant chef in a kitchen – there is a lot of responsibility and the job can be very stressful and time consuming. An assistant chef must work under the direction of the head chef while preparing food, measuring ingredients, and regulating temperatures on cooking equipment.
Training
Most restaurants have a minimum requirement of one to two years of kitchen experience for assistant chef positions. They must train in each area of the kitchen and fulfill a variety of different roles, especially if they ever hope to be promoted to head chef.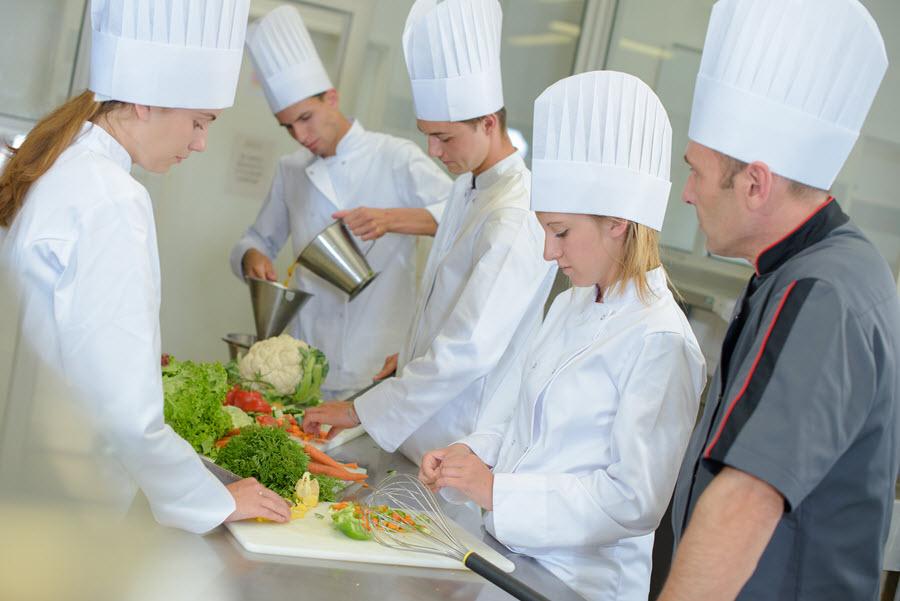 Certifications
ServSafe
Restaurants generally require employees to complete their ServSafe certificate, which can be taken online at servsafe.com. The exam takes approximately 60 to 90 minutes to complete, and costs $95. If you wish to complete in-class training, go to the ServSafe website and type in your city in the "Class Locator" search field.
Assistant Chef Certificate
An assistant chef certificate takes one year to complete, and besides the cost of textbooks, students must also purchase uniforms and knife sets for an estimated $300. These types of certificates are available at various culinary and chef colleges, as well as some community colleges and trade/technical schools.
Diplomas
Another option is to invest in a commercial cooking or advanced culinary diploma program. These programs generally take one to two years to complete, and the cost varies depending on which institution you choose.
Degrees
There are various types of higher-level culinary degrees available, but they tend to be expensive and are not needed in order to become an assistant chef. However, they do provide excellent hands-on training as well as externships in restaurants and other businesses. An associate's degree is a one to two year program, and is generally cheaper than a bachelor's degree, which takes four years to complete. Both degrees are available in most culinary schools, chef colleges and universities.
Jobs
As an assistant chef you could work for any of the following:
Restaurants
Hotels
Catering companies
Private businesses
Homes
Retirement villages
Schools
Hospitals
Prisons
Community Centers
Cafeterias
Fast food restaurants
Cruise Lines
Casinos
Bars
Salaries
The average assistant chef can make up to $10 or $12 an hour, and usually get paid the most working in a hotel kitchen or for a catering company.
Explore Local Schools Today
One Response to "Information About Becoming an Assistant Chef"
John Repasky Says:


I am looking for online culinary school near Cincinnati,Ohio .
Have Questions or Feedback?