Find Culinary Education Training in Miami, FL
Miami may be the city where the heat is on, but the beach won't be the only place where you find the high temperatures. Miami is home to some noteworthy chefs cooking in some of the top kitchens. Want to become one of them? Miami has some noteworthy culinary schools that will provide you the training to become the next star chef. Beinvenidos a Miami.
Choices for Discerning Students
There are plenty of fish in the sea when it comes to culinary schools. Picking the one that's right for you will be much easier with a little basic knowledge. Any culinary program worth its salt will have a fully-loaded, contemporary training kitchen under the guidance of experienced instructors and chefs. Most will also have a restaurant run by students or public dinner nights, giving students the chance to practice what they've learned in a real-world setting. Continuing opportunities for on-the-job training should also be available, including internships and apprenticeships. Finally, make sure your school has services for job placement or support.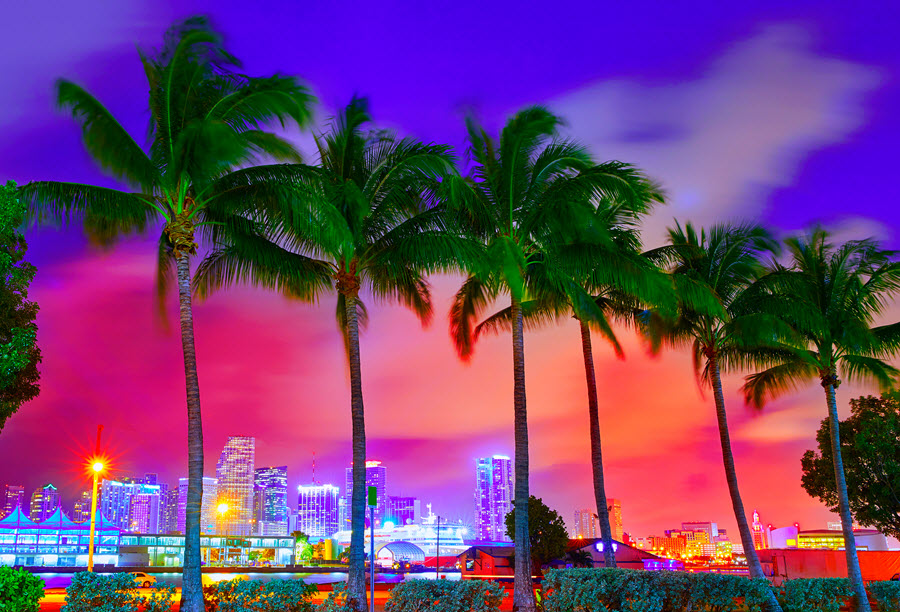 You don't have to be one of Miami's elite to be accepted into culinary school. Most programs have minimum requirements for admission – typically just a high-school diploma or GED. If your school is more exclusive, you may have to prove some credentials, from testing to previous work experience.
Beyond the Traditional Degree
Miami is a fast-paced city that always seems to be one step ahead and setting trends in fashion, music, art and culture. Culinary studies are equally fast paced. A typical degree can be finished in about two years, but there are options for accelerating your studies by finishing a certificate or diploma in just about a year. Some schools offer night and weekend classes, and some even offer hybrid programs that combine online options with traditional course. For those who want to set their own schedule, online programs are available. Video instruction is possible in some cases to learn cooking skills from your home, but most programs offer courses that compliment previous work in the kitchen. If you want to be the manager of your kitchen, not the chef, many more schools offer degrees that can be finished completely online.
What to Expect After Graduation
You'll likely be toiling away long hours in the kitchen before you make it to fame and fortune and your own show on Food Network. Don't worry: There will still be plenty of options to find jobs in respected kitchens for a salary that pays more than peanuts. Your experience will be one of the biggest factors influencing your salary, so you will have to toil for awhile. If you get lucky enough to land a spot at a top restaurant, you'll fare better. Expect to make the best salaries at fine-dining restaurants (the more stars, the better pay), hotels, resorts and spas. Your experience will eventually lead to high-ranking spots and higher pay, as you move from line cook to assistant to sous chef and, finally, top chef.
Graduates are likely to find a job they love in any of the thousands of restaurants, resorts, schools, and hotels in Florida. Typical food industry salaries in Florida range according to position, city, and experience. A Registered Dietitian earns an average annual salary of $62,530; a first-line supervisor will earn about $37,330; a head chef will earn approximately $53,030; and a restaurant cook earns an average salary of around $28,730.
2019 wage data sourced from the BLS Occupational Outlook Handbook. Current wage conditions in your area may vary.
Networking may help you jump ahead a few steps along the way: It all depends on who you know. Help your chances by joining professional networks and attending local food festivals to meet as many industry insiders as you can. You never know where your next job will come from!
Campus-Based Programs
Florida Memorial University
15800 N.W. 42nd Ave.
Miami Gardens, FL 33054
305-626-3600
fmuniv.edu
Dual Hospitality Management
CCSACS Accredited
Florida National University
11865 SW 26 St. Unit H-3
Miami FL 33175
305-226-9999
fnu.edu
Hospitality Management
CCSACS Accredited
Florida International University
11200 SW 8th St.
Miami, FL 33199
305-348-2000
fiu.edu
Hospitality Administration/Management
SACS Accredited
Le Cordon Bleu College of Culinary Arts
3221 Enterprise Way
Miramar, FL 33025
954-628-4400
chefs.edu/locations/Miami
NO LONGER ACCEPTING NEW STUDENTS
Culinary Arts
Patisserie and Baking
Hotel and Restaurant Management
ACICS Accredited
Johnson and Wales University – North Miami
1701 Northeast 127th Street
North Miami, FL 33181-2518
305-892-7000
jwu.edu
Baking and Pastry Arts
Culinary Arts
Baking & Pastry Arts and Food Service Management
Culinary Arts and Food Service Management
Culinary Nutrition
Food Marketing
Food Service Entrepreneurship
Hotel and Lodging Management
International Hotel and Tourism Management
Sports/Entertainment/Event Management
Travel, Tourism and Hospitality Management
Restaurant, Food and Beverage Management
NEASC Accredited
Lindsey Hopkins Technical Education Center
750 NW 20th St.
Miami, FL 33127
305-324-6070
lindsey.dadeschools.net
Commercial Foods and Culinary Arts
COE Accredited
Miami-Dade College
300 NE 2nd Ave.
Miami, FL 33132-2204
305-237-8888
mdc.edu
Hospitality Administration
Travel and Tourism
CCSACS Accredited
Robert Morgan Educational Center
18180 SW 122nd Ave.
Miami, FL 33177
305-253-9920
robertmorganeducenter.org
Commercial Foods and Culinary Arts
SACS Accredited
Saint Thomas University
16401 NW 37th Ave.
Miami Gardens, FL 33054-6313
(305) 628-6503
stu.edu
Tourism/Hospitality Management
SACS Accredited
Fortis College – Miami
7757 W. Flagler St. #230
Miami, FL 33144-2373
305-261-5511
fortis.edu
Hospitality Operations and Management
COE Accredited
Online Culinary Arts Learning
New England Culinary Institute
Hospitality and Restaurant Management, BA
www.neci.edu
ACCSC Accreditation
The Art Institute Online
Culinary Management
www.aionline.edu
MSCH Accredited
University of Phoenix Online
Bachelor's degree in Hospitality Management
www.phoenix.edu
Stratford University Online
Hotel and restaurant Management
Hospitality Management
www.stratford.edu
ACICS Accredited
Sullivan University, E-learning
Bachelor's degree in Hospitality Management
www.sullivan.edu/e-Learning/bach_hospitality.asp
Ashworth College online
Hospitality and Restaurant Management
Gourmet Cooking and Catering
www.ashworthcollege.edu
DETC Accredited
Le Cordon Bleu
Bachelor's degree in Culinary Management
www.chefs.edu
Explore Local Schools Today
One Response to "Find Culinary Education Training in Miami, FL"
Brian scheinberg Says:


I'd like to see what classes you have to take in order to graduate from your school, preferably the order in which you suggest we take the required/ suggested classes separated by semester. Thank you
Have Questions or Feedback?