Find a Culinary Institute of America Campus Program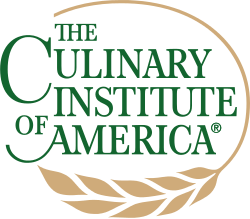 The CIA was the culinary school of choice for many famous graduates, including Anthony Bourdain from the television series No Reservations. This school also organizes various weekend classes, programs, and workshops, such as the annual "Parent and Teen Day."
Programs
Associate's Degree in Culinary Arts
With coursework focusing on nutrition, menu development, and food safety, students of this program could earn their degree in 21 months. Students will learn various writing and communication skills, as well as how to prepare menus, banquets, and international cuisines. Graduates are required to complete an 18-week externship after completing their studies.
Associate's Degree in Baking and Pastry Arts
For this program, students will learn how to create breads, desserts, pastries, and confections. Similar to the associate's degree in culinary arts, this program also takes 21 months to complete. An 18-week externship is also included. Students will learn the basics of cost control and nutrition, as well as how to work with different types of temperatures and ingredients.
Bachelor's Degree in Culinary Arts Management
Besides learning how to supervise staff, students will also learn the basics of marketing and budgeting, as well as food safety and sanitation. At the end of the three-year program, students must complete an externship which will last 18 weeks. Graduates may also choose to attend a four-week food and wine seminar in California, Italy, or Spain.
Bachelor's Degree in Baking and Pastry Arts Management
This three-year program is ideal for students hoping to become an executive pastry chef, bakery owner, or even a chocolatier. Students will learn how to prepare different types of desserts and pastries, and will engage in various liberal arts and management courses.
Associate's Degree for Advanced Career Experience
If you don't want to invest in a three-year bachelor degree, the CIA also offers a 15-month associate's degree program. This curriculum includes international cuisine and nutrition, as well as meat identification and fabrication. Students are required to have over two years of culinary experience, along with letters of recommendation from previous employers. Unlike other programs, students do not have to complete an externship.
Accelerated Wine and Beverage Certificate
The CIA also offers a beverage certificate program which can be completed in 30 weeks. This program is a great option for graduates who have already completed a management degree. After finishing the program, students will be able to identify different types of beverages, as well as how to pair alcohol with food. Graduates will earn an Accelerated Wine and Beverage and Certified Wine Professional Certificate.
Prochef Certificate
This certificate could be a wise choice for those looking for entry-level work in a kitchen and/or restaurant. Students can choose the number of courses they enrol in, so the amount of time it takes to complete this certificate can vary. Coursework includes the basics of nutrition, safety and sanitation, as well as how to work with temperatures and equipment.
Boot Camp Certificate
Culinary impaired and hoping to improve your cooking skills? There are 20 different types of boot camps to choose from, all of which take between two to five days to complete. Some of the many programs available include Mexican Cuisine Boot Camp, BBQ Boot Camp, or even Hors d'Oeuvre Boot Camp.
Campus Locations
Programs vary by campus.
Hyde Park, New York
1946 New Hyde Park Road
Hyde Park, NY 11040
(845) 285-4627
ciachef.edu/cia-new-york/
St. Helena, California
2555 Main Street
St. Helena, CA 94574
(707)967-1100
ciachef.edu/cia-california/
San Antonio, Texas
312 Pearl Parkway, Building 3
San Antonio, TX 78215-1262
(210) 554-6400
ciachef.edu/cia-texas/
Singapore
CIA, Singapore
Temasek Polytechnic
21 Tampines Avenue 1
Block 31 (West Gate/Swimming Complex)
Singapore 529757
+65 6592 1189
www2.ciachef.edu/singapore/
Explore Local Schools Today
4 Responses to "Find a Culinary Institute of America Campus Program"
Have Questions or Feedback?