Index of Mississippi Culinary Schooling
Mississippi is bordered by the Gulf of Mexico and the great Mississippi River, so it's no surprise that seafood comprises a large portion of the state diet. In fact, Mississippi is responsible for raising 90% of the nation's catfish supply. All this mixed with traditional Southern cooking, and you get dishes like Creole Catfish Cakes, Mississippi Mud Cake, and Fried Green Tomatoes.
Degrees and Training
There are plenty of culinary schools in Mississippi that offer students the opportunity to specialize in the "back of the house" kitchen operations, "front of the house" hospitality management, and even the big picture study of food and nutrition. Depending on a student's career aspirations, they can earn a one-year certificate, two-year Associate's degree, or four-year Bachelor's degree.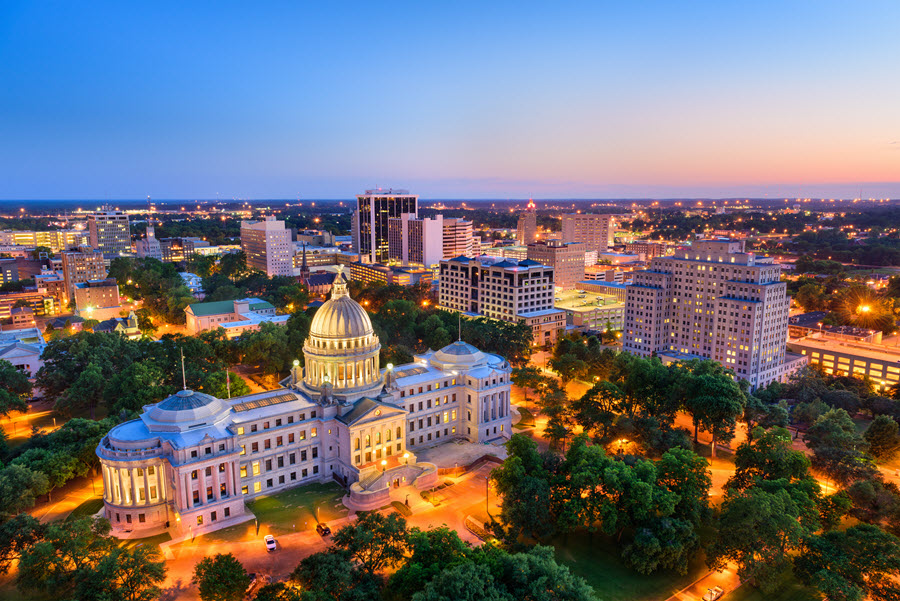 Find the Right School
Copia-Lincoln Community College in Wesson offers a single Food Production and Management Associates degree covering AA both culinary arts and hospitality aspects of the industry. Students learn how to work with food and prepare dishes, as well as manage operations in a restaurant.
Other schools, such as Hinds Community College in Raymond, offer separate Associate degrees in either culinary arts or restaurant management. This gives students more time to focus on the specialties within food service. While some classes do overlap, culinary arts programs train students in the practical skills and techniques of food preparation, recipe creation, baking, and meat handling, among others. Hospitality management classes cover accounting, marketing, strategic planning, and management practices.
Some schools offer Bachelor of Science degrees where students find a broader and deeper investigation into the industry. At the University of Mississippi, or Ole Miss, as it is commonly known, students are able to earn a Bachelor of Science degree in Hospitality Management or Dietetics and Nutrition. The Dietetics and Nutrition program emphasizes the science of human nutrition, and investigates the relationship between cultural and a community's eating.
Unique among culinary schools in the United States is the Culinary Arts Institute at the Mississippi College for Women (which has enrolled male students since 1982). Besides simply eating, our society is finding more and more ways to incorporate food into our daily lives. At the Culinary Arts Institute, students can earn a Bachelor of Science in Culinary Arts with the opportunity for a concentration in food journalism, entrepreneurship, food art, and nutrition and wellness.
Into the World
Graduates are likely to find a job they love in any of the thousands of restaurants, resorts, schools, and hotels in Mississippi. Typical food industry salaries in Mississippi range according to position, city, and experience. A Registered Dietitian earns an average annual salary of $50,530; a first-line supervisor will earn about $30,380; a head chef will earn approximately $50,540; and a restaurant cook earns an average salary of around $23,240.
2019 wage data sourced from the BLS Occupational Outlook Handbook. Current wage conditions in your area may vary.
On-Campus Schools
Alcorn State University
1000 ASU Drive #839
Alcorn State, MS 39096-7500
(601) 877-6252
alcorn.edu
Dietetics
ADA Accredited
Coahoma Community College
3240 Friars Point Road
Clarksdale, MS 38614
601-627-2571
coahomacc.edu
Culinary Arts
Hospitality Services Management
SACS Accredited
Copia-Lincoln Community College
PO Box 457
Wesson, MS 39191
601-643-8306
colin.edu
Food Production and Management
Hospitality Management
SACS Accredited
Delta State University
Box 3273
Cleveland, MS 38733
(662) 846-4316
deltastate.edu
Dietetics
ADA Accredited
Hinds Community College
501 Main Street
Raymond, MS 39154
hindscc.edu
Culinary Arts
Restaurant Management
SACS Accredited
Meridian Community College
910 Hwy 19 N
Meridian, MS 39307
601-483-8241
www.mcc.cc.ms.us
Hotel and Restaurant Management
SACS Accredited
Mississippi Gulf Coast Community College
2226 Switzer Road
Gulfport, MS 39507
228-897-3770
mgccc.edu
Food Production and Management
SACS Accredited
Mississippi University for Women
1100 College Street
Columbus, MS 39701
(877) 462 8439
muw.edu
Culinary Arts
SACS Accredited
Northeast Mississippi Community College
Cunningham Blvd
Booneville, MS 38829
662-728-7751
www.nemcc.edu
Culinary Arts
Hotel and Restaurant Management
SACS Accredited
University of Mississippi
Lenoir Hall, P.O. Box 1848
University, MS 38677-1848
(662) 915-7807
olemiss.edu
Dietetics and Nutrition
Hospitality Management
ADA Accredited
The University of Southern Mississippi
118 College Drive #5172
Hattiesburg, MS 39406-5172
(601) 266-6548
usm.edu/nutrition
Food and Nutrition Science
Hospitality Management
ADA Accredited
Online Programs
American Culinary Federation
The ACF has over 200 chapters in the United States; its main campus is located in Florida
180 Center Place Way
St. Augustine, FL
904-824-4468
www.acfchefs.org
Continuing Education
Chef Certification
Chef Educators
Food Safety Certification
ACFEFAC Accredited
The Art Institutes of Pittsburgh – Online Division
The Ai has over 40 campus locations across North America, plus this online campus
420 Blvd of the Allies
Pittsburgh, PA
412-291-6200
www.aionline.edu
Hotel and Restaurant Management
Culinary Management
MSCHE Accredited
Ashworth College
430 Technology Pkwy
Norcross, GA
770-729-9400
www.ashworthcolleg.edu
Professional Gourmet Cooking and Catering
Hotel and Restaurant Management
DETC Accredited
DeVry University
This University has 90 campus locations in 26 different states
One Tower Lane
Oakbrook Terrace, IL
1-866-338-7934
www.devry.edu
Hospitality Management
HLC Accredited
eCornell
eCornell is an online program and subsidiary of Cornell University, located in New York
950 Danby Road, Suite 150
Ithaca, NY
607-330-3200
www.ecornell.com
Leadership and Strategic Management
Project Leadership and Systems Design
Financial Management
Management Essentials
Human Resources Management
Hospitality and Foodservice Management
Certificate in plant-based nutrition
HRCI and PMI Approved
Johnson and Wales University
JWU has campuses in Providence, Charlotte, and North Miami; its largest campus is in Rhode Island
8 Abbott Park Place, Providence, RI 02903
1-800-DIAL-JWU
www.jwu.edu
Baking & Pastry Arts and Food Service Management
Culinary Arts and Food Service Management
NEASC Accredited
New England Culinary Institute
NECI has two campuses in Vermont; its main campus is in Montpelier
56 College Street
Montpelier, VT 05602
877-223-6324
www.neci.edu
Hospitality and Restaurant Management
ACCSC Accredited
Penn Foster Career School
925 Oak Street
Scranton, PA 18515
570-343-9635
www.pennfoster.edu
Hotel and Restaurant Management
Catering
DETC & CHEA Accredited
Sullivan University
SU has three campuses in Louisville, Lexington and Fort Knox. The main campus for its Global e-Learning program is located in Louisville
2100 Gardiner Lane
Louisville, Kentucky 40205
502-413-8830
1-866-755-7887
www.sullivan.edu
Beverage Management
CCSACS & ACF Accredited
University of Phoenix
This University has campuses in over 40 states, and two locations in Canada
4602 East Elwood Street
Phoenix, AZ
480-968-0587
www.phoenix.edu
Hospitality, Travel and Tourism
HLC Accredited
Explore Local Schools Today
Have Questions or Feedback?