Archive of Culinary Higher Education in Vermont
Vermont knows all about eating local. It is the largest single producer of milk amongst the New England States, and produces the most maple syrup of any state in the nation. On top of this, Vermont boasts significant crops of apples, potatoes, vegetables, and Christmas trees. Tourism is another big industry here, offering great snow and water sports year round. Yep, this state is pretty self-sufficient, so one doesn't have to wonder how this small state became home to quite a few quality culinary, hospitality management, and food science programs.
Narrow Your Specialty
Vermont has educational and training schools in the culinary arts, hospitality management, and food science specialties. Culinary arts programs, like at the renowned New England Culinary Institute (NECI) in Montpelier, offer Culinary Arts certificates or degrees. Curriculum includes classes on kitchen and food prep, food handling, creating recipes, planning menus, and proper cooking techniques. NECI also offers programs in baking and pastry, wine and beverages, and sustainability.
Champlain College in Vermont offers a Bachelor of Science degree in Hospitality and Restaurant Management for those with ambitions of managing or owning a restaurant, hotel, or resort. Hospitality classes focus on the business end of the industry, with classes including business practices, communications, marketing, accounting, and often an internship at a top hotel or restaurant.
A third category within the culinary world is food science, nutrition, and dietetics. These programs emphasize the science of what we eat and why we eat it. At the University of Vermont in Burlington, students can earn a Bachelor's, Master's, or Doctorate in Food Science and Nutrition, and a Bachelor's and Master's in Dietetics. Classes focus heavily on science, physics, biochemistry; and the sociological and cultural factors that influence on what certain communities eat. Some programs also incorporate instruction on non-human animal science and nutrition.
Admission requirements for culinary arts, hospitality management, and food science programs vary according to the level of degree you are seeking. Programs typically incorporate both in-class studies with hands-on practice in a kitchen lab and internship requirements.
Make it Work
After graduation, culinary and hospitality students will be qualified for entry-level kitchen, service, or management positions in restaurants, hotels, resorts, or any other food service venue. Food science students can start a career a Registered Dietitian who designs nutritional programs or performs research.
Graduates are likely to find a job they love in any of the thousands of restaurants, resorts, schools, and hotels in Vermont. Typical food industry salaries in Vermont range according to position, city, and experience. A waiter/waitress will earn an annual average salary of $34,850; a Registered Dietitian earns $61,630; a first-line supervisor will earn about $43,390; a head chef will earn approximately $46,040; and a restaurant cook earns an average salary of around $31,860.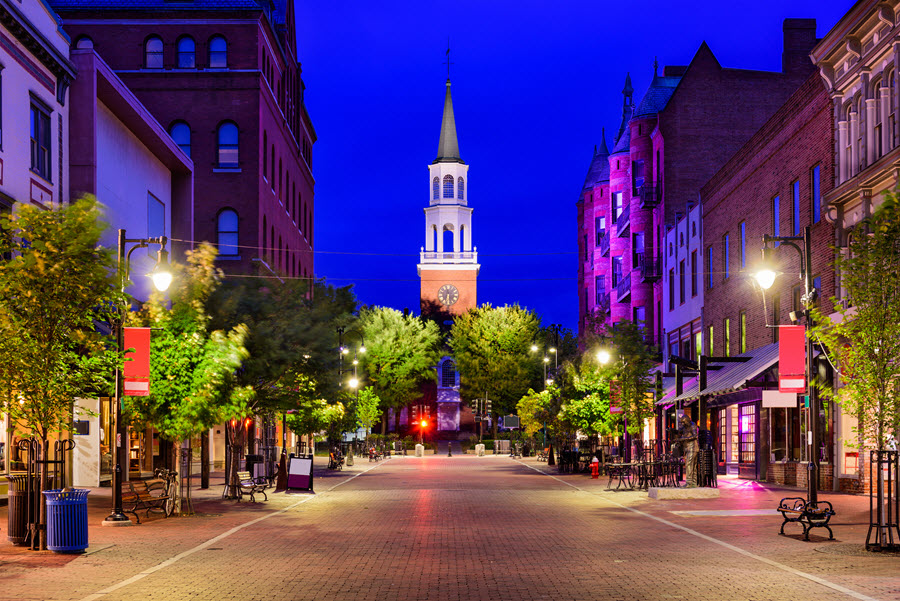 On-Campus Schools
Champlain College
163 Willard Street
Burlington, VT 05401
802-658-0800
champlain.edu
Hotel and Restaurant Management
NEASC Accredited
Johnson State College
337 College Hill
Johnson, VT 05656
802-635-2356
jsc.edu
Hospitality and Tourism Management
NEASC Accredited
New England Culinary Institute
56 College Street
Montpelier, VT 05602
877-233-NECI
neci.edu
Culinary Arts
Pastry and Baking
Hospitality and Restaurant Management
Wine and Beverage
Sustainability
CCSC Accredited
University of Vermont
303 Terrill Hall
Burlington, VT 05405-0148
(802) 656-0539
uvm.edu
Food and Nutrition Science
ADA Accredited
Online Programs
American Culinary Federation
The ACF has over 200 chapters in the United States; its main campus is located in Florida
180 Center Place Way
St. Augustine, FL
904-824-4468
www.acfchefs.org
Continuing Education
Chef Certification
Chef Educators
Food Safety Certification
ACFEFAC Accredited
The Art Institutes of Pittsburgh – Online Division
The Ai has over 40 campus locations across North America, plus this online campus
420 Blvd of the Allies
Pittsburgh, PA
412-291-6200
www.aionline.edu
Hotel and Restaurant Management
Culinary Management
MSCHE Accredited
Ashworth College
430 Technology Pkwy
Norcross, GA
770-729-9400
www.ashworthcolleg.edu
Professional Gourmet Cooking and Catering
Hotel and Restaurant Management
DETC Accredited
DeVry University
This University has 90 campus locations in 26 different states
One Tower Lane
Oakbrook Terrace, IL
1-866-338-7934
www.devry.edu
Hospitality Management
HLC Accredited
eCornell
eCornell is an online program and subsidiary of Cornell University, located in New York
950 Danby Road, Suite 150
Ithaca, NY
607-330-3200
www.ecornell.com
Leadership and Strategic Management
Project Leadership and Systems Design
Financial Management
Management Essentials
Human Resources Management
Hospitality and Foodservice Management
Certificate in plant-based nutrition
HRCI and PMI Approved
Johnson and Wales University
JWU has campuses in Providence, Charlotte, and North Miami; its largest campus is in Rhode Island
8 Abbott Park Place, Providence, RI 02903
1-800-DIAL-JWU
www.jwu.edu
Baking & Pastry Arts and Food Service Management
Culinary Arts and Food Service Management
NEASC Accredited
New England Culinary Institute
NECI has two campuses in Vermont; its main campus is in Montpelier
56 College Street
Montpelier, VT 05602
877-223-6324
www.neci.edu
Hospitality and Restaurant Management
ACCSC Accredited
Penn Foster Career School
925 Oak Street
Scranton, PA 18515
570-343-9635
www.pennfoster.edu
Hotel and Restaurant Management
Catering
DETC & CHEA Accredited
Sullivan University
SU has three campuses in Louisville, Lexington and Fort Knox. The main campus for its Global e-Learning program is located in Louisville
2100 Gardiner Lane
Louisville, Kentucky 40205
502-413-8830
1-866-755-7887
www.sullivan.edu
Beverage Management
CCSACS & ACF Accredited
University of Phoenix
This University has campuses in over 40 states, and two locations in Canada
4602 East Elwood Street
Phoenix, AZ
480-968-0587
www.phoenix.edu
Hospitality, Travel and Tourism
HLC Accredited
Explore Local Schools Today
Have Questions or Feedback?