Chef Colleges & Training in San Francisco, CA
San Francisco, the name conjures up visions of hippies, 60's love-ins, cable cars crawling up insanely steep hills and, of course, the Golden Gate Bridge. All true, but there is so much more to the city that overlooks the bay. It is a friendly city with a population proud of its beauty. The year-around warm climate and breathtaking vistas attract a yearly horde of visitors. For a city of 800,000 plus people, San Francisco offers as varied a selection of culinary choices as any place on the planet. The offerings are intimidating with 1,300 restaurants serving the city. In support of such a rich culinary history and tradition, some of the nation's top culinary schools are found in San Francisco.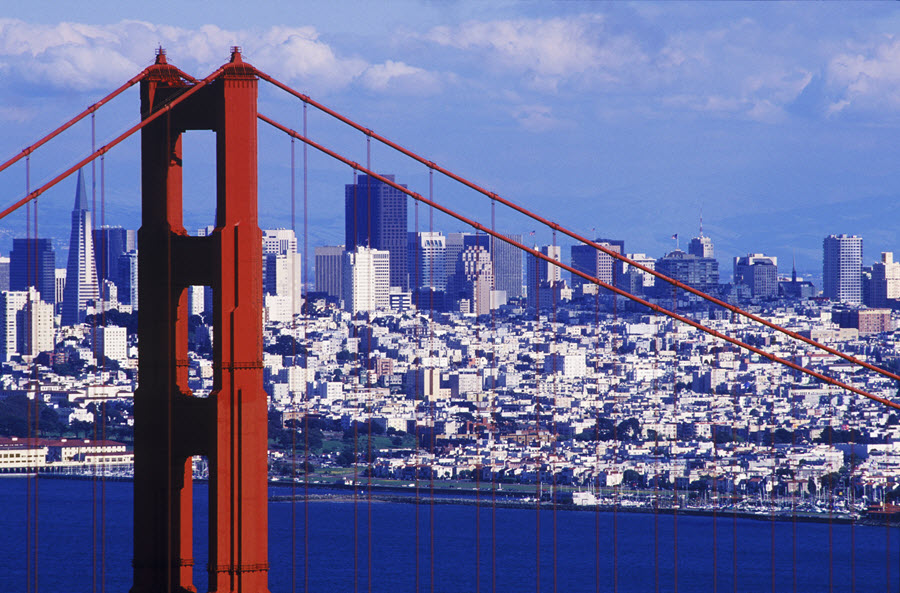 Select the Program
An education in the culinary arts should lead directly to employment in the field. With that in mind, chart the career course you want before committing to a school or program. The management track leads one to a four-year degree and out of the kitchen. For those excited by the creativity and challenge of food preparation, a certificate or a two-year associate's degree are better preparations. More than 50 percent of the executive chefs hold no more than associate degrees. Online schools typically cater to those who have experience in the kitchen and are looking to move into management.
Select the Right School
Having a specific career goal also helps in finding the right school. Some things to consider include expense. Since an education can be expensive, look for programs that offer scholarships and financial aid. A community college option offers a less-expensive way to go. Food preparation is a hands-on learning experience. Look for a program with plenty of kitchen time in the curriculum. Check out the facilities for quality state-of-the-art kitchenware. Research the teaching staff for their credentials in education and in the work place. Teachers with strong ties to the local culinary practitioners will open employment doors for you after graduation. Another big consideration is a quality externship program. This experience will give you contacts in the field. The school should also have a reputation for effective job placement.
Culinary Job Market
With a vibrant restaurant market, the prospects for entry-level employment in the area are good due, in part, to a high turnover rate. Employment at the top end of the field remains competitive. The expected growth of the industry through 2018 is six percent. Although there are numerous career tracks, the most likely runs from line-cook to sous chef to executive chef and to the top rung of the career ladder, regional chef. Bakery and pastry chefs are another career track. In the San Francisco area an assistant pastry chef makes $38,000 to $57,000 per year. A beginning line-cook can expect to make $24,000 to $32,000; a sous chef brings in $40,000 to $63,000; and an executive chef earns $70,000 to $107,000 per year. Restaurants employ 65 percent of the culinary arts worker force, with hotels, spas, cruise ships, hospitals, schools, and personal chefs rounding out the field.
On Campus Culinary Arts Schools
Golden State University
536 Mission Street
San Francisco, CA 94105
415-442-7000
ggu.edu
Hospitality Services Management, BA
San Francisco State University
1600 Holloway Avenue
San Francisco, CA 94132
415-338-2411
sfsu.edu
Hospital Services Management, minor, certificate
Food and Nutrition Studies, certificate
WASC Accredited
University of San Francisco
2130 Fulton Street
San Francisco, CA 94117
415-422-6563
usfca.edu
Hospitality Services Management, BA
WASC Accredited
California Culinary Academy
625 Polk Street
San Francisco, CA 94102
415-771-3500
chefs.edu/locations/san-francisco
Culinary Arts/Chef Training
Baking and Pastry Arts
Hospitality and Restaurant Management
ACCSC Accredited
City College of San Francisco
50 Phelan Avenue
San Francisco, CA 94112
415-239-3152
ccsf.edu
Culinary Arts, AS
Food Services Management, AS
Catering and Event Management, Certificate
Bakery and Pastry, Certificate
WASC Accredited
The Art Institute of California—San Francisco
1170 Market Street
San Francisco, CA 94102
415-865-0198
artinstitute.edu/san-francisco
Baking and Pastry Science, AS
Culinary Arts, AS
Culinary Management, BS
Baking and Pastry, Certificate
MSCH Accredited
Le Cordon Bleu College of Culinary Arts in San Francisco
350 Rhode Island Street
San Francisco, CA 94103
415.771.3500
chefs.edu/locations/san-francisco
NO LONGER ACCEPTING NEW STUDENTS
Culinary Arts, Certificate, AOS
Pastry and Baking, Certificate
Hospitality and Restaurant Management, Diploma
ACICS Accredited
Online Culinary Arts Learning
The Art Institute Online
Culinary Management
Hotel and Restaurant Management
www.aionline.edu
MSCH Accredited
University of Phoenix Online
Bachelor's degree in Hospitality Management
www.phoenix.edu
NCACS Accredited
Stratford University Online
Hotel and restaurant Management
Hospitality Management
www.stratford.edu
ACICS Accredited
Sullivan University
Bachelor's degree in Hospitality Management
www.sullivan.edu
Ashworth College Online
Hospitality and Restaurant Management
Gourmet Cooking and Catering
www.ashworthcollege.edu
DETC, SACS & CASI Accredited
Le Cordon Bleu Online
Culinary Management
www.chefs.edu/online
ACCSCT Accredited
Explore Local Schools Today
One Response to "Chef Colleges & Training in San Francisco, CA"
Maureen Rosati-Wee Says:


My daughter, currently employed full-time in a tech company, is considering night classes at The San Francisco Cooking School.
I have several concerns:
This is a brand new school.
What is their reputation in the industry? Do they even have a reputation since they are so new?
Yes there are many recognizable names related to this school, but what does that exactly mean in the training of their students?
Is the certificate they offer – a "CULINARY ARTS CERTIFICATE PROGRAMS" – recognized in the industry? Are they nationally accredited by the Accrediting Council for Independent Colleges and Schools (ACICS) and/or the Accrediting Commission of Career Schools and Colleges (ACCSC).How do their program compare to other Culinary Schools, ie Cordon Bleu, city College of San Francisco?
Their tuition is $28,000. That sounds very high for just a Certificate. Am I wrong?
Any additional comments on your part would be so much appreciated. Thank you very much
Have Questions or Feedback?