Chef Training and Colleges of Atlanta, GA
Add an agreeable climate to storied Southern charm and it is little wonder that Atlanta is one of the busiest convention cities in the nation. Annually, 37 million people come to see this delightful city for a taste of Southern cuisine and hospitality. A rich variety of excellent restaurants and hotels await both visitor and resident. Offerings as varied as African, Cajun, Mediterranean, Italian, French, and Thai satisfy the yearning for fine dining. Those looking for a career in this robust industry can choose from several local educational options in the Atlanta area.
Degrees in Culinary Arts
Options for culinary arts schooling in include cooking school short courses for recreational cooking. Certified programs leading to entry into the field are offered at community and technical colleges as two-year associate degrees or certification in baking, pastry, and culinary arts. University and online courses cater to those who want to move into management in the hospitality and restaurant fields. Students can study for bachelor degrees and master of business administration degrees in the field.
Which Education Program is Right for You?
Landing a position with job satisfaction and career advancement starts with a careful selection of an education program. Once you have made your career goals, the choice of a school and education track become much easier. Some may want to jump directly into management and opt for a bachelor's degree option. For those excited by the art and science of food preparation, several paths exist. Most employees start as line cooks, doing the basic jobs in support of a chef, and advance from there. Bakery and pastry is also a career track. In either case the wise student will look for a school with a teaching staff with both educational and work experience qualifications. A well-respected instructor will help students get a good job after graduation. The school should be equipped with the latest state-of-the-art cooking facilities. Look for a quality externship program that puts students in local kitchens where they get hands-on experience and get known in the local market.
Atlanta's Job Market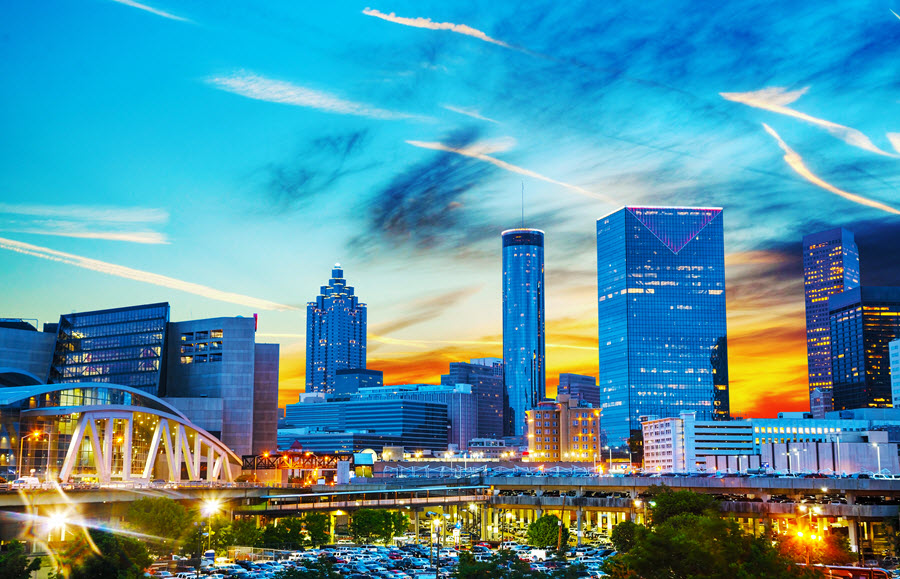 Studies on employment in the Atlanta area cite hospitality and leisure as a growth industry, one of the three strongest fields for future jobs. Entry-level culinary arts jobs should remain strong due to both growth and high turnover. With more than 50 percent of the family food dollar spent eating out, the prospect for future grown is good. The top end of the field will remain competitive. Restaurants account for 65 percent of food service jobs. Other venues include hotels, spas, cruise ships and personal chefs. What can culinary arts professionals in the Atlanta area expect to make? Line cooks make $19,000 to $26,000 per year, an assistant pastry chef can expect to make $31,000 to $47,000, a sous chef should make $33,000 to $51,000, and an executive chef commands $58,000 to $88,000 per year.
On Campus Culinary Programs
Georgia State University
33 Gilmer Street SE
Atlanta, GA 30302
404-461-2000
gsu.edu
Hospitality Management, BBA
SACS Accredited
The International Culinary Schools at the Art Institute of Atlanta
6600 Peachtree Dunwoody Drive
Atlanta, GA 30328
770-394-8300
artinstitutes.edu/atlanta
Culinary Arts, AOS, Certificate
Food and Beverage Management, BS
Baking and Pastry, Diploma, AA
Wines, Spirits and Beverage Management, AA
Morris Brown College
643 Martin Luther King Jr. Blvd
Atlanta, GA 30314
404-739-1010
morrisbrown.edu
Hospital Services Management
SACS Accredited
Le Cordon Bleu
1927 Lakeside Parkway
Atlanta, GA 30084
888-549-8222
chefs.edu/locations/atlanta
NO LONGER ACCEPTING NEW STUDENTS
Culinary Arts, AOS, Certificate
Pastry and Baking, Certificate
Culinary Arts Management, BA
ACCSC & ACF Accredited
DeVry University
Kelly Graduate Scholl of Management
2555 Northwinds Parkway
Alpharetta, GA 30004
404-270-2700
alt.devry.edu
NCACS Accredited
Hospitality Management, MBA
Atlanta Technical College
1560 Metropolitan Parkway SW
Atlanta, GA 30310
404-225-4575
atlantatech.edu
Restaurant and Tourism Management, AA
Culinary Arts, Diploma
Culinary Nutrition Assistant, Certificate
Culinary Nutrition Management, Certificate
Online Culinary Arts Learning
The Art Institute Online
Culinary Management
Hotel and Restaurant Management
www.aionline.edu
MSCH Accredited
University of Phoenix Online
Bachelor's degree in Hospitality Management
www.phoenix.edu
NCACS Accredited
Stratford University Online
Hotel and restaurant Management
Hospitality Management
www.stratford.edu
ACICS Accredited
Sullivan University
Bachelor's degree in Hospitality Management
www.sullivan.edu
Ashworth College online
Hospitality and Restaurant Management
Gourmet Cooking and Catering
www.ashworthcollege.edu
DETC, SACS & CASI Accredited
Le Cordon Bleu-online
Culinary Management
www.chefs.edu/online
ACCSCT Accredited
Explore Local Schools Today
One Response to "Chef Training and Colleges of Atlanta, GA"
Diane Andelman Says:


Atlanta area. Do you have a dining room that is open to the public through reservations. Days of week, hours and lunch cost and dinner cost.
Have Questions or Feedback?