Go to a Scottsdale, AZ Culinary College
The desert sun won't be the only thing blazing in Scottsdale. Chefs there know how to bring the heat in the kitchen and on the dinner plate. Spicy fare is famous in the region, but a growing restaurant scene is home to all kinds of culinary trends. Want to be one of the next big names on the scene? There are a number of culinary programs that can give you all the training you need.
Placing Your Order
Choosing from the menu of options is easy if you know what to look for. Here's how to separate the wheat from the chaff: A quality culinary program will have a focus on training and job placement, from courses taught by experienced chefs to job support services. Most importantly, the program should have a five-star training kitchen, one that has all the necessary tools and equipment that budding chefs need to learn to become stars. Look for programs that go the extra mile by offering a student-run restaurant or café. Apprenticeships and internships during and after your studies will also prove invaluable to helping you find a job once you graduate.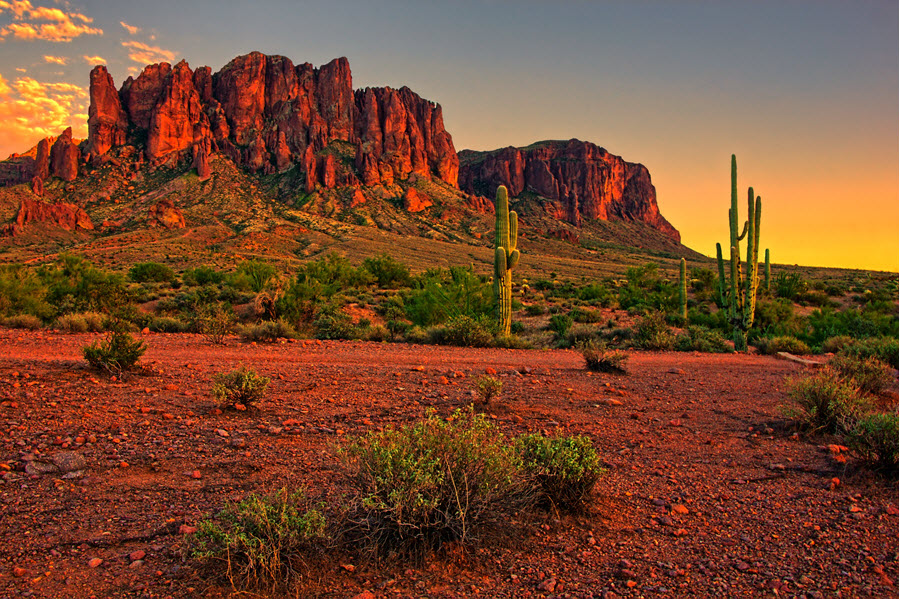 Some of the best culinary schools won't be as hard to get into as some of the best restaurants. Most programs have open admissions, and students are only required to have a high-school diploma or GED. If your program is more exclusive, you may have to prove you have what it takes by taking entrance tests or showing that you've had experienced in the kitchen. In addition to the schools in Scottsdale there are many exciting opportunities in Phoenix & across the state of Arizona.
Being Served
Don't expect a long wait, respectively, once you have your name on the list to start your studies. Culinary degrees often take about two years or less to complete – about half the time of a traditional degree. The Arizona Culinary Institute has program options that can be finished in as little as nine months. Night classes, summer class and online programs offer even more flexibility for finishing your degree. Some online programs offer training through video, and others offer options for courses that complement previous kitchen experience. Many options are available if you're considering management.
Back of the House
Your success in moving from the table to the kitchen will depend on a number of factors, especially your years of experience. That's why it's especially important to get what training you can through internships or jobs while you're still finishing your degree. Networking will also help. Join professional groups such as the Arizona Restaurant Association to meet chefs and other insiders to get the scoop on job postings, conferences and other events. It's also helpful to attend food festivals, such as the Scottsdale Culinary Festival. You can meet local industry professionals and try to get yourself noticed by entering cooking competitions. You never know who will be in the audience.
Once you get the job, salary will depend on where you're working and your position. Head chefs and cooks will make the most, but you're likely to start at the bottom and work your way up, from line cook to sous chef to head chef. If you're lucky enough to get hired at an upscale restaurant, hotel, resort or spa, you'll be making a better salary. Casual-dining chains will pay the least.
Graduates are likely to find a job they love in any of the thousands of restaurants, resorts, schools, and hotels in Arizona. Typical food industry salaries in Arizona range according to position, city, and experience. A Registered Dietitian earns an average annual salary of $56,850; a first-line supervisor will earn about $36,680; a head chef will earn approximately $53,190; and a restaurant cook earns an average salary of around $28,990.
2019 wage data sourced from the BLS Occupational Outlook Handbook. Current wage conditions in your area may vary.
Campus-Based Schools
Arizona Culinary Institute
10585 N. 114th St.
Scottsdale, AZ 85259
480-603-1066
azculinary.com
Culinary Arts
Baking
Restaurant Management
ACCSCT accredited
Le Cordon Bleu
8100 E. Camelback Road
Scottsdale, AZ 85251
866-337-8608
chefs.edu/locations/scottsdale
NO LONGER ACCEPTING NEW STUDENTS
Culinary Arts
Patisserie and Baking
Hospitality and Restaurant Management
ACCSCT accredited
Scottsdale Community College
9000 E. Chaparral Road
Scottsdale, AZ 85256
480-423-6000
scottsdalecc.edu
Culinary Arts
Hospitality and Tourism
HLC accredited
Online-Based Programs
The Art Institutes of Pittsburgh – Online Division
www.aionline.edu
Hotel and Restaurant Management
MSCHE accredited
Ashworth College
www.ashworthcollege.edu
Hotel and Restaurant Management
DETC accredited
The Culinary Institute of America – CIA Pro Chef
www.ciaprochef.com
Culinary Arts
CHEMSACS accredited
Johnson and Wales University
www.jwu.edu/
Baking & Pastry Arts and Food Service Management
Culinary Arts & Food Service Management
NEASC accredited
Le Cordon Bleu – Online Division
www.chefs.edu/online
Culinary Management
ACCSC & ACICS accredited
Penn Foster Career School
www.pennfoster.edu/
Hotel and Restaurant Management
DETC & CHEA accredited
SITE Academy
www.site.edu.au
Hospitality
Tourism
No regional accreditation
AHLA association
Sullivan College
www.sullivan.edu
Beverage Management
CCSACS & ACF accredited
Stratford Career Institute
www.scitraining.com
Hotel/Restaurant Management
Travel and Tourism
DlA member, no regional accreditation
Virginia College Online
www.vconline.edu
Culinary Arts
ACICS accredited
Explore Local Schools Today
Have Questions or Feedback?