Progressive Culinary Programs of New Hampshire
A Focus on Sustainable Cooking
New Hampshire is often at the forefront of national trends, and the food industry is no exception. The NH Farm to Restaurant Connection, comprised of New Hampshire agricultural, culinary, and state organizations, works to get local farm and food produce directly into kitchens, ensuring the use of locally grown and sustainable resources in restaurants across the state. With such fresh ingredients, cooking and eating in New Hampshire is sure to taste great on your tongue, and feel good for your soul.
What is Your Style?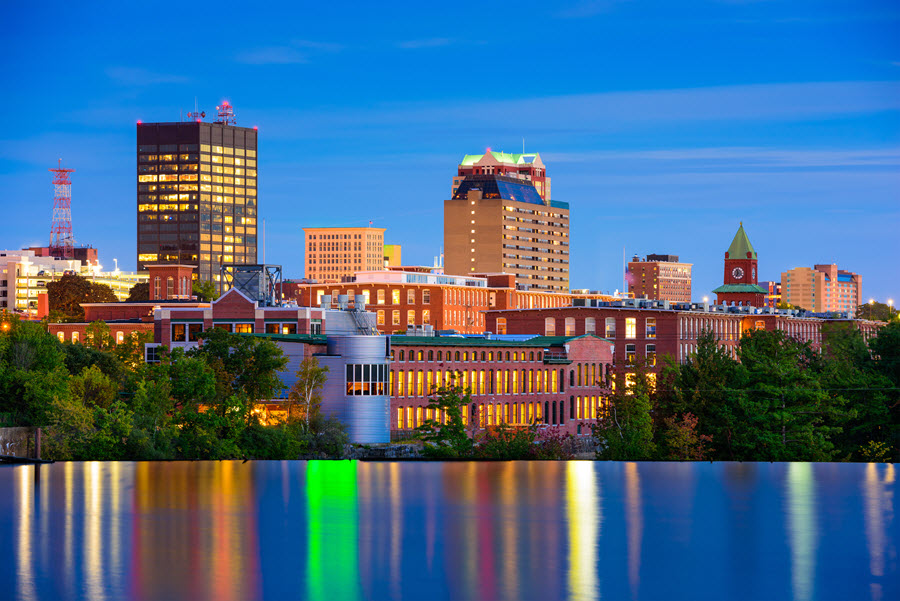 Make no mistake; a career in the culinary arts is no picnic. And this is why so many people love it. The hours are long (but flexible), the work is unpredictable (and different every day), and chaos rules the kitchen (which can be exciting).
Before embarking on a career in the culinary arts, you should honestly judge your temperament and work style. With this knowledge, you will be more likely to make the right choices in training, education, and work.
Culinary arts programs can be found throughout New Hampshire, and range from one-year certificate programs to two, four, and up to eight year programs. Students in the state have the choice of narrowing their food studies on hospitality and food services management, culinary arts and food preparation, or dietetics and nutrition sciences. Each of these choices is better suited for different skills, abilities, and interests within the food industry.
A Broad Range of Choices
Are you looking for the traditional four-year college experience, or are you interested in performing research on scientific questions related to nutrition? Perhaps you are already working full-time and would like to enhance your earning power by getting an extra certification in the field. All these options are open to New Hampshire students who seek, or already have, a career in the culinary industry.
Schools like Keene State College have strong programs in Dietetics and Nutrition, and offer internship opportunities for hands-on application and experience.
Those who are more interested in the "back of the house" business side can attend the University of New Hampshire's internationally recognized Hospitality Management program. UNH, located in Durham, also offers undergraduate and graduate programs in Nutrition Science, in which classes focus on sustainability and agriculture.
Other schools provide certificates in Tourism and Event Management. This training is great for students who are interested in catering or working with hotels, conventions, or cruise ships.
Programs for students whose primary interest is working in or running a kitchen can find quality training as well. Southern New Hampshire University in Manchester offers certificates in Baking and Pastry and Culinary Arts.
Getting Out There
Times are definitely looking up for those who plan to make a career in the food industry. The U.S. Department of Labor predicts a 12-14% increase the number of jobs in New Hampshire's hospitality, culinary arts, and nutrition sectors.
Graduates are likely to find a job they love in any of the thousands of restaurants, resorts, schools, and hotels in New Hampshire. Typical food industry salaries in New Hampshire range according to position, city, and experience. A waiter/waitress will earn an annual average salary of $26,660; a Registered Dietitian earns $61,320; a first-line supervisor will earn about $39,190; a head chef will earn approximately $57,300; and a restaurant cook earns an average salary of around $31,420.
2019 wage data sourced from the BLS Occupational Outlook Handbook. Current wage conditions in your area may vary.
On-Campus School Options
Keene State College
229 Main Street
Keene, NH 03435
1-800-KSC-1909
keene.edu
Dietetics Internship
NEASC-CIHE & ADA Accredited
New Hampshire Technical Institute
31 College Drive
Concord, NH 03301
603-271-7134
nhti.edu
Associate: Hospitality and Tourism Management
Certificate: Hotel Administration, Tourism Information Technology, Event/Conference Management
NEASC-CIHE Accredited
Southern New Hampshire University
2500 N. River Road
Manchester, NH, 03106
603.668.2211
snhu.edu
Certificate: Baking, Cooking
Associate's: Baking and Pastry Arts, Culinary Arts
Bachelor's: Hospitality Administration, Hospitality Business
NEASC-CIHE & ACF Accredited
University of New Hampshire
83 Main Street
Durham, NH
603-868-2198
unh.edu
Associate's: Food Service Management
Bachelor's: Nutrition
Master's: Nutritional Sciences, Hospitality Management
Doctorate: Animal and Nutritional Sciences, Dietetic Internship
AACSB, ACPHA, & ADA Accredited
Online Program Options
American Culinary Federation
The ACF has over 200 chapters in the United States; its main campus is located in Florida
180 Center Place Way
St. Augustine, FL
904-824-4468
www.acfchefs.org
Continuing Education
Chef Certification
Chef Educators
Food Safety Certification
ACFEFAC Accredited
The Art Institutes of Pittsburgh – Online Division
The Ai has over 40 campus locations across North America, plus this online campus
420 Blvd of the Allies
Pittsburgh, PA
412-291-6200
www.aionline.edu
Hotel and Restaurant Management
Culinary Management
MSCHE Accredited
Ashworth College
430 Technology Pkwy
Norcross, GA
770-729-9400
www.ashworthcolleg.edu
Professional Gourmet Cooking and Catering
Hotel and Restaurant Management
DETC Accredited
DeVry University
This University has 90 campus locations in 26 different states
One Tower Lane
Oakbrook Terrace, IL
1-866-338-7934
www.devry.edu
Hospitality Management
HLC Accredited
eCornell
eCornell is an online program and subsidiary of Cornell University, located in New York
950 Danby Road, Suite 150
Ithaca, NY
607-330-3200
www.ecornell.com
Leadership and Strategic Management
Project Leadership and Systems Design
Financial Management
Management Essentials
Human Resources Management
Hospitality and Foodservice Management
Certificate in plant-based nutrition
HRCI and PMI Approved
Johnson and Wales University
JWU has campuses in Providence, Charlotte, and North Miami; its largest campus is in Rhode Island
8 Abbott Park Place, Providence, RI 02903
1-800-DIAL-JWU
www.jwu.edu
Baking & Pastry Arts and Food Service Management
Culinary Arts and Food Service Management
NEASC Accredited
New England Culinary Institute
NECI has two campuses in Vermont; its main campus is in Montpelier
56 College Street
Montpelier, VT 05602
877-223-6324
www.neci.edu
Hospitality and Restaurant Management
ACCSC Accredited
Penn Foster Career School
925 Oak Street
Scranton, PA 18515
570-343-9635
www.pennfoster.edu
Hotel and Restaurant Management
Catering
DETC & CHEA Accredited
Sullivan University
SU has three campuses in Louisville, Lexington and Fort Knox. The main campus for its Global e-Learning program is located in Louisville
2100 Gardiner Lane
Louisville, Kentucky 40205
502-413-8830
1-866-755-7887
www.sullivan.edu
Beverage Management
CCSACS & ACF Accredited
University of Phoenix
This University has campuses in over 40 states, and two locations in Canada
4602 East Elwood Street
Phoenix, AZ
480-968-0587
www.phoenix.edu
Hospitality, Travel and Tourism
HLC Accredited
Explore Local Schools Today
One Response to "Progressive Culinary Programs of New Hampshire"
Jessica Valdez Says:


Do you take the GI bill? Post 911?
Have Questions or Feedback?