Earn Your Associate's Degree in the Culinary Arts
Why an Associate's Degree?
For food-savvy individuals, sometimes working for minimum wage in a kitchen just doesn't cut it. An associate's degree in culinary arts is a great way to get immediate entry-level work in the industry, and is a perfect mix for students who already have a bachelor's degree or diploma in the culinary arts. Unlike a diploma, an associate's degree has much more of a focus on the liberal arts, and students may also be taught English, Math, or Science to tie in with their food studies.
How Long does it Take?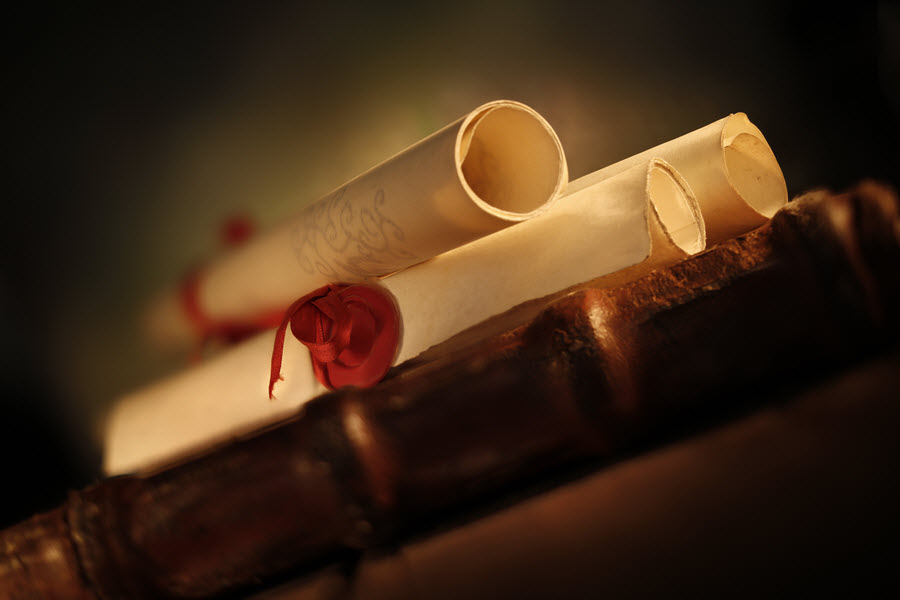 Generally speaking an associate's degree can be completed in one to two years. However, this depends on which type of school and program you choose. Most programs include an externship that could last anywhere from two to four months.
Here are some of the many different types of associate's degrees available:
Culinary Arts Associate's Degree
A basic associate's degree in the culinary arts does more than secure future work in the food business, it is also a stepping stone for graduates hoping to own or manage a business. Because of this, it is quite common for graduates of this program to move on to a higher-level degree.
Coursework
A typical program includes instructions on how to prepare food, design menus, present meals, and manage employees. Some focus on hospitality, purchasing, and business administration may also be included. Students will get a well-rounded education on the basics of wine, beverages, baking, and pastry arts.
Baking and Pastry Associate's Degree
This program not only covers how to decorate desserts and pastries, students may also be required to learn about cost control, menu planning and development, and nutrition. Graduates will also become experts at using a variety of different kitchen tools and equipment,
Coursework
This program focuses heavily on how to both create and decorate a variety of different fillings, specialty breads, jellies, sauces, cookies, desserts and other delightful desserts. Students will learn unique tricks and techniques on how to shape bread and blend different types of ingredients together. Basic mathematics is usually included in the curriculum, along with product packaging and marketing.
Food and Beverage Management Associate's Degree
Wine and beer lovers may be interested in this program…if the thought of budgeting and financing doesn't scare you away. Graduates of this program will learn the basics on the laws of business and its principles, along with management methods that are needed in order to run a successful business.
Coursework
This curriculum isn't all about math and numbers, but be prepared to spend a great deal of time on accounting and food regulations. Students will be taught how to run a business within its budget and maintain the correct amount of food and beverage supply. Some programs may also introduce students to catering management.
Hotel and Restaurant Management Associate's Degree
This program is ideal for those hoping to own their own hotel, casino, restaurant, or catering business. Externships are especially common for this type of associate's degree.
Coursework
Students will learn the basics of menu and facility planning, as well as food preparation, presentation, and delivery. Students will also learn how to plan banquets and other special events.
Advanced Culinary Arts Associate's Degree
Are visions of sugarplums and a culinary education dancing in your head? This degree is well known to be an excellent first step for students who wish to earn a higher level of education in the culinary arts.
Coursework
Graduates of this program will get a basic introduction to hospitality, sanitation, employee management, and customer service. Students will learn how to plan different kinds of events while learning new and creative techniques on how to decorate and prepare food. Some programs may focus on wine and beverages, and possibly some accounting.
Professional Catering Associate's Degree
This program is designed for students who want to own or manage their own catering business. Most schools offer externships for various catering companies.
Coursework
Students will learn the basic principles and theory of catering, as well as media and event planning. Some focus will be spent on beverages, nutrition, cleanliness, and how to cater to a large amount of people.
Explore Local Schools Today
5 Responses to "Earn Your Associate's Degree in the Culinary Arts"
Have Questions or Feedback?