Get On the Job Culinary Experience
Why an Apprenticeship?
Do you like the idea of getting paid while you learn? A chef apprenticeship program is a great way for blooming chefs to make some money while earning their culinary education. It's also an option for students who are already enrolled in a program, and need to pay off their student debts.
How Long Does It Take?
An apprenticeship generally takes one to three years to complete. At the end of the program, apprentices will work in a kitchen under the supervision of a professional chef.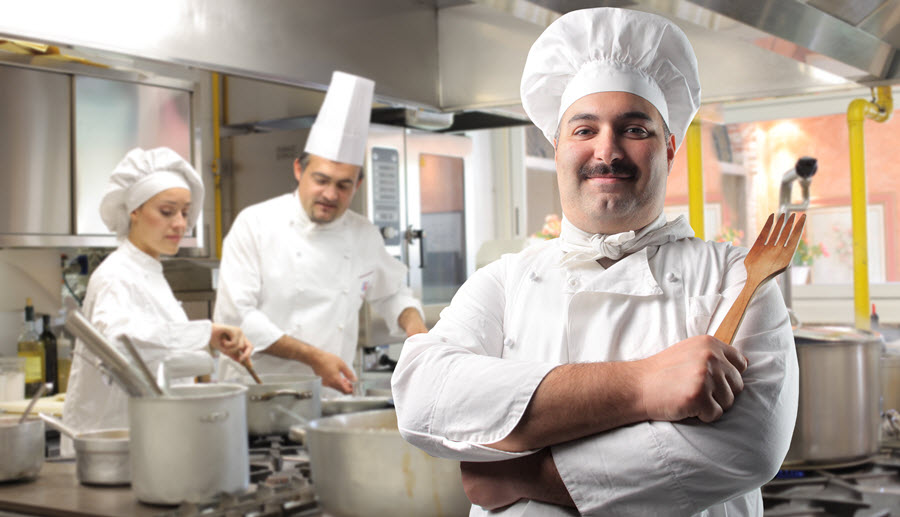 Professional Cookery Apprenticeship
A basic chef apprenticeship program could have a food preparation or pastry focus, depending on where you complete your apprenticeship. Chef apprentices will learn the basics of sanitation, dining room service, and food processing, as well as how to work with different temperatures. They will also learn how to prepare meat and pasta dishes for a large group of people.
Food Preparation Apprenticeship
This apprenticeship program has more of a focus on the different types of food handling techniques. Apprentices will learn how to prepare various types of meats, soups, sauces, pastries, vegetables, and dough products. Some programs may include buffet and menu planning, as well as mathematics.
Baking and Pastry Apprenticeship
Students of this apprenticeship program will learn how to prepare muffins, donuts, breads, pies, tarts, cookies, cakes, rolls, and frozen desserts. Students will also learn about temperatures and ingredients, as well as how to use the different types of kitchen equipment.
Chef Youth Apprenticeship
This program is designed for eleventh and twelfth-grade high school students. Students will learn the basics of food handling, safety, nutrition, and sanitation. Students may also learn about plate presentation, food preparation, and cutting techniques.
Hospitality and Catering Apprenticeship
Apprentices of this program will learn how to prepare meals and buffets for different types of events. While working for a catering company, students will also learn various safety and sanitation methods, as well as how to provide excellent customer service.
Food and Drink Service Apprenticeship
After completing this apprenticeship, students will learn how to prepare soft drinks, coffees, cappuccinos, and various types of alcoholic beverages. Some apprentices may learn how to train other members of staff, while others learn how to prepare cellars or kegs. Through their work experience, students may even learn how to create new drinks by combining different ingredients and beverages.
Butchery and Meat Processing Apprenticeship
Butcher apprentices will learn about food safety standards as well as various cutting and meat preparation techniques. Students will be able to identify and prepare different types of meat and poultry, while practicing their hand-eye coordination in a kitchen. Some basic first aid may also be included.
Explore Local Schools Today
35 Responses to "Get On the Job Culinary Experience"
Have Questions or Feedback?