Index of Minnesota Cooking Schools
Minnesotans bond over food: Potlucks have a strong tradition in the community. But tuna casserole is small time when you have your sights set on the soufflés and coq au vines of five-star kitchens. Minnesota has a number of culinary programs to help aspiring chefs reach those goals.
Finding the right program
Before you decide which school to apply to, do your research. Make sure that the program you choose has a few key elements. Most important, the program should have a quality, well-stocked kitchen that is run by the students and is open to the public. Even better is if the program sponsors a student restaurant or public dinner nights. It offers students valuable training opportunities, as well as experience that will be useful in landing internships and jobs later. Other key components to look for include experienced instructors, job-placement services and opportunities for internships and apprenticeships.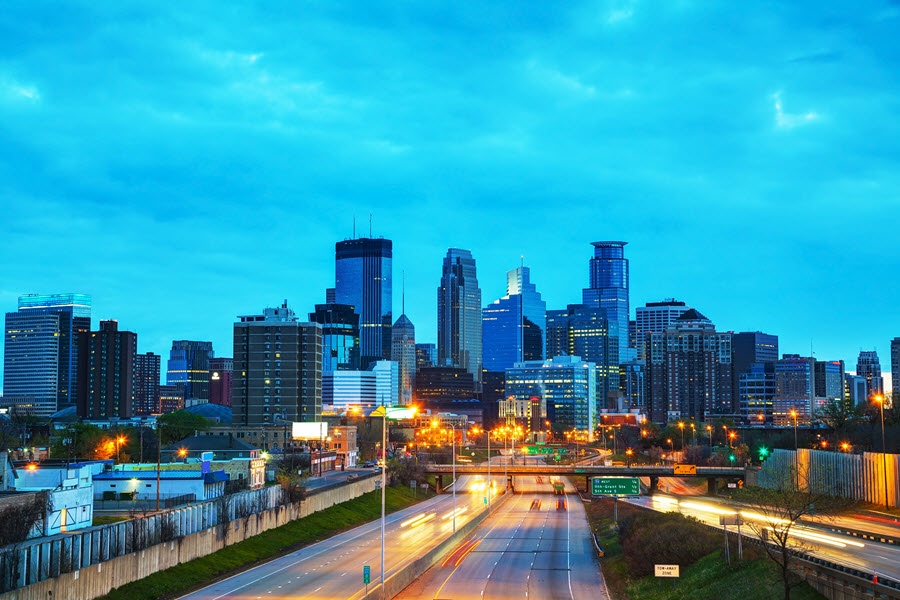 Once you find a quality school, getting in should be the easy part. Most schools have an open admissions process and only ask for a high-school diploma or GED and minimum grade standards. If the program is more competitive, you may be asked to take an assessment of your basic kitchen knowledge, or to show that you've had some experience in the kitchen, either through work experience or attendance at workshops or other industry events.
Crossing the finish line
Finishing a culinary degree will take much less time than a traditional program – about two years or less. Some schools also offer accelerated tracks that can be finished in about a year or less and will lead to a certificate or diploma that can be used for immediate entry in the job market or as a transfer degree to a four-year institution. If you're trying to fit your studies into other obligations like work and family, many schools offer flexible options like night and weekend classes, summer sessions and online programs.
Many hospitality and restaurant management degrees are available through online programs. Cooking programs, though less common, are also available online and can be completed either through the aid of video instruction (where available) or in conjunction with previous lab work or other kitchen experience.
Exploring the job market
Minnesota should see similar growth in the restaurant industry as other states – about 10 percent over the next 10 years, according to the National Restaurant Association. That won't create overwhelming demand for new chefs, but it will create some room for eager new graduates. To stay competitive and to become one of the most in-demand graduates, start networking and building your reputation early. Go to local food and wine festivals such as Farm Fest and enter competitions to start making a name for yourself. You'll also be able to meet local chefs and industry professionals and learn about the latest news and trends in the industry. Joining professional networks such as the Minnesota Restaurant Association will also help you meet key culinary professionals, as well as get access to conferences and other industry events.
Graduates are likely to find a job they love in any of the thousands of restaurants, resorts, schools, and hotels in Minnesota. Typical food industry salaries in Minnesota range according to position, city, and experience. A Registered Dietitian earns an average annual salary of $63,710; a first-line supervisor will earn about $38,900; a head chef will earn approximately $53,750; and a restaurant cook earns an average salary of around $30,620.
2019 wage data sourced from the BLS Occupational Outlook Handbook. Current wage conditions in your area may vary.
Campus-based programs
Alexandria Technical College
1601 Jefferson St.
Alexandria, MN, 56308
320-762-0221
alextech.edu
Hotel-Restaurant Management
HLC Accredited
College of Saint Benedict
37 College Ave. South
St Joseph, MN 56374
320-363-5011
csbsju.edu
Food Studies
HLC Accredited
Concordia College at Moorhead
901 8th St. South
Moorhead, MN 56562
218-299-4000
cord.edu
Food/Nutrition/Dietetics
HLC Accredited
Hibbing Community College
1515 E. 25th St.
Hibbing, MN 55746
218-262-7200
hibbing.edu
Culinary Arts
AQIP Accredited
Le Cordon Bleu College of Culinary Arts at Minneapolis
1315 Mendota Heights Road
Mendota Heights, MN 55120
888-348-5222
chefs.edu/locations/minneapolis-st-paul
NO LONGER ACCEPTING NEW STUDENTS
Culinary Arts
Patisserie and Baking
ACCSC Accredited
Minneapolis Business College
1711 W. County Road B
Roseville, MN 55113
651-636-7406
minneapolisbusinesscollege.edu
Travel and Hospitality
ACICS Accredited
Minneapolis Community and Technical College
1501 Hennepin Ave.
Minneapolis, MN 55403-1710
612-659-6200
minneapolis.edu
Culinary Arts
Baking
NCACS Accredited
Minnesota West Community and Technical College
1314 N. Hiawatha Ave.
Pipestone, MN 56164
800-658-2330
mnwest.edu
Food Science
MSCUS Accredited
National American University
10901 Red Circle Drive, suite 150
Minnetonka, MN 55343
866-628-6387
national.edu
Tourism and Hospitality Management
HLC Accredited
Normandale Community College
9700 France Avenue South
Bloomington, MN 55431
952-487-8200
normandale.edu
Hospitality Management
HLC Accredited
Saint Catherine University
2004 Randolph Ave.
St. Paul, MN 55105
651-690-6000
stkate.edu
Foods and Nutrition in Business
Foodservice Management
NCACS Accredited
Saint Cloud Technical & Community College
1540 Northway Drive
St. Cloud, MN 56303
320-308-5000
sctcc.edu
Culinary Arts
AQIP Accredited
Saint Johns University
8000 Utopia Parkway
Queens, New York 11439
718-990-2000
stjohns.edu
Hospitality Management
MCACS Accredited
Saint Paul College
235 Marshall Ave.
St. Paul, MN 55102
651-846-1600
saintpaul.edu
Hospitality and Entertainment Management
Culinary Arts
Culinary Arts Wine Professional
HLC Accredited
South Central College
1920 Lee Blvd.
North Mankato, MN 56003
507-389-7200
southcentral.edu
Culinary Arts
CIHE Accredited
Southwest Minnesota State University
1501 State St.
Marshall, MN 56258
507-537-7278
smsu.edu
Culinology
Hospitality Management
HLC Accredited
The International Culinary Schools at The Art Institutes of Minnesota
15 S. 9th St.
Minneapolis, MN 55402-3105
612-332-3361
artinstitutes.edu/minneapolis/
NO LONGER ACCEPTING NEW STUDENTS
Baking and Pastry
Culinary Arts
Culinary Management
Hospitality Management
The Art of Cooking
ACICS Accredited
University of Minnesota – Crookston
2900 University Ave.
Crookston, MN 56716-5001
800-862-6466
www.crk.umn.edu
Food Service Administration
Hotel and Restaurant Management
Resort and Spa Management
HLC Accredited
Online-based programs
American Culinary Federation
The ACF has over 200 chapters in the United States; its main campus is located in Florida
180 Center Place Way
St. Augustine, FL
904-824-4468
www.acfchefs.org
Continuing Education
Chef Certification
Chef Educators
Food Safety Certification
ACFEFAC Accredited
The Art Institutes of Pittsburgh – Online Division
The Ai has over 40 campus locations across North America, plus this online campus
420 Blvd of the Allies
Pittsburgh, PA
412-291-6200
www.aionline.edu
Hotel and Restaurant Management
Culinary Management
MSCHE Accredited
Ashworth College
430 Technology Pkwy
Norcross, GA
770-729-9400
www.ashworthcolleg.edu
Professional Gourmet Cooking and Catering
Hotel and Restaurant Management
DETC Accredited
DeVry University
This University has 90 campus locations in 26 different states
One Tower Lane
Oakbrook Terrace, IL
1-866-338-7934
www.devry.edu
Hospitality Management
HLC Accredited
eCornell
eCornell is an online program and subsidiary of Cornell University, located in New York
950 Danby Road, Suite 150
Ithaca, NY
607-330-3200
www.ecornell.com
Leadership and Strategic Management
Project Leadership and Systems Design
Financial Management
Management Essentials
Human Resources Management
Hospitality and Foodservice Management
Certificate in plant-based nutrition
HRCI and PMI Approved
Johnson and Wales University
JWU has campuses in Providence, Charlotte, and North Miami; its largest campus is in Rhode Island
8 Abbott Park Place, Providence, RI 02903
1-800-DIAL-JWU
www.jwu.edu
Baking & Pastry Arts and Food Service Management
Culinary Arts and Food Service Management
NEASC Accredited
New England Culinary Institute
NECI has two campuses in Vermont; its main campus is in Montpelier
56 College Street
Montpelier, VT 05602
877-223-6324
www.neci.edu
Hospitality and Restaurant Management
ACCSC Accredited
Penn Foster Career School
925 Oak Street
Scranton, PA 18515
570-343-9635
www.pennfoster.edu
Hotel and Restaurant Management
Catering
DETC & CHEA Accredited
Sullivan University
SU has three campuses in Louisville, Lexington and Fort Knox. The main campus for its Global e-Learning program is located in Louisville
2100 Gardiner Lane
Louisville, Kentucky 40205
502-413-8830
1-866-755-7887
www.sullivan.edu
Beverage Management
CCSACS & ACF Accredited
University of Phoenix
This University has campuses in over 40 states, and two locations in Canada
4602 East Elwood Street
Phoenix, AZ
480-968-0587
www.phoenix.edu
Hospitality, Travel and Tourism
HLC Accredited
Explore Local Schools Today
Have Questions or Feedback?