Signing Up with the Arizona Culinary Institute Program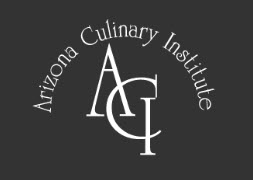 The Arizona Culinary Institute is famously known for its small classroom sizes and custom-built kitchens. The school also has a Du Jour Restaurant which is used as a student laboratory. There is only one type of diploma program available, which requires students to complete a 12-week externship.
Programs
Diploma – Culinary Arts, Baking and Restaurant Management
Individual classes take approximately three weeks to complete, and students can earn this diploma within nine months. Besides learning how to prepare different types of desserts and breads, students will also learn what to do in order to own and/or manage a successful restaurant. Coursework also includes nutrition, plate presentation, and international cuisines.The final program course is a paid internship at a restaurant, resort, catering or other culinary location. Here is an overview of their curriculum.
Basic Culinary Arts I
Basic Culinary Arts II
Saucier & Meat Fabrication
Baking and Pastry
Management, Wines & Spirits
Career Development
Advance Baking, Pastry & Showpieces
Restaurant Operations
Advance Cuisine – Du Jour Restaurant
Internship
Campus Location
Scottsdale
10585 North 114th St.
Suite 401
Scottsdale, Arizona 85259
(480) 603-1066
Toll-free: (866) 294-CHEF
azculinary.com
Explore Local Schools Today
3 Responses to "Signing Up with the Arizona Culinary Institute Program"
christiana Says:


Hello, i am in Ghana and would like to attend a short course for baking, pastry and
an international cuisines program this summer.
Will there be a program this summer like that? and how can i apply?
Hoping to hear from you.

Thanks
Christiana

stephanie hein Says:


hi,i just want to know if I can enroll in your colledge on a schollership.. i live in africa.. I want to go to the best chef schools..so that i can find a job on a ocean liner.. i want to attend a full course.. baking cakes making deserts.. and also making diffrent types of exotic types of food.. i find it to be my dream.. and if allowed or given a golden oppertunity to go study at this colledge i will work my fingers to the bone.. just to prove to you that this is an desire for the to study at the top chef school.. and fufiling my dream..

thanks
stephanie Hein.

Josh Says:


Good day my name is Joshua from Nigeria. I want to put in for a certificate course in this school that is why I want to make some of enquiry abut the course fee and requirement for international student. Thanks
Have Questions or Feedback?