Choosing a Culinary Education Program in VA
With its mix of large metropolitan areas and smaller cities, Virginia offers a range of opportunities for cuisine and for culinary experimentation. Add its proximity to Washington, D.C. and its placeholder position between the north and the south, and young chefs are afforded numerous opportunities for inspiration and discovery. Here's what you need to know if you're thinking about sharpening your skills:
Choosing a Program
Culinary school offers opportunities for everyone, and the admissions process is equally open. Usually, all you need is a high-school diploma or GED, an application and fee, and the desire to learn how to cook. If you're looking at more competitive programs, you may have to do a little more. Often, this would include a skills assessment of kitchen techniques or basic recipe knowledge. But don't worry: Work experience and other training such as seminars and workshops are often evaluated in the admissions process. Some even consider personal study or knowledge of the industry in making a decision.
Be sure that wherever you decide to go to school, the program has a quality facility with a well-stocked and fully equipped kitchen that is run by the students. Also look for a program that has an open kitchen. Often, these programs have dinner nights and other events for the public. Quality programs will also be run by experienced professors and chefs. Finally, look for a school that encourages students to apply their knowledge and helps with internships, apprenticeships and other work opportunities. It's these placements that will build experience to help you get the job – and the better salary – later.
Completing Your Degree
Whether you're heading back to school to change careers or you've just finished high school and are just getting your foot in the door, timing is important. And many culinary programs cater to the needs of a demanding business culture that demands results quickly. Programs typically take two years to complete, and some even offer certificates and diplomas that can be completed in a year or less. Night classes and online-learning options make the process even easier on busy, working adults.
Online programs are often a complement to previously completed lab work and other hands-on experience. Some programs offer video instruction. Also, degrees such as hospitality management are quite common as complete online programs.
Getting Your Chef Whites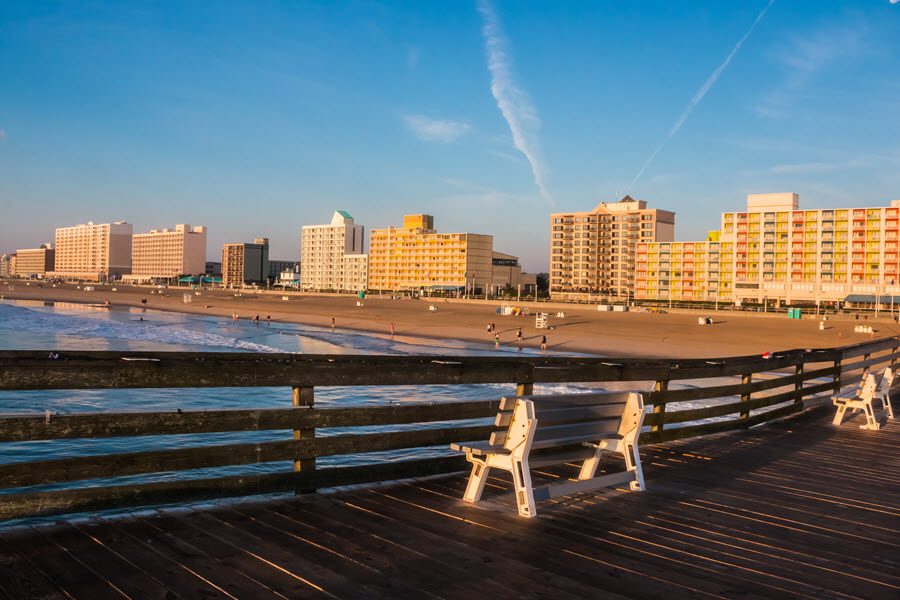 Graduates are likely to find a job they love in any of the thousands of restaurants, resorts, schools, and hotels in Virginia. Typical food industry salaries in Virginia range according to position, city, and experience. A Registered Dietitian earns an average annual salary of $59,790; a first-line supervisor will earn about $36,560; a head chef will earn approximately $56,920; and a restaurant cook earns an average salary of around $27,300.
2019 wage data sourced from the BLS Occupational Outlook Handbook. Current wage conditions in your area may vary.
Networking also helps. Try going to local food competitions and shows to meet local celebrity talent, as well as to showcase your own skills. Try the Bacchus Wine and Food Festival and other popular food festivals. And check out professional groups such as the American Hotel and Lodging Association and the Virginia Restaurant, Lodging & Travel Association.
Campus-based Programs
Culinary Institute of Virginia
2428 Almeda Avenue
Norfolk, VA 23513
757-858-CHEF
ecpi.edu/college-of-culinary-arts
Culinary Arts
Restaurant Management
CCSACS Accredited
J Sargeant Reynolds Community College
PO BOX 85622
Richmond, VA 23285-5622
804-371-3000
jsr.vccs.edu
Culinary Arts
Hospitality Leadership
Hospitality Management
Food Service Management
Hospitality Entrepreneurship
Lodging Operations
Hotel Rooms Division Management
CCSACS Accredited
James Madison University
800 S. Main Street
Harrisonburg, VA 22807
540-568-6211
jmu.edu
Hospitality Tourism Management
CCSACS Accredited
National College
1813 E. Main Street
Salem, VA 24153
540-986-1800
national-college.edu
Tourism and Hospitality
ACICS Accredited
Norfolk State University
700 Park Ave.
Norfolk, VA 23504-8050
757-823-8600
nsu.edu
Tourism and Hospitality Management
CCSACS Accredited
Northern Virginia Community College
8333 Little River Turnpike
Annandale, VA 22003-3743
703-323-3000
nvcc.edu
Culinary Arts
Food Service Management
Hotel Management
Nutrition Management
SACS Accredited
Stratford University
7777 Leesburg Pike
Falls Church, Virginia 22043
703-821-8570
stratford.edu
Advanced Culinary Arts
Baking and Pastry Arts
Hotel and Restaurant Management
Hospitality Management
ACICS Accredited
The International Culinary Schools at The Art Institute of Virginia Beach
4500 Main Street, Suite 100
Virginia Beach, VA 23462
757-493-6700
artinstitutes.edu/virginia-beach/
Culinary Arts
Culinary Arts Management
CCSACS & ACF Accredited
The International Culinary Schools at The Art Institute of Washington
1820 N. Fort Myer Drive
Arlington, VA 22209-1802
703-358-9550
artinstitutes.edu/arlington/
Culinary Arts
Culinary Arts – Baking and Pastry
Wine, Spirits and Beverage Management
Culinary Arts Management
Food and Beverage Management
CCSACS & ACF Accredited
Tidewater Community College
121 College Place
Norfolk, VA 23510-1938
800-371-0898
tcc.edu
Hospitality Management
CCSACS Accredited
Thomas Nelson Community College
P.O. Box 9407
Hampton VA 23670
757-825-2700
tncc.edu
Hospitality Lodging
Hospitality Management
CCSACS Accredited
Virginia Intermont College
1013 Moore Street
Bristol, VA 24201-4298
276-669-6101
vic.edu
Tourism
CCSACS Accredited
Virginia State University
1 Hayden Street
Petersburg, VA 23806-0001
804-524-5000
vsu.edu
Hospitality Management
SACS Accredited
Virginia Tech
118 N. Main St.
Blacksburg, VA 24061
540-231-6909
vt.edu
Hospitality and Tourism Management
CCSACS Accredited
Virginia Western Community College
P.O. Box 14007
Roanoke, VA 24038-4007
540-857-8922
virginiawestern.edu
Culinary Arts
CCSACS Accredited
Online-based Instruction Available Nationwide
American Culinary Federation
The ACF has over 200 chapters in the United States; its main campus is located in Florida
180 Center Place Way
St. Augustine, FL
904-824-4468
www.acfchefs.org
Continuing Education
Chef Certification
Chef Educators
Food Safety Certification
ACFEFAC Accredited
The Art Institutes of Pittsburgh – Online Division
The Ai has over 40 campus locations across North America, plus this online campus
420 Blvd of the Allies
Pittsburgh, PA
412-291-6200
www.aionline.edu
Hotel and Restaurant Management
Culinary Management
MSCHE Accredited
Ashworth College
430 Technology Pkwy
Norcross, GA
770-729-9400
www.ashworthcolleg.edu
Professional Gourmet Cooking and Catering
Hotel and Restaurant Management
DETC Accredited
DeVry University
This University has 90 campus locations in 26 different states
One Tower Lane
Oakbrook Terrace, IL
1-866-338-7934
www.devry.edu
Hospitality Management
HLC Accredited
eCornell
eCornell is an online program and subsidiary of Cornell University, located in New York
950 Danby Road, Suite 150
Ithaca, NY
607-330-3200
www.ecornell.com
Leadership and Strategic Management
Project Leadership and Systems Design
Financial Management
Management Essentials
Human Resources Management
Hospitality and Foodservice Management
Certificate in plant-based nutrition
HRCI and PMI Approved
Johnson and Wales University
JWU has campuses in Providence, Charlotte, and North Miami; its largest campus is in Rhode Island
8 Abbott Park Place, Providence, RI 02903
1-800-DIAL-JWU
www.jwu.edu
Baking & Pastry Arts and Food Service Management
Culinary Arts and Food Service Management
NEASC Accredited
New England Culinary Institute
NECI has two campuses in Vermont; its main campus is in Montpelier
56 College Street
Montpelier, VT 05602
877-223-6324
www.neci.edu
Hospitality and Restaurant Management
ACCSC Accredited
Penn Foster Career School
925 Oak Street
Scranton, PA 18515
570-343-9635
www.pennfoster.edu
Hotel and Restaurant Management
Catering
DETC & CHEA Accredited
Sullivan University
SU has three campuses in Louisville, Lexington and Fort Knox. The main campus for its Global e-Learning program is located in Louisville
2100 Gardiner Lane
Louisville, Kentucky 40205
502-413-8830
1-866-755-7887
www.sullivan.edu
Beverage Management
CCSACS & ACF Accredited
University of Phoenix
This University has campuses in over 40 states, and two locations in Canada
4602 East Elwood Street
Phoenix, AZ
480-968-0587
www.phoenix.edu
Hospitality, Travel and Tourism
HLC Accredited
Explore Local Schools Today
One Response to "Choosing a Culinary Education Program in VA"
Dorice Brown Says:


Greetings

I am looking for a culinary school that offers catering in the Northern Virginia area. I am currently comparing prices between the venue catering an event and a great culinary school. Thanks and I look forward to hearing from you soon.
Have Questions or Feedback?