Directory of Cooking Schools in Louisiana
There are typically three legs to the culinary arts training programs in Louisiana schools:
Culinary Arts
Food Science & Nutrition
Hospitality Management
As students begin their culinary education at any of the available programs throughout the state, they have the opportunity to taste each of these sub-specialties, and will be well on their way toward a successful career in a growing industry.
Where to Start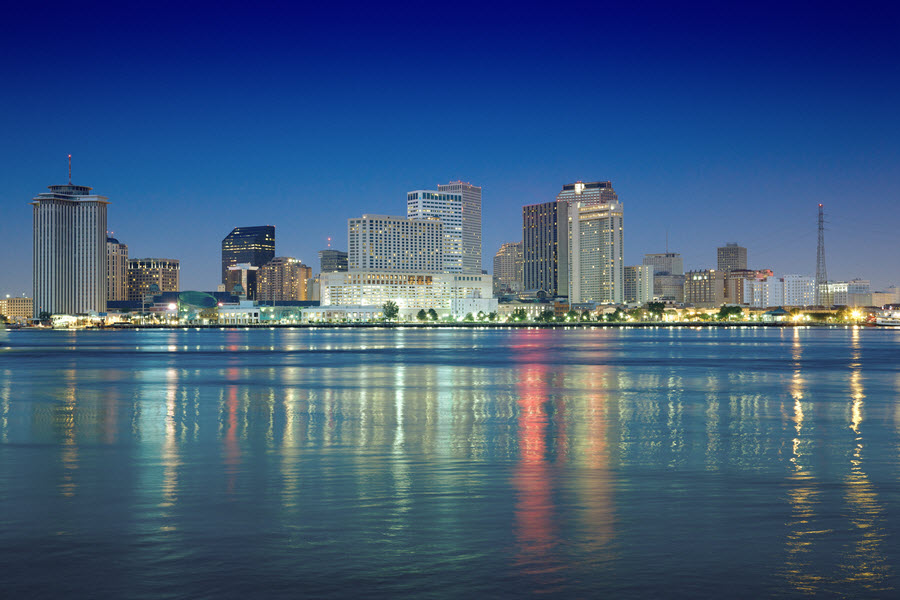 Culinary Arts programs are most commonly found at community colleges and universities in Louisiana, and many of them are accredited by the American Culinary Federation. Community Colleges may offer a one-year certificate or two-year Associate of Applied Science (AAS) degree for those interested in becoming a head cook, pastry chef, or nutritionist. The difference between a certificate and a degree is the amount of general education students must fulfill.
At Bossier Parish Community College (BPCC) in Bossier City, a culinary certificate program is two semesters. Upon completion, students will have a basic understanding of the hospitality industry, will be able to perform a personal nutrition analysis, and will be able to apply basic culinary and food preparation techniques in the kitchen. Culinary Arts students who complete the two-year Associate's program at BPCC receive a more well-rounded education because they take English, writing, math, and science classes in addition to the culinary classes that certificate students take.
Some Culinary Arts programs in Louisiana incorporate principles of hospitality, such as accounting, management, marketing, and communications. These are vital skills for people who are interested in managing or owning a restaurant, bar, or other food service establishment. Some community colleges in Louisiana offer Associate's degree programs that focus solely on hospitality, but they generally emphasize hotels and travel over the culinary arts.
In Nutrition and Dietetics programs, like the one at Nicholls State University in Thibedeaux, students learn the science behind food and the cultural influences on what communities eat. Dieticians apply nutritional guidelines and analysis to improve health and prevent disease in human and non-human animals. These programs often require an internship, and are the first step toward a career as a registered dietician.
Making Your Own Way
Working in the culinary arts provides flexibility and variety. With such a large tourist industry in Louisiana, graduates of culinary arts and nutrition programs will find work in restaurants and bars, convention centers, and with catering agencies. Employees work full or part-time schedules in shifts during any time of day or night. For those who would like to steer clear of heavy tourist crowds, there are plenty of food service jobs at bakeries, schools, hospitals, or even cooking professionally out of your own home!
Graduates are likely to find a job they love in any of the thousands of restaurants, resorts, schools, and hotels in Louisiana. Typical food industry salaries in Louisiana range according to position, city, and experience. A Registered Dietitian earns an average annual salary of $56,740; a first-line supervisor will earn about $33,340; a head chef will earn approximately $55,160; and a restaurant cook earns an average salary of around $24,490.
2019 wage data sourced from the BLS Occupational Outlook Handbook. Current wage conditions in your area may vary.
On-Campus Schools
Baton Rouge Community College
201 Community College Drive
Baton Rouge, LA 70806
(866) 217-9823
mybrcc.edu
Culinary Arts
ACF Accredited
Bossier Parrish Community College
2719 Airline Drive North
Bossier City, LA 71111
(318) 747-4567
bpcc.edu
Culinary Arts
ACF Accredited
Delgado Community College
615 City Park Avenue
New Orleans, LA 70119-4399
(504) 483-4208
dcc.edu
Culinary Arts
Food and Nutrition
ADA & ACF Accredited
Louisiana Culinary Institute
10550 Airline Highway
Baton Rouge, LA 70816
(877)533-3198
lci.edu
Advanced Culinary Arts, Baking & Pastry
ACF Accredited
Louisiana State University
261 Knapp Hall
Baton Rouge, LA 70803-4300
(225) 578-1631
nfs.lsu.edu
Food and Nutrition
ADA Accredited
Louisiana Tech University
P.O. Box 3167
Ruston, LA 71272
(318) 257-3952
ans.latech.edu/nutrition-and-dietetics.html
Nutrition and Dietetics
ADA Accredited
McNeese State University
P.O. Box 92820
Lake Charles, LA 70609
(337) 475-5970
mcneese.edu
Nutrition and Dietetics
ADA Accredited
Nicholls State University
PO Box 2090
Thibodaux, LA 70310
(985) 448-4732
nicholls.edu
Nutrition
ADA Accredited
Northwest Louisiana Technical College
2010 N. Market Street
Shreveport, LA 71107
(318) 676-7811
nwltc.edu
Technical Diploma in Culinary Arts & Occupations
Southern University and A&M College
P.O. Box 11342
Baton Rouge, LA 70813-1342
(225) 771-4660
subr.edu
Human Nutrition and Science
ADA Accredited
South Louisiana Community College
SLCC Lafayette Campus
1101 Bertrand Dr.
Lafayette, LA 70506
(337) 521-9000
solacc.edu
Culinary Arts and Occupations Technical Diploma, Associate of Applied Science – Culinary Arts & Occupations
ACF Accredited
SOWELA Technical Community College
3820 Senator J. Bennett Johnston Avenue
Lake Charles, Louisiana 70615 
(337) 421-6565 
sowela.edu
Associate of Applied Science Degree in Culinary Arts
ACF Accredited
University of Louisiana at Lafayette
P.O. Box 43810, McKinley Street
Lafayette, LA 70504-3810
(337) 482-5724
louisiana.edu
Dietetics
ADA Accredited
Online Programs
American Culinary Federation
The ACF has over 200 chapters in the United States; its main campus is located in Florida
180 Center Place Way
St. Augustine, FL
904-824-4468
www.acfchefs.org
Continuing Education
Chef Certification
Chef Educators
Food Safety Certification
ACFEFAC Accredited
The Art Institutes of Pittsburgh – Online Division
The Ai has over 40 campus locations across North America, plus this online campus
420 Blvd of the Allies
Pittsburgh, PA
412-291-6200
www.aionline.edu
Hotel and Restaurant Management
Culinary Management
MSCHE Accredited
Ashworth College
430 Technology Pkwy
Norcross, GA
770-729-9400
www.ashworthcolleg.edu
Professional Gourmet Cooking and Catering
Hotel and Restaurant Management
DETC Accredited
DeVry University
This University has 90 campus locations in 26 different states
One Tower Lane
Oakbrook Terrace, IL
1-866-338-7934
www.devry.edu
Hospitality Management
HLC Accredited
eCornell
eCornell is an online program and subsidiary of Cornell University, located in New York
950 Danby Road, Suite 150
Ithaca, NY
607-330-3200
www.ecornell.com
Leadership and Strategic Management
Project Leadership and Systems Design
Financial Management
Management Essentials
Human Resources Management
Hospitality and Foodservice Management
Certificate in plant-based nutrition
HRCI and PMI Approved
Johnson and Wales University
JWU has campuses in Providence, Charlotte, and North Miami; its largest campus is in Rhode Island
8 Abbott Park Place, Providence, RI 02903
1-800-DIAL-JWU
www.jwu.edu
Baking & Pastry Arts and Food Service Management
Culinary Arts and Food Service Management
NEASC Accredited
New England Culinary Institute
NECI has two campuses in Vermont; its main campus is in Montpelier
56 College Street
Montpelier, VT 05602
877-223-6324
www.neci.edu
Hospitality and Restaurant Management
ACCSC Accredited
Penn Foster Career School
925 Oak Street
Scranton, PA 18515
570-343-9635
www.pennfoster.edu
Hotel and Restaurant Management
Catering
DETC & CHEA Accredited
Sullivan University
SU has three campuses in Louisville, Lexington and Fort Knox. The main campus for its Global e-Learning program is located in Louisville
2100 Gardiner Lane
Louisville, Kentucky 40205
502-413-8830
1-866-755-7887
www.sullivan.edu
Beverage Management
CCSACS & ACF Accredited
University of Phoenix
This University has campuses in over 40 states, and two locations in Canada
4602 East Elwood Street
Phoenix, AZ
480-968-0587
www.phoenix.edu
Hospitality, Travel and Tourism
HLC Accredited
Explore Local Schools Today
One Response to "Directory of Cooking Schools in Louisiana"
Sydney williams Says:


My daughter wants to go to culinary school but doesn't have the means or know how. What would be her first steps far as getting government assistance or grants. Thanx very much for helping her.
Have Questions or Feedback?