Study in Seattle for Culinary Arts Education
Seattle is the cultural center of the Northwest. In addition to three professional sports teams, a symphony orchestra, a ballet company, and art museums, the city boasts of a robust culinary tradition. Two of the nation's premier culinary schools have a campus in the city. For anyone wanting to enter the exciting world of food preparation and services, Seattle offers quality education choices.
Available Degrees
Quality cooking schools in the city offer diplomas and certificates for the beginning chef. Community colleges add associate's degrees in food preparation and culinary arts, and students who want to move into hospitality services management can find a bachelor's degree program in the city.
Online cultural arts options also include bachelor's degrees in hospitality management and restaurant management for those in the field who want to move from the kitchen to the office.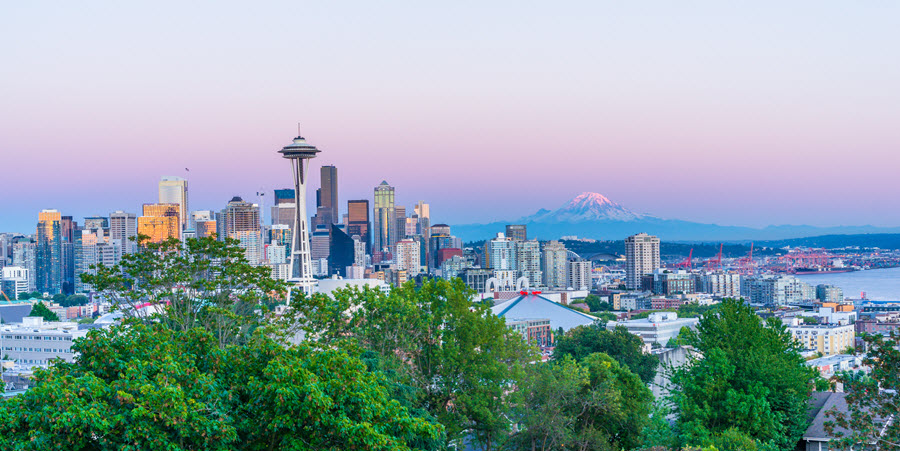 The Right School for You
Finding the right job after graduation begins with finding the right educational program with a curriculum that leads to that job. The first step is to set a specific career goal. The community college route is less expensive and affords a good, basic education for entry-level food service workers. More than half of the executive chefs built their careers on an associate's degree. Since the heart and soul of culinary arts is food preparation, look for programs with state-of-the-art kitchen facilities. The teaching staff should have both academic credentials and solid experience in the field. Instructors who have good contacts and are well respected in the local culinary community will help you open employment doors after graduation. Another great help in getting your name known is a solid externship or apprenticeship program that puts students in local restaurants.
Job Market
In the Seattle area entry-level line cooks should expect to make $23,000 to $30,000 per year. The professional progression can include sous chef, an assistant executive chef position, which commands a $37,000 to $59,000 salary. Executive chefs in the area bring home $66,000 to $101,000. The job market in Seattle for culinary arts is expected to be good especially for entry-level jobs. Families spend 50 percent of the food dollar eating out. With that trend, restaurants should continue to employ quality people. The upper end, executive chef and regional chef, positions will continue to be competitive. Restaurants employ 65 percent of the culinary arts workers. Other venues include hotels, spas, cruise ships, and individuals who hire personal chefs. Education opens the employment door; hard work, dedication, creativity, and leadership lead to the top positions in the profession.
On Campus Programs in Seattle
Seattle Community College, South Campus
6000 16th Avenue SW
Seattle, WA 98106
206-764-5300
southseattle.edu
Hospitality Management, BS
Baker/pastry chef, Certificate, AA
Culinary Arts/Chef Training, Certificate, AA
Catering and Banquet Operations, Certificate, AA
NCCU Accredited
Seattle Community College, Central Campus
1701 Broadway
Seattle, WA 98122
206-587-3800
seattlecentral.edu
Cultural Arts/Chef Training, AA
Baker/Pastry Chef, Certificate
ACFEI & NCCU Accredited
Seattle Community College, North Campus
9600 College Way N
Seattle, WA 98103
206-527-3600
northseattle.edu
Basic Food Employment Training
NCCU Accrediting
Seattle Pacific University
3307 3rd Avenue W
Seattle. WA 98116
206-281-2000
spu.edu
Food and Nutrition Studies
NCCU Accredited
The International Culinary School at the Art Institute
2323 Elliot Avenue
Seattle, WA 98121
206-448-6600
artinstitutes.edu/seattle
Baking and Pastry, Diploma, AA
Culinary Arts, AA, BS
The art of Cooking, Diploma
NCCU & ACACF Accredited
Le Cordon Bleu—Seattle
360 Corporate Drive North
Tukwila, WA 98188
866-863-2061
chefs.edu/locations/seattle
NO LONGER ACCEPTING NEW STUDENTS
Culinary Arts, Diploma
Baking and Pastry, Certificate
Online Culinary Arts Learning
The Art Institute Online
Culinary Management
Hotel and Restaurant Management
www.aionline.edu
MSCH Accredited
University of Phoenix Online
Bachelor's degree in Hospitality Management
www.phoenix.edu
NCACS Accredited
Stratford University Online
Hotel and restaurant Management
Hospitality Management
www.stratford.edu
ACICS Accredited
Sullivan University
Bachelor's degree in Hospitality Management
www.sullivan.edu
Ashworth College online
Hospitality and Restaurant Management
Gourmet Cooking and Catering
www.ashworthcollege.edu
DETC, SACS & CASI Accredited
Le Cordon Bleu-online
Culinary Management
www.chefs.edu/online
ACCSCT Accredited
Explore Local Schools Today
One Response to "Study in Seattle for Culinary Arts Education"
Catherine Says:


Are these Seattle Schools for Vegans?
Have Questions or Feedback?