Massachusetts Culinary Class Directory
For its size, Massachusetts has a proportionately large number of culinary and hospitality schools. In total, there are sixteen programs offered through community colleges, universities, and post-secondary vocational schools. This provides ample opportunity for those seeking a career in the culinary arts to find quality training just about anywhere in the state.
Opportunities at Every Level
Students in Massachusetts have the choice of earning multiple diplomas and certificates, Associate's, Baccalaureate, Master's, or Doctoral degrees depending on their level of interest in applied versus research practices within the culinary industry.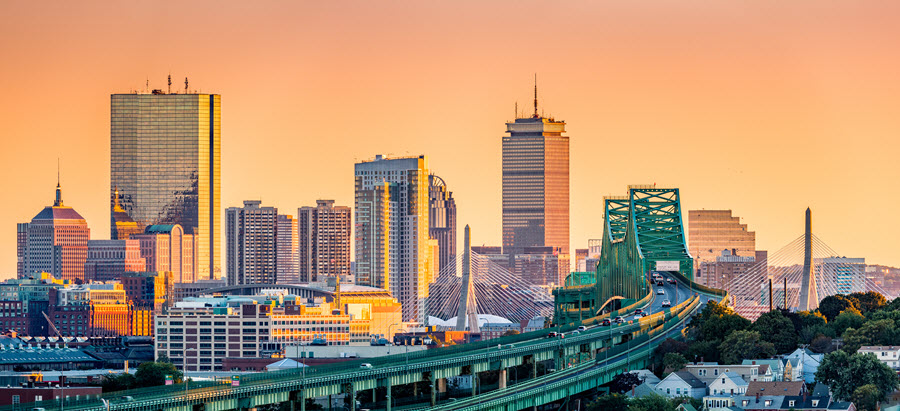 Certificates and diplomas are available at vocational schools, community colleges, and online. The Cambridge School of Culinary Arts (CSCA) in Cambridge, a vocational school, has both professional diploma and certificate options in culinary arts and pastry. A diploma here takes 37 weeks, while a certificate takes 16 weeks.
Like diploma and certificate programs, degree programs offer both in-class and hands-on instruction. One main difference here is the amount of time it takes to complete a degree, and how many classes outside of their chosen field of study a student must take.
An Associate degree, for example, is a two year program that incorporates general education in addition to culinary or hospitality courses. At Holyoke Community College, students can earn an Associate of Applied Science in Hospitality and Culinary Arts by completing courses such as a la cart cooking, banquet cooking, management, and nutrition alongside math, science, English, and language.
Baccalaureate programs in Massachusetts give students a deeper understanding of the culinary and hospitality profession. Because they last four years, students choose to concentrate on either culinary arts or restaurant management after gaining an overview of the industry. Traditionally, Bachelor's programs offer one or the other. If a school does have both, they exist as entirely distinct programs. Endicott College, in Beverly, for example, offers only a hospitality management program, but it is highly specialized with concentrations in event planning, senior community management, and spa management.
For those with a Bachelor's degree who seek further knowledge and research opportunities in Massachusetts, there are Master's degree programs. Typical Master's programs focus less on the applied cooking of the trade and more on the science of nutrition, food, and management.
Boston University/Sargent College offers both Bachelor's and Master's degree programs in food science and nutrition. This program emphasizes the science, physics, biochemistry, and sociology within culinary traditions of certain communities. A Master's degree program typically takes two years and incorporates an independent research or thesis project for graduation.
Graduates are likely to find a job they love in any of the thousands of restaurants, resorts, schools, and hotels in Massachusetts. Typical food industry salaries in Massachusetts range according to position, city, and experience. A Registered Dietitian earns an average annual salary of $72,610; a first-line supervisor will earn about $44,510; a head chef will earn approximately $63,190; and a restaurant cook earns an average salary of around $34,100.
2019 wage data sourced from the BLS Occupational Outlook Handbook. Current wage conditions in your area may vary.
On-Campus Schools
Berkshire Community College
1350 West Street
Pittsfield, MA 01201
(413) 499-4660
berkshirecc.edu
Culinary Arts
Hospitality Management
NEASC Accredited
Branford Hall Career Institute
189 Brookdale Drive
Springfield, MA 01104
Tel: 413-732-0546
branfordhall.edu
Culinary Arts
ACICS Accredited
Bristol Community College
777 Elsbree Street
Fall River, MA 02720
508.678.2811
bristolcc.edu
Culinary Arts
Baking and Pastry
NEASC Accredited
Boston University/Sargent College
635 Commonwealth Avenue
Boston, MA 02215-1605
(617) 353-7488
bu.edu/sargent
Food Science and Nutrition
Dietetics
Hospitality Management
ADA Accredited
Bunker Hill Community College
250 New Rutherford Ave
Boston, Massachusetts 02129
617-228-2000
bhcc.mass.edu
Culinary Arts and Hospitality Management
NEASC Accredited
The Cambridge School of Culinary Arts
2020 Massachusetts Avenue
Cambridge, MA 02140
(617) 354-2020
cambridgeculinary.com
Culinary Arts
Pastry
ACCSC Accredited
Caritas Laboure College
2120 Dorchester Avenue
Boston, MA 02124-5698
Phone: (617) 296-8300
laboure.edu
Dietetic Technician
ADA Accredited
Endicott College
376 Hale Street
Beverly, MA 01915
(978) 927-0585
endicott.edu
Hospitality Management
NEASC Accredited
Framingham State College
100 State Street
Framingham, MA 01701-9101
(508) 626-4754
framingham.edu
Food Science and Nutrition
Dietetics
ADA Accredited
Holyoke Community College
303 Homestead Ave.
Holyoke, MA 1040
(413) 552-2600
hcc.edu
Hospitality and Culinary Arts
ACF Accredited
Lasell College
1844 Commonwealth Avenue
Newton, MA 02466
lasell.edu
Hospitality and Event Management
NEASC Accredited
Massachusetts Bay Community College
50 Oakland Street
Wellesley Hills, MA 02481
781-239-3000
massbay.edu
Hospitality Management
NEASC Accredited
Massasoit Community College
One Massasoit Blvd.
Brockton, MA 02302
508-588-9100
massasoit.edu
Culinary Arts
Hospitality Management
NEASC Accredited
Newbury College
129 Fisher Avenue
Brookline, MA 02445-5746
(617) 277-3855
newbury.edu
Hotel and Restaurant Management
Culinary Arts
Baking and Pastry
NEASC Accredited
Simmons College
300 The Fenway
Boston, MA 02115-5898
(617) 521-2708
simmons.edu
Nutrition and Dietetics
ADA Accredited
University of Massachusetts, Amherst
213 Chenoweth Laboratory, 100 Holdsworth Way
Amherst, MA 01003-9282
(413) 545-1077
umass.edu/sphhs/nutrition
Nutrition and Dietetics
ADA Accredited
Online Programs
American Culinary Federation
The ACF has over 200 chapters in the United States; its main campus is located in Florida
180 Center Place Way
St. Augustine, FL
904-824-4468
www.acfchefs.org
Continuing Education
Chef Certification
Chef Educators
Food Safety Certification
ACFEFAC Accredited
The Art Institutes of Pittsburgh – Online Division
The Ai has over 40 campus locations across North America, plus this online campus
420 Blvd of the Allies
Pittsburgh, PA
412-291-6200
www.aionline.edu
Hotel and Restaurant Management
Culinary Management
MSCHE Accredited
Ashworth College
430 Technology Pkwy
Norcross, GA
770-729-9400
www.ashworthcolleg.edu
Professional Gourmet Cooking and Catering
Hotel and Restaurant Management
DETC Accredited
DeVry University
This University has 90 campus locations in 26 different states
One Tower Lane
Oakbrook Terrace, IL
1-866-338-7934
www.devry.edu
Hospitality Management
HLC Accredited
eCornell
eCornell is an online program and subsidiary of Cornell University, located in New York
950 Danby Road, Suite 150
Ithaca, NY
607-330-3200
www.ecornell.com
Leadership and Strategic Management
Project Leadership and Systems Design
Financial Management
Management Essentials
Human Resources Management
Hospitality and Foodservice Management
Certificate in plant-based nutrition
HRCI and PMI Approved
Johnson and Wales University
JWU has campuses in Providence, Charlotte, and North Miami; its largest campus is in Rhode Island
8 Abbott Park Place, Providence, RI 02903
1-800-DIAL-JWU
www.jwu.edu
Baking & Pastry Arts and Food Service Management
Culinary Arts and Food Service Management
NEASC Accredited
New England Culinary Institute
NECI has two campuses in Vermont; its main campus is in Montpelier
56 College Street
Montpelier, VT 05602
877-223-6324
www.neci.edu
Hospitality and Restaurant Management
ACCSC Accredited
Penn Foster Career School
925 Oak Street
Scranton, PA 18515
570-343-9635
www.pennfoster.edu
Hotel and Restaurant Management
Catering
DETC & CHEA Accredited
Sullivan University
SU has three campuses in Louisville, Lexington and Fort Knox. The main campus for its Global e-Learning program is located in Louisville
2100 Gardiner Lane
Louisville, Kentucky 40205
502-413-8830
1-866-755-7887
www.sullivan.edu
Beverage Management
CCSACS & ACF Accredited
University of Phoenix
This University has campuses in over 40 states, and two locations in Canada
4602 East Elwood Street
Phoenix, AZ
480-968-0587
www.phoenix.edu
Hospitality, Travel and Tourism
HLC Accredited
Explore Local Schools Today
3 Responses to "Massachusetts Culinary Class Directory"
marco baruffaldi Says:


hi I'm the chef Baruffaldi marco i'm italian i work in the osteria la civetta in falmouth cape cod in Massachusetts can i have some information? I would like to know if there are graduates young chef they can and want to work for an Italian restaurant, if is possible can i have a list of graduates guys? awaiting response i send you my greetings.

marco baruffaldi Says:


hi my names is marco baruffaldi i'm an italian chef now i work in osteria la civetta in falmouth, cape cod, massachusset can i ask a question? how is possible collaborate and teaching the italian cousine in yours school? if need, there is an italian chef i'm here.if need be I will I send my curriculum. waiting for a response I send you my greetings

uche iyke Says:


Can u employ a nigerian?
Have Questions or Feedback?