Options for a Cooking Career in Georgia
Georgia offers a unique mix of Southern tradition and progressive trends. And you'll find the same sampling across its menus, from soul food to sushi and tapas. It's a fertile environment for budding chefs, from those who are interested in traditional techniques to those who are eager to experiment with new forms.
Before the COVID-19 pandemic The National Restaurant Association anticipated a significant increase in industry employment, however restaurants and hospitality were the hardest hit industries by the crisis.
Here's what you can do to be a part of the rebirth of the industry:
Going to Culinary School
Getting into a program is usually the easiest part of the process. Admission usually only requires a high-school diploma or GED. For some programs, you may have to prove your mettle by taking an assessment test or showing off your skills, learned either through experience or personal study. Previous work experience or attendance at conferences or seminars can be the icing on the cake.
When you look for a program, be sure to find one that has a quality kitchen, the centerpiece of your education. It should be well-stocked, student-run and open to the public. And, of course, the quality of your education is only as good as your teachers. Look for programs the showcase experience, especially chefs or former chefs. But don't focus all your attention on theory. Find a program that encourages students to get their hands dirty, offering opportunities for internships, job training and apprenticeships.
Finishing a Program
Most culinary programs cater to the needs of students with an eye towards entering the job market quickly, offering programs that take only one to two years to complete. Many more offer night classes, and some even offer online-learning options.
Online programs often emphasize theory over technique, complementing previous hands-on training or lab work. But video instruction guides students through techniques when attendance at a campus-based program isn't possible. And there are multiple options for finishing degrees in hospitality and tourism management exclusively online.
The list below showcases the top schools with culinary programs in the state.
Landing the Job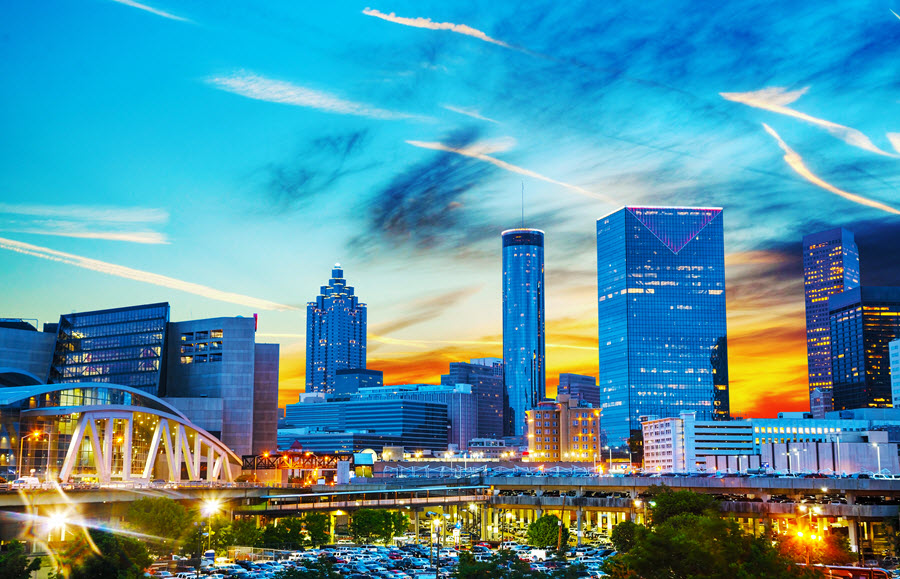 Graduates are likely to find a job they love in any of the thousands of restaurants, resorts, schools, and hotels in Georgia. Typical food industry salaries in Georgia range according to position, city, and experience. A waiter/waitress will earn an annual average salary of $21,570; a Registered Dietitian earns $50,580; a first-line supervisor will earn about $32,240; a head chef will earn approximately $52,950; and a restaurant cook earns an average salary of around $26,030.
2019 wage data sourced from the BLS Occupational Outlook Handbook. Current wage conditions in your area may vary.
If you're just starting out, there are some things you can do to improve your chances. Try going to local food and wine festivals and entering competitions to increase your visibility. Some examples include the Taste of Atlanta, the Vidalia Onion Festival & the Celebrity Chef Tour. Never underestimate the power of networking. Check out professional groups such as the American Hotel and Lodging Association and the National Restaurant Association.
Campus-based Schools in Georgia
Albany Technical College
1704 S. Slappey Blvd.
Albany, Ga. 31701
229-430-3500
albanytech.edu
Culinary Arts
Hotel/Restaurant/Tourism Management
CCSACS Accredited
Atlanta Technical College
1560 Metropolitan Parkway SW
Atlanta, GA 30310-4446
404-225-4400
atlantatech.edu
Hotel/Restaurant/Tourism Management
CCSACS Accredited
Augusta Technical College
3116 Deans Bridge Road
Augusta, GA 30906-3399
706-771-4000
augustatech.edu
Culinary Arts
CCSACS Accredited
Chattahoochee Technical College
980 South Cobb Drive
Marietta, GA 30060
770-528-4545
chattahoocheetech.edu
Culinary Arts
CCSACS & ACF Accredited
Fort Valley State University
1005 State University Drive
Fort Valley, GA 31030-3298
478-825-6211
ag.fvsu.edu
Food and Nutrition Studies
CCSACS Accredited
Georgia State University
P.O. Box 3965
Atlanta, GA 30302-3965
404-413-2500
gsu.edu
Hospitality Administration
SACS Accredited
Georgia Southern University
P.O. Box: 8104
Statesboro, GA 30460
912-478-4636
georgiasouthern.edu
Hotel and Restaurant Management
SACS Accredited
Gwinnett Technical College
5150 Sugarloaf Parkway
Lawrenceville, GA 30043
770-962-7580
gwinnetttech.edu
Culinary Arts
Hotel, Restaurant, and Tourism Management
CCSACS Accredited
Morris Brown College
643 Martin Luther King Jr. Dr
Atlanta, GA 30314
404-739-1010
morrisbrown.edu
Hospitality Management
No accreditation (lost in 2002)
Savannah Technical College
5717 White Bluff Road
Savannah, GA 31405
912-443-5700
savannahtech.edu
Culinary Arts
Hotel, Restaurant, and Tourism
CCSACS Accredited
The International Culinary Schools at The Art Institute of Atlanta
600 Peachtree Dunwoody Road, N.E.
Atlanta, GA 30328-1635
770-394-8300
artinstitutes.edu/atlanta/
Culinary Arts
Culinary Arts – Baking and Pastry
Wine, Spirits and Beverage Management
Culinary Arts Management
Food and Beverage Management
CCSACS & ACF Accredited
West Georgia Technical College
997 South Highway 16
Carrollton, GA 30116
770-836-6800
westgatech.edu
Culinary Arts
CCSACS Accredited
Online-based Instruction Available Nationwide
American Culinary Federation
The ACF has over 200 chapters in the United States; its main campus is located in Florida
180 Center Place Way
St. Augustine, FL
904-824-4468
www.acfchefs.org
Continuing Education
Chef Certification
Chef Educators
Food Safety Certification
ACFEFAC Accredited
The Art Institutes of Pittsburgh – Online Division
The Ai has over 40 campus locations across North America, plus this online campus
420 Blvd of the Allies
Pittsburgh, PA
412-291-6200
www.aionline.edu
Hotel and Restaurant Management
Culinary Management
MSCHE Accredited
Ashworth College
430 Technology Pkwy
Norcross, GA
770-729-9400
www.ashworthcolleg.edu
Professional Gourmet Cooking and Catering
Hotel and Restaurant Management
DETC Accredited
DeVry University
This University has 90 campus locations in 26 different states
One Tower Lane
Oakbrook Terrace, IL
1-866-338-7934
www.devry.edu
Hospitality Management
HLC Accredited
eCornell
eCornell is an online program and subsidiary of Cornell University, located in New York
950 Danby Road, Suite 150
Ithaca, NY
607-330-3200
www.ecornell.com
Leadership and Strategic Management
Project Leadership and Systems Design
Financial Management
Management Essentials
Human Resources Management
Hospitality and Foodservice Management
Certificate in plant-based nutrition
HRCI and PMI Approved
Johnson and Wales University
JWU has campuses in Providence, Charlotte, and North Miami; its largest campus is in Rhode Island
8 Abbott Park Place, Providence, RI 02903
1-800-DIAL-JWU
www.jwu.edu
Baking & Pastry Arts and Food Service Management
Culinary Arts and Food Service Management
NEASC Accredited
New England Culinary Institute
NECI has two campuses in Vermont; its main campus is in Montpelier
56 College Street
Montpelier, VT 05602
877-223-6324
www.neci.edu
Hospitality and Restaurant Management
ACCSC Accredited
Penn Foster Career School
925 Oak Street
Scranton, PA 18515
570-343-9635
www.pennfoster.edu
Hotel and Restaurant Management
Catering
DETC & CHEA Accredited
Sullivan University
SU has three campuses in Louisville, Lexington and Fort Knox. The main campus for its Global e-Learning program is located in Louisville
2100 Gardiner Lane
Louisville, Kentucky 40205
502-413-8830
1-866-755-7887
www.sullivan.edu
Beverage Management
CCSACS & ACF Accredited
University of Phoenix
This University has campuses in over 40 states, and two locations in Canada
4602 East Elwood Street
Phoenix, AZ
480-968-0587
www.phoenix.edu
Hospitality, Travel and Tourism
HLC Accredited
Explore Local Schools Today
One Response to "Options for a Cooking Career in Georgia"
William Selden Says:


Do you get a salary while doing apprenticeships or internships while attending culinary school?
Have Questions or Feedback?