Attend Culinary College in Houston, TX
Texas may be famous for its steakhouses and its Tex-Mex influenced cuisine, but that doesn't mean that the local chefs don't know how to push the boundaries and create new dishes that delight the tastes. There is a bustling culinary scene in Houston, the largest city in the state and the fourth largest city in the country. There is ample opportunity for aspiring chefs in kitchens that run the gamut of culinary tastes. And there are a number of schools that will give you the training to get your foot in the door.
Starting Your Studies
It will be easier to decide on the menu of options for culinary programs if you keep a few things in mind when you start your search. The kitchen should be the star of any curriculum you choose, and it should be fully-equipped and up-to-date. Even better, the kitchen should be used to support a student-run restaurant that is open to the public. Nothing will be better training for your future career. Also make sure that the program is taught by experienced professors and chefs. Be forward thinking. Your end goal is to find the best position when you graduate. With that in mind, make sure your school offers services for job placement or counseling, and has opportunities for training through internships or other partnerships.
You won't have to audition with a gourmet meal to be accepted into a program. Most schools only require students to meet basic academic standards, including a high-school diploma or GED. If there are more stringent standards in place, you may be asked to undergo testing of your basic kitchen knowledge, or you may have to show that you've had prior work experience or other training.
Options for Busy Adults
Everything moves faster in a big city, and your culinary education will be no different. Programs typically take two years or less to complete, resulting in an associate's degree. Not fast enough for you? There are options to get a certificate or diploma that can be used to gain entry-level work in just about a year. If you're already working and want some flexibility for your studies, many schools offer night and weekend classes, summer school and online courses.
If you want to bypass the classroom completely, many schools offer online programs. Often, you will have to have previous kitchen experience and take the courses online to supplement your degree. Some schools will offer video instruction for learning cooking techniques. Many more offer online degrees for management.
Get Cooking
In one of the largest markets in the country, you shouldn't have a hard time finding opportunities after you graduate. You'll have to put in your time in the kitchen before you start seeing results though. Experience will be a big factor in determining salary, as well as your job position. Head chefs and cooks will make the most, followed by sous chefs and assistants. Where you work will also matter: Top restaurants, hotels, resorts and spas will pay the best. You can also do well working as a personal chef. Who knows? Maybe you can cook for the next Bush.
Improve your chances of finding the best jobs by expanding your circle of contacts. Join professional networks and go to food festivals to meet industry professionals and get inside tips. You'll also gain access to conferences and other industry events.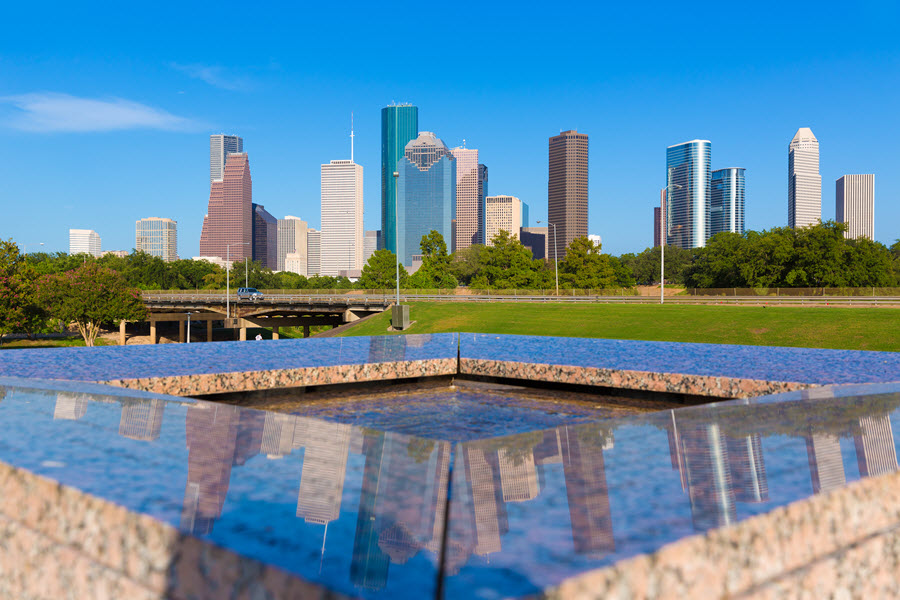 Campus-Based Programs
Houston Community College System
3100 Main St.
Houston TX 77002
713-718-2000
hccs.edu
Baking and Pastry Arts
Culinary Arts
Hotel-Restaurant Management
Travel and Tourism
SACS accredited
San Jacinto College-North Campus
5800 Uvalde
Houston, TX 77049
281-458-4050
sanjac.edu
Culinary Arts
Dietetics
Restaurant Management
SACS Accredited
The Art Institute of Houston
1900 Yorktown St.
Houston, TX 77056-4197
713-623-2040
artinstitutes.edu/houston
Baking and Pastry
Culinary Arts
Restaurant and Catering Management
Culinary Management
Food and Beverage Management
CCSACS Accredited
The Culinary Institute of Houston
7070 Allensby St.
Houston, TX 77022-4322
713-692-0077
www.culinaryinstitute.edu
Culinary Arts (60 week option, or 76 week option for baking and culinary degrees)
Baking and Pastry
Cuisine
ACCSCT Accredited
University of Houston
3401 Cullen Blvd.
Houston, TX 77004
713-743-5666
www.uh.edu
Hotel and Restaurant Management
CCSACS Accredited
Online Culinary Arts Learning
New England Culinary Institute
Hospitality and Restaurant Management, BA
www.neci.edu
ACCSC Accreditation
The Art Institute Online
Culinary Management
www.aionline.edu
MSCH Accredited
University of Phoenix Online
Bachelor's degree in Hospitality Management
www.phoenix.edu
Stratford University Online
Hotel and restaurant Management
Hospitality Management
www.stratford.edu
ACICS Accredited
Sullivan University, E-learning
Bachelor's degree in Hospitality Management
www.sullivan.edu/e-Learning/bach_hospitality.asp
Ashworth College online
Hospitality and Restaurant Management
Gourmet Cooking and Catering
www.ashworthcollege.edu
DETC Accredited
Le Cordon Bleu
Bachelor's degree in Culinary Management
www.chefs.edu
Explore Local Schools Today
Have Questions or Feedback?