Culinary Program Directory for Illinois
Illinois has a strong agricultural economy built on corn and soybean production. But that doesn't mean you'll be seeing all creamed corn and tofu on the menus in Illinois restaurants. German-influence cuisine and pork dishes are scattered throughout, and Chicago is famous for its deep-dish pizzas and hot dogs. And, being one of the biggest cities in the country, Chicago is also a hotbed for emerging and up-to-the-minute cuisine. It only makes sense that Chicago also is a hotbed for culinary schools, with a wide variety of programs and some of the top schools. For those who prefer to live outside the big city, there are a number of other options throughout the state.
Picking the program that's right for you
With so many options to choose from, it's helpful to keep in mind a few key factors for settling on a quality program. Any good culinary program worth its salt will have a professional up-to-date kitchen that is run by students. Also look for a student-run restaurant, such as The Parrot Cage at the Washburne Culinary Institute of Kennedy-King College, or opportunities for gourmet dinner nights or other public events that give students practical, hands-on training. Also, look for programs that offer job-placement assistance or opportunities for apprenticeships or internships. For example, Kendall College in Chicago promotes opportunities for career-specific internships for its students.
Once you find the right program, getting in should be as easy as pie. The majority of culinary programs only require that admitted students have completed a high-school diploma or GED. If the school is more selective, you may be asked to take a skills assessment (testing basic kitchen knowledge or techniques) or to prove some experience either through work positions or attendance at workshops or seminars.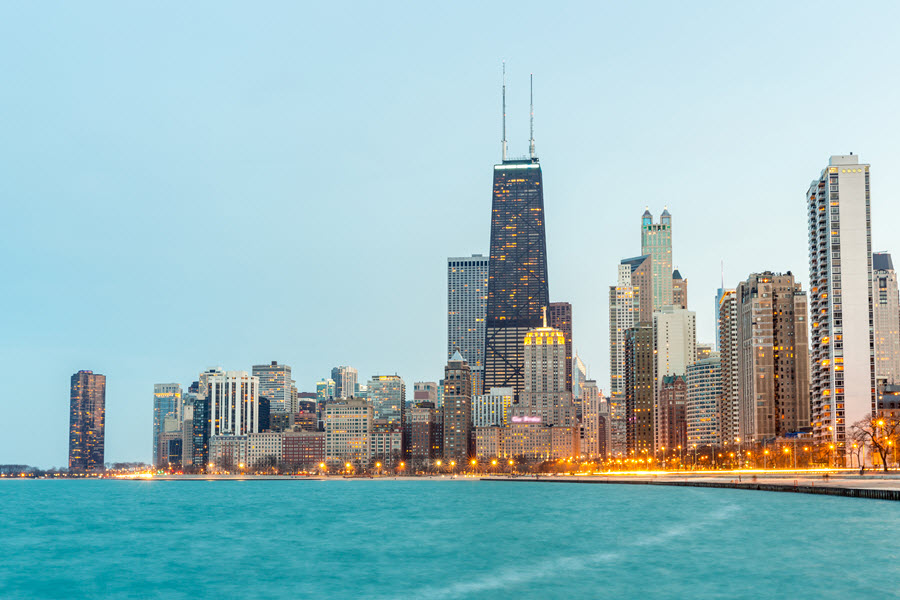 Degree options for busy adults
Once you decide on your future career path, you want to get started on it as soon as possible, and it can make finishing your studies seem like an eternity. Luckily, most culinary programs can be completed in much less time than a traditional degree – in about two years or less. Some schools, such as Kendall College, offer accelerated programs, and others offer certificate and diploma options that can be completed in a year or less. For example, programs at the French Pastry School can all be completed in less than six months.
Online programs offer more options for busy adults and working professionals to finish a degree. Some culinary programs can be completed through video instruction, or through courses that complement previous kitchen work. Many hospitality and foodservice management programs can also be completed exclusively online.
Starting your culinary career
Graduates are likely to find a job they love in any of the thousands of restaurants, resorts, schools, and hotels in Illinois. Typical food industry salaries in Illinois range according to position, city, and experience. A Registered Dietitian earns an average annual salary of $59,160; a first-line supervisor will earn about $33,000; a head chef will earn approximately $55,450; and a restaurant cook earns an average salary of around $29,190.
2019 wage data sourced from the BLS Occupational Outlook Handbook. Current wage conditions in your area may vary.
Stay competitive and increase your chances of commanding higher salaries by networking. Join professional networks such as the Illinois Restaurant Association and attend food and wine festivals across the state to meet industry professionals and to get advance notice of industry events. Also, look for opportunities to enter cooking competitions to show off your cooking skills and get your name out there.
Campus-based programs
Black Hawk College
6600 34th Ave.
Moline, IL 61265-5899
309-796-5000
bhc.edu
Culinary Arts
NCACS Accredited
College of Du Page
425 Fawell Blvd.
Glen Ellyn, IL 60137
630-942-2800
cod.edu
Foodservice Administration
Hospitality Administration
Hotel and Lodging Management
NCACHE Accredited
College of Lake County
19351 W. Washington St.
Grayslake, IL 60030-1198
847-543-2000
clcillinois.edu
Foodservice Management
AQIP Accredited
Dominican University
7900 W. Division St.
River Forest, IL 60305
708-366-2490
dom.edu
Culinology
Food Industry Management
Food Science and Nutrition
NCACS Accredited
Elgin Community College
1700 Spartan Drive
Elgin, IL 60123-7193
847-697-1000
elgin.edu
Culinary Arts and Hospitality
NCACS Accredited
Fox College
6640 S. Cicero
Bedford Park, IL 60638
708-444-4500
foxcollege.edu
Travel and Hospitality
HLC Accredited
French Pastry School
226 W. Jackson Blvd.
Chicago, IL 60606-6918
312-726-2419
frenchpastryschool.com
Professional Pastry and Baking
Professional Cake Baking and Decorating
ICCB Accredited
Harper College
1200 W. Algonquin Road
Palatine, IL 60067
847-925-6707
harpercollege.edu
Hospitality Management
NCACS Accredited
Illinois Central College
1 College Drive
East Peoria, IL 61635-0001
309-694-5422
icc.edu
Hospitality Management
NCACS Accredited
Illinois Institute of Art – Chicago
350 N. Orleans St.
Chicago, IL 60654-1593
312-280-3500
artinstitutes.edu/chicago
Culinary Arts
Hospitality Management
Culinary Management
Professional Baking and Pastry
HLC Accredited
John Wood Community College
1301 S. 48th St.
Quincy, IL 62305
217-224-6500
jwcc.edu
Culinary Arts
Restaurant Management
NCACS Accredited
Joliet Junior College
1215 Houbolt Road
Joliet, IL 60431-8938
815-729-9020
jjc.edu
Culinary Arts
Hospitality Management
Meeting and Special Event Planning
NCACS Accredited
Kaskaskia College
27210 College Road
Centralia, IL 62801-7878
618-532-0701
kaskaskia.edu
Culinary Arts
NCACS Accredited
Kendall College
900 N. Branch St.
Chicago, IL 60642
888-905-3632
kendall.edu
Culinary Arts
Baking and Pastry
Personal Chef and Catering
Professional Cookery
Hospitality Management
Food Service Management
NCACS Accredited
Le Cordon Bleu College of Culinary Arts – Chicago
361 West Chestnut
Chicago, IL 60610
888-295-7222
chefs.edu/locations/chicago
NO LONGER ACCEPTING NEW STUDENTS
Culinary Arts
Patisserie and Baking
ACCSC Accredited
Lincoln Land Community College
5250 Shepherd Road
Springfield, IL 62794-9256
217-786-2200
llcc.edu
Hospitality
HLC Accredited
Moraine Valley Community College
9000 W. College Parkway
Palos Hills, IL 60465-2478
708-974-4300
morainevalley.edu
Baking/Pastry Arts
Beverage Management
Culinary Arts Management
HLC Accredited
Northern Illinois University
1425 W. Lincoln Highway
Dekalb, IL 60115-2825
815-753-1000
niu.edu
Hospitality Administration
HLC Accredited
Olivet Nazarene University
1 University Ave
Bourbonnais, IL 60914-2345
800-648-1463
olivet.edu
Hospitality
NCACS Accredited
Parkland College
2400 W. Bradley Ave.
Champaign, IL 61821-1899
217-351-2446
parkland.edu
Foodservice
Hospitality Industry
Hotel/Motel Management
NCACS Accredited
Rend Lake College
468 N. Ken Gray Parkway
Ina, IL 62846
618-437-5321
rlc.edu
Culinary Arts
NCACS Accredited
Richland Community College
One College Park
Decatur, IL 62521
217-875-7200
richland.edu
Culinary Arts
Hospitality Management
HLC Accredited
Robert Morris College
401 S. State St.
Chicago, IL 60605
800-762-5960
robertmorris.edu
Culinary Arts
Hospitality Management
NCACS Accredited
(fine dining series)
Roosevelt University
430 S. Michigan Ave.
Chicago, IL 60605-1394
312-341-3500
roosevelt.edu
Hospitality and Tourism Management
HLC Accredited
Southeastern Illinois College
3575 College Road
Harrisburg IL 62946
618-252-5400
sic.edu
Food Service and Sanitation
Hotel, Restaurant and Travel Management
HLC Accredited
Southern Illinois University – Carbondale
425 Clocktower Drive
Carbondale, IL 62901
618-453-2121
siu.edu
Hospitality and Tourism Administration
NCACS Accredited
Southwestern Illinois College
2500 Carlyle Ave.
Belleville, IL 62221-5899
618-235-2700
swic.edu
Culinary Arts and Food Management
NCACS Accredited
Triton College
2000 Fifth Ave.
River Grove, IL 60171
708-456-0300
triton.edu
Hospitality Industry Administration
HLC Accredited
Washburne Culinary Institute of Kennedy-King College
740 W. 63rd St.
Chicago, IL 60621
773-602-5487
washburneculinary.com
Culinary Arts
Baking and Pastry Arts
HLC Accredited
Online-based programs
American Culinary Federation
The ACF has over 200 chapters in the United States; its main campus is located in Florida
180 Center Place Way
St. Augustine, FL
904-824-4468
www.acfchefs.org
Continuing Education
Chef Certification
Chef Educators
Food Safety Certification
ACFEFAC Accredited
The Art Institutes of Pittsburgh – Online Division
The Ai has over 40 campus locations across North America, plus this online campus
420 Blvd of the Allies
Pittsburgh, PA
412-291-6200
www.aionline.edu
Hotel and Restaurant Management
Culinary Management
MSCHE Accredited
Ashworth College
430 Technology Pkwy
Norcross, GA
770-729-9400
www.ashworthcolleg.edu
Professional Gourmet Cooking and Catering
Hotel and Restaurant Management
DETC Accredited
DeVry University
This University has 90 campus locations in 26 different states
One Tower Lane
Oakbrook Terrace, IL
1-866-338-7934
www.devry.edu
Hospitality Management
HLC Accredited
eCornell
eCornell is an online program and subsidiary of Cornell University, located in New York
950 Danby Road, Suite 150
Ithaca, NY
607-330-3200
www.ecornell.com
Leadership and Strategic Management
Project Leadership and Systems Design
Financial Management
Management Essentials
Human Resources Management
Hospitality and Foodservice Management
Certificate in plant-based nutrition
HRCI and PMI Approved
Johnson and Wales University
JWU has campuses in Providence, Charlotte, and North Miami; its largest campus is in Rhode Island
8 Abbott Park Place, Providence, RI 02903
1-800-DIAL-JWU
www.jwu.edu
Baking & Pastry Arts and Food Service Management
Culinary Arts and Food Service Management
NEASC Accredited
New England Culinary Institute
NECI has two campuses in Vermont; its main campus is in Montpelier
56 College Street
Montpelier, VT 05602
877-223-6324
www.neci.edu
Hospitality and Restaurant Management
ACCSC Accredited
Penn Foster Career School
925 Oak Street
Scranton, PA 18515
570-343-9635
www.pennfoster.edu
Hotel and Restaurant Management
Catering
DETC & CHEA Accredited
Sullivan University
SU has three campuses in Louisville, Lexington and Fort Knox. The main campus for its Global e-Learning program is located in Louisville
2100 Gardiner Lane
Louisville, Kentucky 40205
502-413-8830
1-866-755-7887
www.sullivan.edu
Beverage Management
CCSACS & ACF Accredited
University of Phoenix
This University has campuses in over 40 states, and two locations in Canada
4602 East Elwood Street
Phoenix, AZ
480-968-0587
www.phoenix.edu
Hospitality, Travel and Tourism
HLC Accredited
Explore Local Schools Today
2 Responses to "Culinary Program Directory for Illinois"
Jay Phenicie Says:


I'm seeking a Culinary Baking School in Southern Illnois to present as a gift to our Pastor who is interested in supplementing his Baking skills. Not interested in a degree, but a 2-3 day teaching class with emphasis on Baking.
We are located in Sikeston, Missouri

Sharon Steckler Says:


HI:
I'm trying to help a friend who qualifies for a Pell Grant. Pell Grants will pay for an "accredited" college or university. Does the Art Institute count? What programs in the Chicago area accept this type of financial aid?
Have Questions or Feedback?