A Guide to Texan Culinary Colleges
The majority of culinary programs in Texas are located in the state's major cities: Austin, Dallas, San Antonio, and Houston. There is also a scattering of programs in other cities throughout the state. All these schools provide culinary and hospitality students with a quality education that prepares them for jobs in restaurants, hotels, resorts, clubs, schools, hospitals, or catering.
The Terms
The terms "culinary arts," "hospitality," and "food service" are all used interchangeably to indicate careers in which trained professionals either manage, prepare, serve, or plan food service for consumers. The culinary and hospitality industry covers a number of specialties in which students can find multiple training opportunities in Texas.
Briefly, culinary arts typically incorporate the practice of preparing meals and dishes, planning menus, and creating new recipes. Hospitality management includes the business side of the trade, from managing and owning restaurants, purchasing food and beverages, handling food sanitation, economics, and marketing. These two arms of the industry will often overlap, especially in smaller establishments, so students who have exposure and training in both aspects are especially valuable in the workforce.
Lone Star Programs
Realizing the separate-but-equal nature of the culinary and hospitality skill sets, schools in Texas typically offer Associate, Baccalaureate, and certificate programs in Culinary Arts, Hospitality Management, and other aspects of the industry.
At Austin Community College, for example, students can earn degrees in either Hospitality Management (food and lodging), Culinary Arts (food preparation), and a third specialty, Travel and Tourism (management and food service at resorts and hotels).
Other schools offer more specialized certificates, like the ones at Del Mar College in Corpus Christi. Students can earn certificates in Baking or Kitchen Management, as well as an Associate's degree in culinary arts with a baking specialty.
Certificates generally take less time to complete than a two-year Associate degree because they do not have general education requirements. El Centro College in Dallas has a three-semester certificate program in hospitality service management which incorporates 1,000 hours of work experience.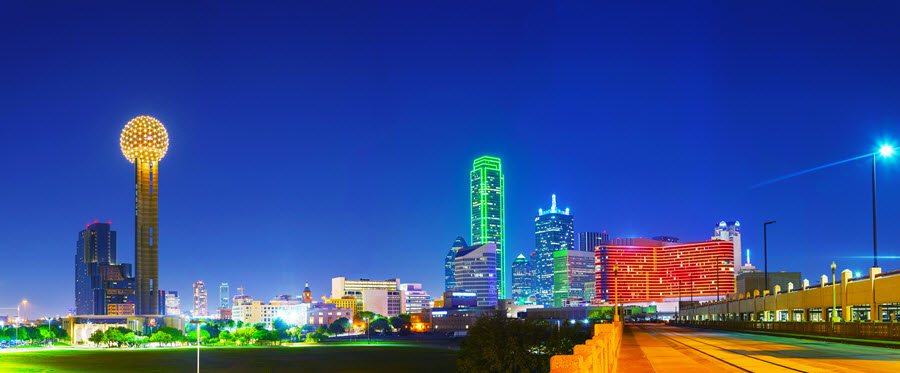 In the Community
Culinary arts programs are not generally known for their community activism. However, St. Phillips College in San Antonio has implemented its Proyecto Alimento to increase numbers of Hispanic students in nutrition and culinary programs. Proyecto Alimento provides scholarships and academic support and outreach to Hispanic students and Hispanic-serving establishments to accomplish their goals.
Graduates are likely to find a job they love in any of the thousands of restaurants, resorts, schools, and hotels in Texas. Typical food industry salaries in Texas range according to position, city, and experience. A waiter/waitress will earn an annual average salary of $22,070; a Registered Dietitian earns $57,030; a first-line supervisor will earn about $37,450; a head chef will earn approximately $56,880; and a restaurant cook earns an average salary of around $26,100.
On-Campus Schools
Art Institute of Dallas
8080 Park Lane Suite 100
Dallas, TX 75231-5993
(214) 692-8080
artinstitutes.edu/dallas/
Culinary Arts
Baking and Pastry
Hospitality Management
ACF Accredited
Art Institute of Houston
1900 Yorktown
Houston, TX 77056
(713) 623-2040
artinstitutes.edu/houston/
Culinary Arts
ACF Accredited
Austin Community College
Eastview Campus
3401 Webberville Road
Austin, TX 78702
(512) 223-5176
austincc.edu
Culinary Arts
Hospitality Management
Travel and Tourism
ACF Accredited
Del Mar College
101 Baldwin Boulevard
Corpus Christi, TX 78404-3897
(361) 698-1840
delmar.edu
Culinary Arts
Hospitality Management
ACF Accredited
El Centro College
Main and Lamar
Dallas, TX 75202
(214) 860-2368
elcentrocollege.edu
Culinary Arts
Bakery and Pastry
Food and Hospitality Service
ACF Accredited
Lamar University
2111 Redbird Lane
Beaumont, TX 77710
(409) 880-1744
lamar.edu
Culinary Arts
Nutrition and Dietetics
Hospitality Management
ACF Accredited
St. Philip's College
801 Martin Luther King
San Antonio, TX 78203
(210) 531-3315
alamo.edu/spc/
Culinary Arts
Hospitality Management
ACF Accredited
Texas Culinary Academy
11400 Burnet Road
Austin, TX 78758
(512) 837-2665
chefs.edu/locations/austin
Culinary Arts
Patisserie and Baking
ACF Accredited
Online Programs
American Culinary Federation
The ACF has over 200 chapters in the United States; its main campus is located in Florida
180 Center Place Way
St. Augustine, FL
904-824-4468
www.acfchefs.org
Continuing Education
Chef Certification
Chef Educators
Food Safety Certification
ACFEFAC Accredited
The Art Institutes of Pittsburgh – Online Division
The Ai has over 40 campus locations across North America, plus this online campus
420 Blvd of the Allies
Pittsburgh, PA
412-291-6200
www.aionline.edu
Hotel and Restaurant Management
Culinary Management
MSCHE Accredited
Ashworth College
430 Technology Pkwy
Norcross, GA
770-729-9400
www.ashworthcolleg.edu
Professional Gourmet Cooking and Catering
Hotel and Restaurant Management
DETC Accredited
DeVry University
This University has 90 campus locations in 26 different states
One Tower Lane
Oakbrook Terrace, IL
1-866-338-7934
www.devry.edu
Hospitality Management
HLC Accredited
eCornell
eCornell is an online program and subsidiary of Cornell University, located in New York
950 Danby Road, Suite 150
Ithaca, NY
607-330-3200
www.ecornell.com
Leadership and Strategic Management
Project Leadership and Systems Design
Financial Management
Management Essentials
Human Resources Management
Hospitality and Foodservice Management
Certificate in plant-based nutrition
HRCI and PMI Approved
Johnson and Wales University
JWU has campuses in Providence, Charlotte, and North Miami; its largest campus is in Rhode Island
8 Abbott Park Place, Providence, RI 02903
1-800-DIAL-JWU
www.jwu.edu
Baking & Pastry Arts and Food Service Management
Culinary Arts and Food Service Management
NEASC Accredited
New England Culinary Institute
NECI has two campuses in Vermont; its main campus is in Montpelier
56 College Street
Montpelier, VT 05602
877-223-6324
www.neci.edu
Hospitality and Restaurant Management
ACCSC Accredited
Penn Foster Career School
925 Oak Street
Scranton, PA 18515
570-343-9635
www.pennfoster.edu
Hotel and Restaurant Management
Catering
DETC & CHEA Accredited
Sullivan University
SU has three campuses in Louisville, Lexington and Fort Knox. The main campus for its Global e-Learning program is located in Louisville
2100 Gardiner Lane
Louisville, Kentucky 40205
502-413-8830
1-866-755-7887
www.sullivan.edu
Beverage Management
CCSACS & ACF Accredited
University of Phoenix
This University has campuses in over 40 states, and two locations in Canada
4602 East Elwood Street
Phoenix, AZ
480-968-0587
www.phoenix.edu
Hospitality, Travel and Tourism
HLC Accredited
Explore Local Schools Today
One Response to "A Guide to Texan Culinary Colleges"
SYLVESTER Says:


hi! i have done a craftsmanship course in foodproduction which was for one year.currently i am working as a commie in a restaurant.i would like to know it it is possible for me to further pursue a degree course in culinary art.
Have Questions or Feedback?