Overview of Culinary Training in South Carolina
From Charleston to Myrtle Beach, South Carolina showcases a rich cultural environment steeped in Southern tradition. Aspiring chefs are sure to find inspiration in its culinary delights. And whether your tastes lean toward clam bakes and hushpuppies or roasted pork and steamed greens, there is a culinary program available to teach you to master the skills to sate your senses.
Getting the Skills
Making a delicate soufflé may require finesse, but it's no brain surgery. And getting into a culinary school isn't like getting into medical school. Don't worry about studying for entrance tests or writing elaborate personal statements: Admissions to most culinary schools usually calls for only a high-school diploma or GED. Some programs may ask for a little more, and you may be asked to show off some basic skills in the kitchen or to prove you know your way around a recipe. Work experience and seminars are also useful in showcasing your knowledge if you're looking at a slightly more competitive school.
No matter the program, the most important part of it is the kitchen. You can't make an omelet without breaking a few eggs, and you can't break eggs in a stodgy classroom lined with desks. Make sure your program has a top-notch kitchen, fully equipped and run by the students. Also look for a kitchen that is open to the public, with offerings like gourmet dinner nights. Experienced instructors and opportunities for internships and apprenticeships are more key qualities to look for in a program. The goal is to get hands-on, practical training that is going to prepare you for the job market.
Degrees for Busy Adults
The fast-paced business world waits for no one, and many adults are eager to finish their training in a timely manner and to enter the job market as quickly as possible. Many culinary programs seem designed with this in mind. Most programs only take two years or less to complete, depending on whether you choose to complete an associate's degree or a certificate program. (Bachelor's degrees are also available at some programs.) Night classes and online classes are also options at many schools.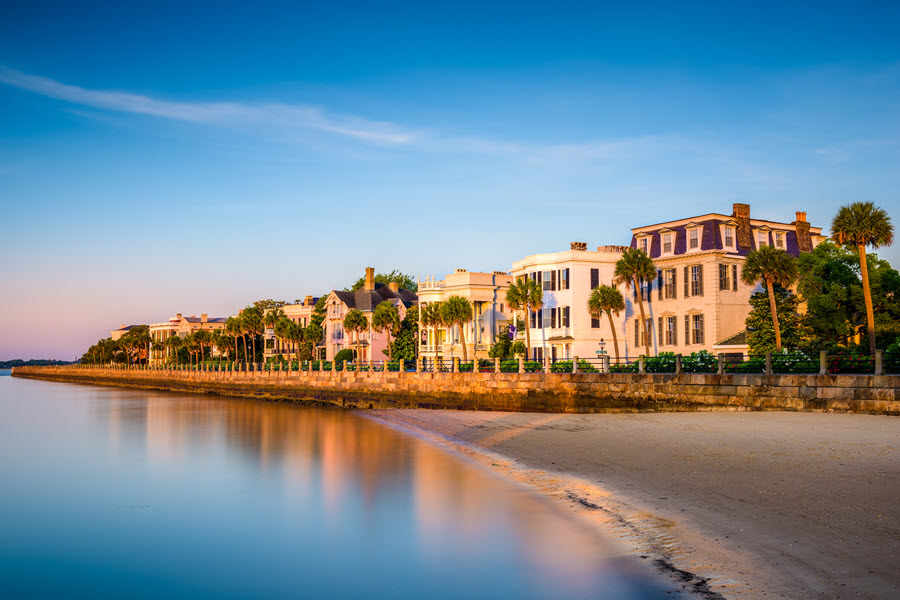 Getting your hands dirty means getting in the kitchen. But that doesn't mean that online options are out. Some online courses offer video instruction, and many more offer complementary programs to finish a degree after basic lab instruction has been completed. Hospitality and tourism degrees are often available exclusively online.
The list below showcases the top schools with culinary programs in the state.
Getting a Piece of the Pie
The National Restaurant Association predicts a jobs increase of about 20 percent across the state in the next 10 years. The group estimates that restaurant jobs account for 11 percent of the market. So there are plenty of opportunities. Typical food industry salaries in South Carolina range according to position, city, and experience. A waiter/waitress will earn an annual average salary of $20,200; a Registered Dietitian earns $56,650; a first-line supervisor will earn about $33,870; a head chef will earn approximately $46,360; and a restaurant cook earns an average salary of around $25,730.
2019 wage data sourced from the BLS Occupational Outlook Handbook. Current wage conditions in your area may vary.
But don't wait until you graduate to try to get experience. Internships and apprenticeships can help you make connections and build valuable experience that will increase your marketability later. Also, start going to local cooking competitions and food festivals to network and build your reputation. The Lowcountry Oyster Festival, the Hilton Head Island Wine and Food Festival and the World Grits Festival offer a range of options to show off different skills.
Campus-based schools
Bob Jones University
1700 Wade Hampton Blvd.
Greenville, SC 29614
864-242-5100
bju.edu
Culinary Arts
TRACS Accredited
Clemson University
201 Sikes Hall
Clemson, SC 29634
864-656-3311
clemson.edu
Food, Nutrition, and Culinary Sciences
Food Science
Food Technology
SACS Accredited
College of Charleston
66 George Street
Charleston, SC 29424
843-805-5507
cofc.edu
Hospitality and Tourism Management
SACS Accredited
Culinary Institute of Charleston at Trident Technical College
PO Box 118067
Charleston, SC 29423
843-574-6111
tridenttech.edu
Culinary Arts Technology
Baking and Pastry
Hospitality and Tourism Management
Food and Beverage Operations
Hotel Operations
Event Management
CCSACS, ACF, & PHA Accredited
Denmark Technical College
1126 Solomon Blatt Blvd
Denmark, SC 29042
803-793-5100
denmarktech.edu
Culinary Arts
SACS Accredited
Garrett Academy of Technology
2731 Gordon Street
North Charleston, SC 29405
843-745-7126
garrett.ccsdschools.com
Culinary Arts
ACF Accredited
Greenville Technical College
PO Box 5616
Greenville, SC 29606
864-250-8111
gvltec.edu/culinary_institute/
Culinary Arts Technology
Baking and Pastry Arts
Culinary Education
CCSACS Accredited
Horry-Georgetown Technical College
743 Hemlock Avenue
Myrtle Beach, SC 29577-5044
843-238-8076
hgtc.edu
Culinary Arts Technology
General Business: Hospitality Management Emphasis
CCSACS Accredited
The International Culinary Schools at The Art Institute of Charleston
24 North Market Street
Charleston, SC 29401-2623
843-727-3500
artinstitutes.edu/charleston/
Culinary Arts
Culinary Arts – Baking and Pastry
Wine, Spirits and Beverage Management
Culinary Arts Management
CCSACS Accredited
Winthrop University
701 Oakland Avenue
Rock Hill, SC 29733
803-323-2211
winthrop.edu
Food Systems Management
CCSACS Accredited
Online-based Instruction Available Nationwide
American Culinary Federation
The ACF has over 200 chapters in the United States; its main campus is located in Florida
180 Center Place Way
St. Augustine, FL
904-824-4468
www.acfchefs.org
Continuing Education
Chef Certification
Chef Educators
Food Safety Certification
ACFEFAC Accredited
The Art Institutes of Pittsburgh – Online Division
The Ai has over 40 campus locations across North America, plus this online campus
420 Blvd of the Allies
Pittsburgh, PA
412-291-6200
www.aionline.edu
Hotel and Restaurant Management
Culinary Management
MSCHE Accredited
Ashworth College
430 Technology Pkwy
Norcross, GA
770-729-9400
www.ashworthcolleg.edu
Professional Gourmet Cooking and Catering
Hotel and Restaurant Management
DETC Accredited
DeVry University
This University has 90 campus locations in 26 different states
One Tower Lane
Oakbrook Terrace, IL
1-866-338-7934
www.devry.edu
Hospitality Management
HLC Accredited
eCornell
eCornell is an online program and subsidiary of Cornell University, located in New York
950 Danby Road, Suite 150
Ithaca, NY
607-330-3200
www.ecornell.com
Leadership and Strategic Management
Project Leadership and Systems Design
Financial Management
Management Essentials
Human Resources Management
Hospitality and Foodservice Management
Certificate in plant-based nutrition
HRCI and PMI Approved
Johnson and Wales University
JWU has campuses in Providence, Charlotte, and North Miami; its largest campus is in Rhode Island
8 Abbott Park Place, Providence, RI 02903
1-800-DIAL-JWU
www.jwu.edu
Baking & Pastry Arts and Food Service Management
Culinary Arts and Food Service Management
NEASC Accredited
New England Culinary Institute
NECI has two campuses in Vermont; its main campus is in Montpelier
56 College Street
Montpelier, VT 05602
877-223-6324
www.neci.edu
Hospitality and Restaurant Management
ACCSC Accredited
Penn Foster Career School
925 Oak Street
Scranton, PA 18515
570-343-9635
www.pennfoster.edu
Hotel and Restaurant Management
Catering
DETC & CHEA Accredited
Sullivan University
SU has three campuses in Louisville, Lexington and Fort Knox. The main campus for its Global e-Learning program is located in Louisville
2100 Gardiner Lane
Louisville, Kentucky 40205
502-413-8830
1-866-755-7887
www.sullivan.edu
Beverage Management
CCSACS & ACF Accredited
University of Phoenix
This University has campuses in over 40 states, and two locations in Canada
4602 East Elwood Street
Phoenix, AZ
480-968-0587
www.phoenix.edu
Hospitality, Travel and Tourism
HLC Accredited
Explore Local Schools Today
One Response to "Overview of Culinary Training in South Carolina"
Asad Khan Says:


Hi i am from Bangladesh i like to learn about bakery and pastry course in Denmark and i am doing right now national certificate courses in my country about bakery and pastry. so please provide me some details information about some college at Denmark
Have Questions or Feedback?