Find a NC Culinary School Program
North Carolina cities are continually rated among the top best places to live, and the state is poised for more growth. It's no wonder then that the National Restaurant Association expects a 21 percent growth in restaurant jobs over the next 10 years. But the array of culinary schools across the state make it easy to rise to the top of the industry.
Starting your Education
A good culinary school should have a few key ingredients. Looks for programs that are run by experienced professionals, and that focus on hands-on experience for students in the community. This can include internships or apprenticeships, or other opportunities for showing off newly acquired skills, such as dinner nights for the public or cooking competitions. And, of course, any cooking program is only as good as its kitchen. Look for programs that have kitchens that are well-stocked and up to date.
Getting into a culinary program is a piece of cake. Most only ask that you have a high-school diploma or GED. But some may want to see if you really have what it takes to make the cut. They may ask for a skills assessment or a test of your basic culinary knowledge, including basic kitchen skills. Work experience or other training may also be considered, so be sure to highlight any seminars and conferences attended.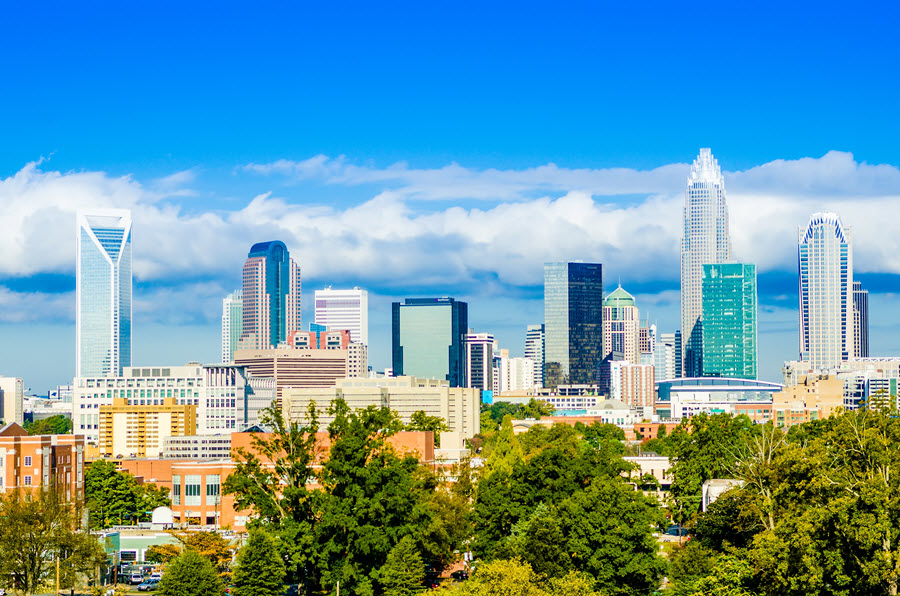 Finishing the Degree
You won't spend a long time simmering through your education. Most programs come to a rapid boil, finishing in two years or less. Online programs make getting your degree even easier, offering options to take classes around your own schedule. Some online programs will still require basic hands-on experience in a lab, so some complementary time in a classroom or lab may still be required. But others will allow video instruction from the comfort of your own kitchen. The list below showcases the top local & online schools with culinary programs.
Getting the Job
Graduates are likely to find a job they love in any of the thousands of restaurants, resorts, schools, and hotels in North Carolina. Typical food industry salaries in North Carolina range according to position, city, and experience. A Registered Dietitian earns an average annual salary of $56,830; a first-line supervisor will earn about $35,160; a head chef will earn approximately $52,430; and a restaurant cook earns an average salary of around $26,260.
2019 wage data sourced from the BLS Occupational Outlook Handbook. Current wage conditions in your area may vary.
As your working your way up, there are a few things you can do to increase your marketability. Try attending local food festivals to network with other chefs or to show off your skills through competitions. North Carolina is famous for its barbecue, and The Barbecue Festival in Lexington draws big crowds every year. If you have a sweet tooth, try the National Gingerbread House Competition & other culinary events in Asheville, which draw nation-wide attention every year. Other notable festivals include the Charlotte Shout Culinary Arts Experience and the Carolina Chocolate Festival in Morehead City.
Campus-Based Schools, with Degrees Offered and Accreditation
Alamance Community College
P.O. Box 8000
Graham, NC 27253-8000
336-578-2002
alamancecc.edu
Culinary Technology
ACFF Accredited
Appalachian State University
ASU Box 32004
Boone, NC 28608
828-262-2000
appstate.edu
Foods and Nutrition
Hospitality and Tourism Management
SACS Accredited
Asheville-Buncombe Technical Community College
340 Victoria Road
Asheville, NC 28801
828-254-1921
abtech.edu
Baking and Pastry Arts
Culinary Technology
Hospitality Management
Hotel and Restaurant Management
CCSACS Accredited
Cape Fear Community College
411 N. Front St.
Wilmington, NC 28401
910-362-7000
cfcc.edu
Culinary Technology
Hotel and Restaurant Management
CCSACS Accredited
Central Piedmont Community College
P.O. Box 35009
Charlotte, NC 28235
704-330-2722
cpcc.edu
Baking and Pastry Arts
Culinary Technology
Hotel and Restaurant Management
Hotel Management
Restaurant Management
CCSACS Accredited
East Carolina University
East Fifth St.
Greenville, NC 27858-4353
252-328-6131
ecu.edu
Hospitality Management
SACS Accredited
Johnson and Wales University
801 W. Trade St.
Charlotte, NC 28202
800-DIAL-JWU
www1.jwu.edu/charlotte/
Baking and Pastry Arts
Culinary Arts
Baking & Pastry Arts and Food Service Management
Culinary Arts & Food Service Management
Hotel & Lodging Management
International Hotel and Tourism Management
Restaurant, Food and Beverage Management
Spots/Entertainment/Event Management
CBG & NEASC Accredited
Lenoir Community College
231 Hwy 58 South
Kinston, NC 28502-0188
252-527-6223
lenoircc.edu
Culinary Technology
Foodservice Technology
ACFF Accredited
The International Culinary Schools at The Art Institute of Charlotte
2110 Water Ridge Parkway
Charlotte, NC 28217-4536
704-357-8020
artinstitutes.edu/charlotte
Culinary Arts
Culinary Arts Management
ACICS Accredited
The International Culinary Schools at The Art Institute of Raleigh-Durham
410 Blackwell St.
Durham, NC 27701
919-317-3050
artinstitutes.edu/raleigh-durham
Culinary Arts
Culinary Arts Management
ACICS Accredited
Meredith College
3800 Hillsborough St.
Raleigh, NC 27607-5298
919-760-8600
meredith.edu
Foods and Nutrition
CCSACS Accredited
N.C. A&T University
1601 E. Market St.
Greensboro, NC 27411
336-334-7500
ncat.edu
Culinary Arts and Related Services
Culinary Arts/Chef Training
Food Science and Technology
Food Service, Waiter/Waitress, and Dining Room Management/Manager
Food Technology and Processing
Foods, Nutrition and Related Services
Foodservice Systems Administration/Management
Hospitality Administration/Management
Hotel/Motel Administration/Management
SACS Accredited
North Carolina Central University
1801 Fayetteville St.
Durham, NC 27707
919-530-6100
nccu.edu
Hospitality and Tourism
SACS Accredited
Sandhills Community College
3395 Airport Road
Pinehurst, NC 28374
910-692-6185
sandhills.edu
Baking and Pastry Arts
Culinary Arts
Hotel and Restaurant Management
Resort and Spa Management
CCSACS Accredited
Wake Technical Community College
9101 Fayetteville Road
Raleigh, NC 27603
919-266-5000
waketech.edu
Baking and Pastry Arts
Culinary Technology
Hotel and Restaurant Management
CCSACS & ACFF Accredited
Western Carolina University
102 Camp Building
Cullowhee, NC 28723
877-WCU-4YOU
wcu.edu
Hospitality and Tourism Management
SACS Accredited
Wilkes Community College
1328 S. Collegiate Drive
Wilkesboro, NC 28697
336-838-6100
wilkescc.edu
Baking and Pastry Arts
Culinary Technology
CCSACS Accredited
Online-Based Programs
American Culinary Federation
The ACF has over 200 chapters in the United States; its main campus is located in Florida
180 Center Place Way
St. Augustine, FL
904-824-4468
www.acfchefs.org
Continuing Education
Chef Certification
Chef Educators
Food Safety Certification
ACFEFAC Accredited
The Art Institutes of Pittsburgh – Online Division
The Ai has over 40 campus locations across North America, plus this online campus
420 Blvd of the Allies
Pittsburgh, PA
412-291-6200
www.aionline.edu
Hotel and Restaurant Management
Culinary Management
MSCHE Accredited
Ashworth College
430 Technology Pkwy
Norcross, GA
770-729-9400
www.ashworthcolleg.edu
Professional Gourmet Cooking and Catering
Hotel and Restaurant Management
DETC Accredited
DeVry University
This University has 90 campus locations in 26 different states
One Tower Lane
Oakbrook Terrace, IL
1-866-338-7934
www.devry.edu
Hospitality Management
HLC Accredited
eCornell
eCornell is an online program and subsidiary of Cornell University, located in New York
950 Danby Road, Suite 150
Ithaca, NY
607-330-3200
www.ecornell.com
Leadership and Strategic Management
Project Leadership and Systems Design
Financial Management
Management Essentials
Human Resources Management
Hospitality and Foodservice Management
Certificate in plant-based nutrition
HRCI and PMI Approved
Johnson and Wales University
JWU has campuses in Providence, Charlotte, and North Miami; its largest campus is in Rhode Island
8 Abbott Park Place, Providence, RI 02903
1-800-DIAL-JWU
www.jwu.edu
Baking & Pastry Arts and Food Service Management
Culinary Arts and Food Service Management
NEASC Accredited
New England Culinary Institute
NECI has two campuses in Vermont; its main campus is in Montpelier
56 College Street
Montpelier, VT 05602
877-223-6324
www.neci.edu
Hospitality and Restaurant Management
ACCSC Accredited
Penn Foster Career School
925 Oak Street
Scranton, PA 18515
570-343-9635
www.pennfoster.edu
Hotel and Restaurant Management
Catering
DETC & CHEA Accredited
Sullivan University
SU has three campuses in Louisville, Lexington and Fort Knox. The main campus for its Global e-Learning program is located in Louisville
2100 Gardiner Lane
Louisville, Kentucky 40205
502-413-8830
1-866-755-7887
www.sullivan.edu
Beverage Management
CCSACS & ACF Accredited
University of Phoenix
This University has campuses in over 40 states, and two locations in Canada
4602 East Elwood Street
Phoenix, AZ
480-968-0587
www.phoenix.edu
Hospitality, Travel and Tourism
HLC Accredited
Explore Local Schools Today
2 Responses to "Find a NC Culinary School Program"
Ruth Anderson Says:


Do any of the Baking and Pastry Arts University or College have Scholarships for international Students? Can classes be taken online?

Richard Austell Says:


Do y'all except cornerstone Christian correspondent as a credible school
Have Questions or Feedback?