Chef Colleges and Training in Dallas, TX
Mention food and Dallas and the first thought is Tex-Mex and Barbeque. True, Dallas brags about being the best in both of these popular offerings. But this vibrant city of 6.3 million also has a rich and varied culinary tradition with more restaurants per capita than even New York. Dallas is the business and financial center of the Southwest and is the number one convention city in the nation. With this large population and visitor base it is little wonder the Big D is a culinary Mecca. The city's new slogan says it well, "Live large, think big." Several of the nation's top culinary schools reside in the city and offer quality course work to open the door to this exciting field.
Culinary employment
The field of culinary arts includes beginning line cooks, pastry and bakery chefs, sous chefs, executive chefs, and regional chefs. Work is found in the wide variety of restaurants, which employ 56 percent of the field, and hospitals, hotels, convention centers, caterers, schools, cruise ships, and personal chefs. Job prospects for entry-level food service are good due to a high turnover. Top chef positions remain highly competitive. The job market in Dallas is better than in much of the nation, but remains sluggish. In the Dallas area line cooks can expect $21,000 to $29,000; sous chefs make $33,000 to $52,000; assistant pastry chefs bring in $31,000 to $48,000; and executive chefs should make $58,000 to $90,000 per year.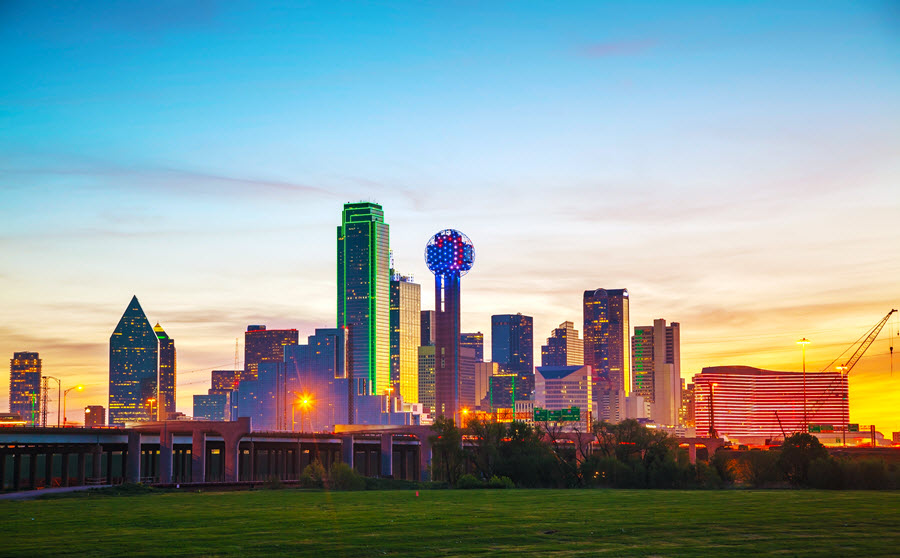 Choose the right education track
The first step in school selection is to determine your goal after graduation. A management track requires a bachelor's degree, while the exciting area of food preparation can rest on a variety of certificate programs and associate's degree offerings. Online programs cater to those in the field who want to move from the kitchen to management. School opens the door to the profession. Success in the field depends on creativity, hard work, dedication, and determination.
Select the right school
With so many programs and schools to choose from, carefully research each school so the program meets your specific needs. If expense is a consideration, look closely at the community college or technical school option. Since the heart of culinary arts is food preparation, the school should have state-of-the-art cooking facilities. The teaching staff should have solid educational and work credentials. A well-respected instructor opens doors for you after graduation. An externship program is critical to getting your name and fame into the local culinary community. The school should also have a successful job placement program.
On campus culinary schools in Dallas
El Centro College
801 Main
Dallas, TX 75202
214-860-2037
dcccd.edu
Culinary Arts Training
Baker and Pastry Chef
SACS Accredited
The university of Texas Southwest Medical Center
5323 Harry Hines Blvd
Dallas, TX 75235
214-648-3404
utsouthwestern.edu
Food and Nutrition Studies
Le Cordon Bleu Institute of Culinary Arts—Dallas
11830 Webb Road #1200
Dallas, TX 75234
888-495-5222
chefs.edu/locations/dallas
NO LONGER ACCEPTING NEW STUDENTS
Culinary Arts, AAS
ACICS Accredited
International Culinary Schools at the Art Institute—Dallas
8080 Park Land, Suite 100
Dallas, TX 75231
800-275-4243
artinstitutes.edu/dallas
Baking and Pastry, Certificate
Art of Cooking, Certificate
Culinary Arts, AA
Restaurant and Catering Management, AA
NCCU & ACACF Accredited
Remington College—Dallas
1800 Eastgate Drive
Garland, TX 75041
800-560-6192
remingtoncollege.edu
Culinary Arts, AS
The Culinary School of Fort Worth
6550 Camp Bowie Blvd
Fort Worth, TX 76116
817-737-8427
csftw.edu
Professional Culinary Program
Culinary Essentials Diploma
Baking & Pastry Arts Diploma
Online Culinary Arts Learning
The Art Institute Online
Culinary Management
Hotel and Restaurant Management
www.aionline.edu
MSCH Accredited
University of Phoenix Online
Bachelor's degree in Hospitality Management
www.phoenix.edu
NCACS Accredited
Stratford University Online
Hotel and restaurant Management
Hospitality Management
www.stratford.edu
ACICS Accredited
Sullivan University
Bachelor's degree in Hospitality Management
www.sullivan.edu
Ashworth College online
Hospitality and Restaurant Management
Gourmet Cooking and Catering
www.ashworthcollege.edu
DETC, SACS & CASI Accredited
Le Cordon Bleu-online
Culinary Management
www.chefs.edu/online
ACCSCT Accredited
Explore Local Schools Today
2 Responses to "Chef Colleges and Training in Dallas, TX"
Shasta Says:


These are great ideas for Dallas, do you have any suggestions for good culinary schools in Fort Worth? Or should I just tought it out and commute to a Dallas School?
Thanks
Shasta

Sri Chakravarthy Says:


Hi,
I'm an entrepreneur and new fast food restaurant owner.I own a fast food specialty burger place and looking for a decent chef who can bring in fresh ideas to existing menu, and cook great burgers!!. I see on the website there are different options to hire a chef but not sure which option is good one for me to take. Appreciate any help or direction that you can provide so that you can help us become the next big Burger place in Dallas!!

Appreciate it.
Regards,
Sri
Have Questions or Feedback?