Search for Rhode Island Culinary Classes
With a nickname like "the Ocean State," you can bet that chefs and even non-culinary types in Rhode Island are connoisseurs of seafood cuisine. The state's 400 miles of coastline are fertile ground for creative recipes that incorporate all sorts of sea life. For those who don't enjoy fish fare, there are plenty of other food genres to satisfy your palate and culinary creativity. A melting pot of cultures and ethnicities in the state has influenced local cuisine options that provide French, Indian, Portuguese, East Asian, Greek, and vegetarian dishes.
Get the Training You Want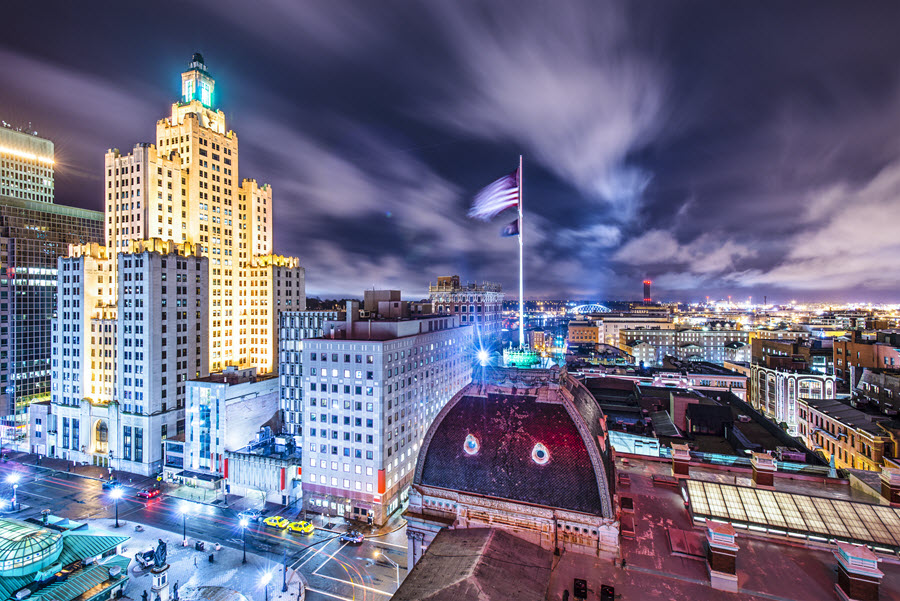 Rhode Islanders are fortunate that they can take advantage of educational scholarships and grants offered by the Rhode Island Hospitality Association's Education Foundation. Their mission is the help increase the number of qualified and successful industry professionals throughout the state. The RIHA also provides certification for food and alcohol handling safety.
Rhode Island is home to only one culinary and hospitality management school in the state. Luckily, other training programs & community college courses are complimented by a number of online culinary and hospitality programs increase opportunities for Rhode Island cooks and restaurateurs.
The few, but strong, culinary and hospitality training opportunities in Rhode Island typically incorporate in-class and in-kitchen experience, and can take a few months to six years depending on your degree goals. In-class instruction covers the science, art, and business facets of the culinary and hospitality management industries. Through hands-on training, students will apply their knowledge in a test kitchen creating recipes, preparing dishes, and executing large-scale catering projects.
Schooling to Suit Your Own Taste
Rhode Island is geographically the smallest state and hosts just one well-known culinary arts and training school. But this single campus offers more classes and career training options than many other larger, more populous states.  Johnson & Wales University in Providence offers Certificate, Associate's, Baccalaureate, and graduate degrees at both the College of Culinary Arts and the Hospitality College. Johnson & Wales University rivals any major program in the country with classes in baking and pastry arts, wine, sanitation, career development, arts and sciences, and a co-op experience, just to name a few.
Before you embark on your culinary career, it is important that you first decide whether to apply to the Hospitality College or the College of Culinary Arts. The Hospitality College classes include food service management, tourism, lodging, international hotel management, and sports/entertainment management. The College of Culinary Arts covers classes on baking and pastry, food service entrepreneurship, and food service nutrition.
Admission to JWU requires a high school diploma or equivalent, and accepts transfer, undergraduate, graduate, and continuing education students alike. Tuition is similar to other private universities and colleges in the region, and financial aid is available through the school and other agencies throughout the state.
Taking Your Place in the Kitchen
Most culinary schools are designed to transform students into employable members of the trade, and JWU is no exception. With such strong, intensive training from one of their colleges, you most likely will have many opportunities available to you in Rhode Island's tourism, hospitality, and culinary industries upon graduation.
Graduates are likely to find a job they love in any of the thousands of restaurants, resorts, schools, and hotels in Rhode Island. Typical food industry salaries in Rhode Island range according to position, city, and experience. A waiter/waitress will earn an annual average salary of $28,730; a Registered Dietitian earns $62,320; a first-line supervisor will earn about $45,920; a head chef will earn approximately $71,230; and a restaurant cook earns an average salary of around $31,320.
2019 wage data sourced from the BLS Occupational Outlook Handbook. Current wage conditions in your area may vary.
On-Campus Schools
Johnson & Wales University
8 Abbott Park Place
Providence, Rhode Island 02903
401-598-1000
jwu.edu
Undergraduate, Graduate, Continuing Education:
Culinary Arts
Hospitality Management
ADACADE, NEASC, & CIHE Accredited
Community College of Rhode Island
400 East Avenue, Warwick
Rhode Island 02886
401-825-1000
ccri.edu
Culinary Arts Assistant Certificate
NEASC Accredited
Chef Walters Cooking School
286 Atwells Avenue
Providence, Rhode Island 02903
401-273-2652
chefwalterscookingschool.com
French, Basque, Italian, Portuguese, Greek & more
Ocean House
1 Bluff Avenue
Watch Hill, RI 02891
855-678-0364
oceanhouseri.com
Culinary & Wine courses
Online Programs
American Culinary Federation
180 Center Place Way
St. Augustine, FL 32095
904-824-4468
www.acfchefs.org
Continuing Education
Chef Certification
Chef Educators
Food Safety
ACFEFAC Accredited
Ashworth College
430 Technology Pkwy
Norcross, GA 30092
770-729-9400
www.ashworthcolleg.edu/
Professional Gourmet Cooking and Catering
DETC Accredited
Bachelor of Arts Program in Le Cordon Bleu Culinary Management
Le Cordon Bleu College of Culinary Arts
8100 E. Camelback Road, Suite 1001
Scottsdale, AZ 85251
www.chefs.edu
Culinary Management
ACCSC & ACICS Accredited
Penn Foster Career School
925 Oak Street
Scranton, PA 18515
570-343-9635
www.pennfoster.edu
Catering
MSCSSAC & DETC Accredited
Explore Local Schools Today
2 Responses to "Search for Rhode Island Culinary Classes"
waelsj Says:


Hi,

I want to learn cooking in one of Rhode Island Culinary School
I'm not in or from USA so what the paper you can send me or i need
To give it to the American embassy to get a student visa

Thanks.

rebecca Says:


im a nigerian,a pastry chef.i would like to widen my knowledge as a baker in your school,what would be required?in all.(cost,documents,admission requirements etc)
Have Questions or Feedback?