Options in Oregon to Pursue Culinary Education
Perhaps you're passionate about getting into Oregon's booming wine industry. Or maybe you're ready for an adventure in catering that will connect you with the state's lively social scene. You might be a seafood lover who is tired of paying someone else for excellent sushi. Whatever your reasons, there are great culinary and hospitality programs in Oregon that will get you started on the right path towards achieving your culinary dreams.
Formal Culinary Arts training is provided in two cities in Oregon: Portland and Bend. Portland is home to Le Cordon Bleu College of Culinary Arts, and Bend hosts Central Oregon Community College and the Cascade Culinary Institute. Both these schools offer multiple certificate and degree options to students.
Students may also take advantage of online culinary arts and hospitality management programs from the comfort of their own kitchen. These programs typically focus more heavily on gaining knowledge (versus hands-on experience) of the business, economics, and theory of the industry due to the fact that you can't roast a duck or bake a cake through email.
In addition to formally building your expertise and knowledge of the culinary world, culinary programs provide valuable connections within the hospitality, catering, tourism, and restaurant industries. The faculty who teach classes are often members of the trade and may have a long history in the field to give real-world lessons to students.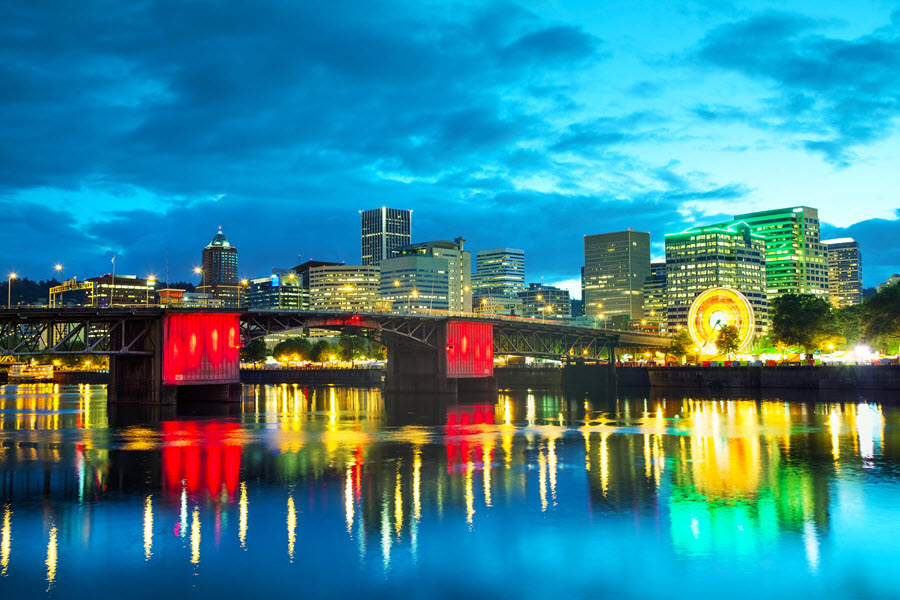 Certificate or Degree?
Within the Culinary Arts, there are different degrees, certificates, and specialties which can help propel students further toward a desired career within the food and hospitality world. Oregon on-campus programs offer both certificate programs and Associate degree options.
Certificate programs typically take one to two years to complete and are centered on a specific aspect of the culinary arts. For example, the Cascade Culinary Institute offers a Kitchen Prep certificate, and students can earn a pastry and baking certificate at Le Cordon Bleu. Students may earn multiple certificates that are part of a larger Associate's degree program. Alternately, students who already have a degree may go back to take classes to get a specialty certificate to advance their career.
Associate degrees incorporate a broader survey of the culinary arts, and are designed to take two to three years to complete. Students will often take core educational classes in math, science, writing, or accounting classes simultaneously or before attending trade-specific hospitality or culinary arts classes. Trade-specific classes often include food production, baking, business management, sanitation, and customer service.
Employment and Earning Potential
Upon completion of a program, students are often well equipped to apply for national certification with the American Culinary Federation. Certification will give graduates an advantage in applying for employment at a variety of establishments, from restaurants and hotels to hospitals, amusement parks, and grocery stores. Typical food industry salaries in Oregon range according to position, city, and experience. A waiter/waitress will earn an annual average salary of $29,550; a Registered Dietitian earns $70,170; a first-line supervisor will earn about $36,030; a head chef will earn approximately $51,130; and a restaurant cook earns an average salary of around $30,900.
2019 wage data sourced from the BLS Occupational Outlook Handbook. Current wage conditions in your area may vary.
On-Campus Schools
Cascade Culinary Institute
2555 NW Campus Village Way
Bend, OR 97703
541-318-3780
cascadeculinary.com
Kitchen Prep
Dietary Management
Culinary Management
ACF Accredited
Oregon Culinary Institute
1701 SW Jefferson St.
Portland, OR 97201
503-961-6200
oregonculinaryinstitute.com
Culinary Arts
Baking and Pastry
Restaurant Management
Sommelier
ACICS accredited
Good Keuken
5031 NE 42nd Ave.
Portland, OR 97214
(503)753-1655
goodkeuken.com
French Culinary Arts
Pastry
No regional accreditation
The Art Institute of Portland
1122 N.W. Davis Street
Portland, OR 97209-2911
503-228-6528
artinstitutes.edu/portland
Culinary Arts
Culinary Management
Art of Cooking
Baking and Pastry
NWCCU accredited
Le Cordon Bleu
600 SW 10th Ave., Suite 400
Portland, OR 97205
503-223-2245
chefs.edu/locations/portland
NO LONGER ACCEPTING NEW STUDENTS
Culinary Arts
Patisserie and Baking
Hospitality and Restaurant Management
ACCSC accredited
Online Programs
American Culinary Federation
The ACF has over 200 chapters in the United States; its main campus is located in Florida
180 Center Place Way
St. Augustine, FL
904-824-4468
www.acfchefs.org
Continuing Education
Chef Certification
Chef Educators
Food Safety Certification
ACFEFAC Accredited
The Art Institutes of Pittsburgh – Online Division
The Ai has over 40 campus locations across North America, plus this online campus
420 Blvd of the Allies
Pittsburgh, PA
412-291-6200
www.aionline.edu
Hotel and Restaurant Management
Culinary Management
MSCHE Accredited
Ashworth College
430 Technology Pkwy
Norcross, GA
770-729-9400
www.ashworthcolleg.edu
Professional Gourmet Cooking and Catering
Hotel and Restaurant Management
DETC Accredited
DeVry University
This University has 90 campus locations in 26 different states
One Tower Lane
Oakbrook Terrace, IL
1-866-338-7934
www.devry.edu
Hospitality Management
HLC Accredited
eCornell
eCornell is an online program and subsidiary of Cornell University, located in New York
950 Danby Road, Suite 150
Ithaca, NY
607-330-3200
www.ecornell.com
Leadership and Strategic Management
Project Leadership and Systems Design
Financial Management
Management Essentials
Human Resources Management
Hospitality and Foodservice Management
Certificate in plant-based nutrition
HRCI and PMI Approved
Johnson and Wales University
JWU has campuses in Providence, Charlotte, and North Miami; its largest campus is in Rhode Island
8 Abbott Park Place, Providence, RI 02903
1-800-DIAL-JWU
www.jwu.edu
Baking & Pastry Arts and Food Service Management
Culinary Arts and Food Service Management
NEASC Accredited
New England Culinary Institute
NECI has two campuses in Vermont; its main campus is in Montpelier
56 College Street
Montpelier, VT 05602
877-223-6324
www.neci.edu
Hospitality and Restaurant Management
ACCSC Accredited
Penn Foster Career School
925 Oak Street
Scranton, PA 18515
570-343-9635
www.pennfoster.edu
Hotel and Restaurant Management
Catering
DETC & CHEA Accredited
Sullivan University
SU has three campuses in Louisville, Lexington and Fort Knox. The main campus for its Global e-Learning program is located in Louisville
2100 Gardiner Lane
Louisville, Kentucky 40205
502-413-8830
1-866-755-7887
www.sullivan.edu
Beverage Management
CCSACS & ACF Accredited
University of Phoenix
This University has campuses in over 40 states, and two locations in Canada
4602 East Elwood Street
Phoenix, AZ
480-968-0587
www.phoenix.edu
Hospitality, Travel and Tourism
HLC Accredited
Explore Local Schools Today
Have Questions or Feedback?