The Search for Culinary Education in Kentucky
Kentucky cuisine is known for a lot more than fried chicken. Down-home style Southern cooking abounds, from fried-green tomatoes to sweet potatoes and steamed greens and pecan pie. But going to school to train to be a chef in Kentucky doesn't limit you to those options. There are a range of programs for budding chefs to learn kitchen basics and beyond, training them to create their own cuisine that is only as limited as their imaginations.
Finding the Right Program
You won't have to pay the maitre d' or know the hostess to get a seat at these schools. Most programs have an open-door admissions process that only requires a high-school diploma or GED – but you will have to pay an application fee. More competitive programs may ask for as assessment test to make sure you know your way around a kitchen and a recipe – at least to make more than just mac n' cheese. Work experience and attendance at workshops and seminars can also help prove your credentials and get you in the door.
Whatever school you choose, you'll always end up in the same place: the kitchen. And you need to make sure it's a good one. Any culinary program is only as good as its kitchen, so make sure yours is well-stocked and up-to-date. Look for experienced teachers – preferably chefs or former chefs – to run the program. You want to learn from the best to be the best. Schools with a quality, student-run kitchen often open their operations up to the public, as well, giving students hands-on experience.
Finishing Your Education
Most culinary programs can be finished in about half the time of a traditional degree – in about two years or less. Some even have certificate or diploma programs that can be finished in a year or less. Working adults have even more options to finish their degree with some programs offering night courses, part-time programs and online options.
Video instruction can make learning cooking online a possibility for some. For others with some basic lab experience already completed, many more online courses are available to help supplement your education and finish your degree. And many hospitality and tourism management programs can be completed exclusively online.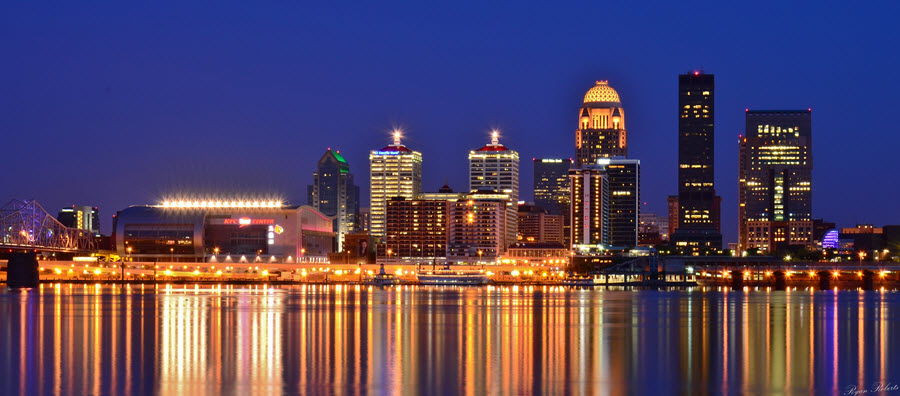 Landing the Job
Modest growth in restaurant jobs is predicted over the next couple years, so expect job opportunities and salaries to remain steady. Typical food industry salaries in Kentucky range according to position, city, and experience. A waiter/waitress will earn an annual average salary of $20,440; a Registered Dietitian earns $57,970; a first-line supervisor will earn about $32,370; a head chef will earn approximately $48,620; and a restaurant cook earns an average salary of around $24,160.
Also, improve your marketability by showcasing your skills and networking. Sign up for food competitions and go to food and wine festivals like the Kentucky Bourbon Festival or the International Bar-B-Q Festival. You'll have the chance to meet local celebrity chefs and make contacts – and maybe even wow potential employers or customers with your culinary skills.
Campus-based schools
Bowling Green Community & Technical College
1845 Loop Drive
Bowling Green, KY 42101
270-901-1000
bowlinggreen.kctcs.edu
Culinary Arts
CCSACS Accredited
Elizabethtown Community & Technical College
620 College Street Road
Elizabethtown, KY 42701-3208
270-766-5133
elizabethtown.kctcs.edu
Culinary Arts
SACS Accredited
Jefferson Community & Technical College
109 East Broadway
Louisville, KY 40202
502-213-5333
jefferson.kctcs.edu
Culinary Arts
CCSACS Accredited
National College
4205 Dixie Highway
Louisville, KY 40216
502-447-7634
national-college.edu
Tourism and Hospitality
ACICS Accredited
Owensboro Community & Technical College
4800 New Hartford Road
Owensboro, KY 42303
270-686-4400
owensboro.kctcs.edu
Culinary Arts
SACS Accredited
Sullivan College
3101 Bardstown Road
Louisville, KY 40205-3013
502-456-6506
sullivan.edu
Baking
Catering
Culinary Arts
Hospitality Management
Hotel/Restaurant Management
Professional Cook
Travel and Tourism
CCSACS & ACF Accredited
University of Kentucky
769 Woodland Avenue
Lexington, KY 40526
(859) 257-9000
uky.edu
Food Science
Hospitality Management and Tourism
CCSACS Accredited
Western Kentucky University
1906 College Heights Blvd.
Bowling Green, KY 42101
270-745-0111
wku.edu
Food Service Management
Hospitality Management
Hospitality Management and Dietetics
Hotel, Restaurant and Tourism Management
SACS Accredited
Online-based programs
American Culinary Federation
The ACF has over 200 chapters in the United States; its main campus is located in Florida
180 Center Place Way
St. Augustine, FL
904-824-4468
www.acfchefs.org
Continuing Education
Chef Certification
Chef Educators
Food Safety Certification
ACFEFAC Accredited
The Art Institutes of Pittsburgh – Online Division
The Ai has over 40 campus locations across North America, plus this online campus
420 Blvd of the Allies
Pittsburgh, PA
412-291-6200
www.aionline.edu
Hotel and Restaurant Management
Culinary Management
MSCHE Accredited
Ashworth College
430 Technology Pkwy
Norcross, GA
770-729-9400
www.ashworthcolleg.edu
Professional Gourmet Cooking and Catering
Hotel and Restaurant Management
DETC Accredited
DeVry University
This University has 90 campus locations in 26 different states
One Tower Lane
Oakbrook Terrace, IL
1-866-338-7934
www.devry.edu
Hospitality Management
HLC Accredited
eCornell
eCornell is an online program and subsidiary of Cornell University, located in New York
950 Danby Road, Suite 150
Ithaca, NY
607-330-3200
www.ecornell.com
Leadership and Strategic Management
Project Leadership and Systems Design
Financial Management
Management Essentials
Human Resources Management
Hospitality and Foodservice Management
Certificate in plant-based nutrition
HRCI and PMI Approved
Johnson and Wales University
JWU has campuses in Providence, Charlotte, and North Miami; its largest campus is in Rhode Island
8 Abbott Park Place, Providence, RI 02903
1-800-DIAL-JWU
www.jwu.edu
Baking & Pastry Arts and Food Service Management
Culinary Arts and Food Service Management
NEASC Accredited
New England Culinary Institute
NECI has two campuses in Vermont; its main campus is in Montpelier
56 College Street
Montpelier, VT 05602
877-223-6324
www.neci.edu
Hospitality and Restaurant Management
ACCSC Accredited
Penn Foster Career School
925 Oak Street
Scranton, PA 18515
570-343-9635
www.pennfoster.edu
Hotel and Restaurant Management
Catering
DETC & CHEA Accredited
Sullivan University
SU has three campuses in Louisville, Lexington and Fort Knox. The main campus for its Global e-Learning program is located in Louisville
2100 Gardiner Lane
Louisville, Kentucky 40205
502-413-8830
1-866-755-7887
www.sullivan.edu
Beverage Management
CCSACS & ACF Accredited
University of Phoenix
This University has campuses in over 40 states, and two locations in Canada
4602 East Elwood Street
Phoenix, AZ
480-968-0587
www.phoenix.edu
Hospitality, Travel and Tourism
HLC Accredited
Explore Local Schools Today
Have Questions or Feedback?