Culinary Colleges and Institutes of Napa Valley, CA
Napa Valley California, the name is synonymous with fine wine. With neat rows of grape vines crawling along gentle hills, Napa Valley attracts visitors from around the world to visit numerous wineries and taste their wares. California accounts for 90 percent of the wine produced in America, with Napa Valley accounting for almost all of that production. Fine wine demands fine food. Five of California's top chefs ply their trade in Napa Valley. Quality cuisine choices abound, from fine restaurants, to bed and breakfast establishments that include in their offering a few hours of culinary and wine education. Although, there are only a few local educational opportunities, one of the nation's premier schools, The Culinary Institute of America, has a campus in the Valley. And some of the nation's best culinary schools reside in nearby San Francisco.
Degrees Available
Between Napa Valley and San Francisco, the budding chef can find education programs that run from day-long cooking classes to certificates and diplomas, and associate's degrees in disciplines such as culinary arts, baking and pastry, and food and nutrition studies. Bachelor degrees are offered in restaurant and hotel management either on campus or online.
Choose the right school with the right program
Before committing to a school or a specific program of study, set clear career goals. What you want at the end of your course of study will define the road to get there. For those who love food preparation and working in the exciting environment of the kitchen, be sure the school of choice has quality, qualified instructors. They need both educational qualifications and work-place experience that is appreciated in the local market. Well-connected teachers greatly enhance your chance of landing a good job after graduation. The cooking facilities need to be up-to-date with industry standards. And, a quality program will have externships which give you credible experience in the real world and put you in touch with local employers. Also, look at the job placement over the past few years. Quality programs result in quality jobs.
Job market in and around Napa Valley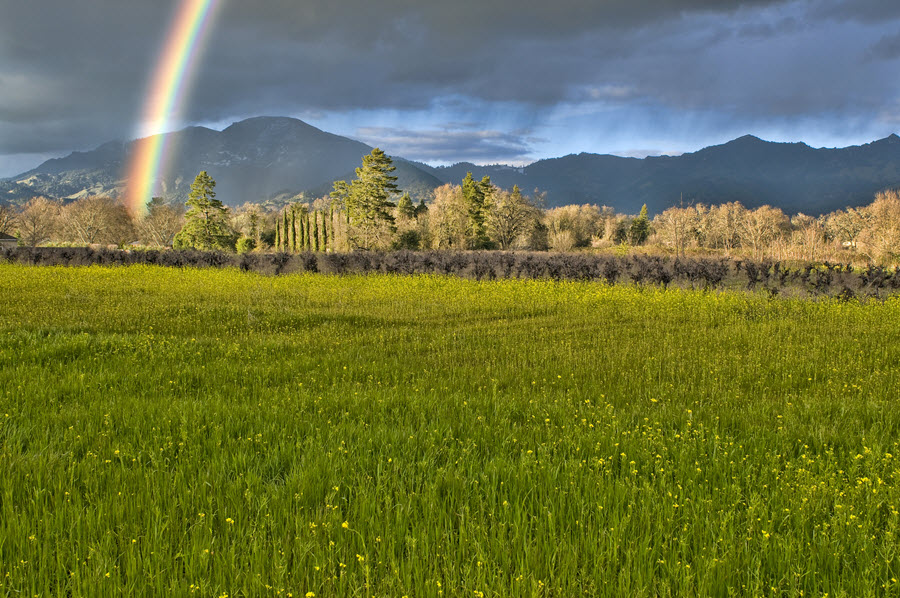 Graduates are likely to find a job they love in any of the thousands of restaurants, resorts, schools, and hotels in California. Typical food industry salaries in California range according to position, city, and experience. A Registered Dietitian earns an average annual salary of $77,040; a first-line supervisor will earn about $39,620; a head chef will earn approximately $61,040; and a restaurant cook earns an average salary of around $32,200.
2019 wage data sourced from the BLS Occupational Outlook Handbook. Current wage conditions in your area may vary.
Near-by On Campus Culinary Arts Schools
Napa Valley College
2277 Napa-Vallejo Highway
Napa, CA 94558
707-967-2930
napavalley.edu
Chef Training, Certificate
WASC Accredted
Culinary Institute of America at Greystone
2555 Main Street
St. Helena, CA 94574
800-285-4627
ciachef.edu/cia-california/
Culinary Arts, AOS
Baking and Pastry, AOS
Professional Wine Studies, Certification
Advanced Wine and Beverage, Diploma
ACCSC Accredited
Vegan Culinary Academy
Box 394
Angwin, CA 94508
707-965-2076
veganculinaryacademy.com
Prometric Food Management, certification,
day-long programs in vegan cooking
Golden State University
536 Mission Street
San Francisco, CA 94105
415-442-7000
ggu.edu
Hospitality Services Management, BA
San Francisco State University
1600 Holloway Avenue
San Francisco, CA 94132
415-338-2411
sfsu.edu
Hospital Services Management, minor, certificate
Food and Nutrition Studies, certificate
WASC Accredited
University of San Francisco
2130 Fulton Street
San Francisco, CA 94117
415-422-6563
usfca.edu
Hospitality Services Management, BA
WASC Accredited
California Culinary Academy
625 Polk Street
San Francisco, CA 94102
415-771-3500
chefs.edu/locations/san-francisco
NO LONGER ACCEPTING NEW STUDENTS
Culinary Arts/Chef Training
Baking and Pastry Arts
Hospitality and Restaurant Management
ACCSC Accredited
City College of San Francisco
50 Phelan Avenue
San Francisco, CA 94112
415-239-3152
ccsf.edu
Culinary Arts, AS
Food Services Management, AS
Catering and Event Management, Certificate
Bakery and Pastry, Certificate
WASC Accredited
The Art Institute of California—San Francisco
1170 Market Street
San Francisco, CA 94102
415-865-0198
artinstitute.edu/san-francisco
Baking and Pastry Science, AS
Culinary Arts, AS
Culinary Management, BS
Baking and Pastry, Certificate
MSCH Accredited
Online Culinary Arts Learning
New England Culinary Institute
Hospitality and Restaurant Management, BA
www.neci.edu
ACCSC Accreditation
The Art Institute Online
Culinary Management
www.aionline.edu
MSCH Accredited
University of Phoenix Online
Bachelor's degree in Hospitality Management
www.phoenix.edu
Stratford University Online
Hotel and restaurant Management
Hospitality Management
www.stratford.edu
ACICS Accredited
Sullivan University, E-learning
Bachelor's degree in Hospitality Management
www.sullivan.edu/e-Learning/bach_hospitality.asp
Ashworth College online
Hospitality and Restaurant Management
Gourmet Cooking and Catering
www.ashworthcollege.edu
DETC Accredited
Le Cordon Bleu
Bachelor's degree in Culinary Management
www.chefs.edu
Explore Local Schools Today
Have Questions or Feedback?