Select an Ohio Culinary Education Degree
Traditional cuisine in Ohio mirrors that of the region: from sauerkraut and bratwursts to beefsteak and hearty breads. But culinary schools across the state will have aspiring chefs cooking up more than just buckeyes and strudel. Cooking programs offer a range of options in a variety of traditional and emerging cuisines, preparing students for promising careers as the next up-and-coming head chefs.
How to pick the right program
Narrow down your options by looking for programs that have some key components for your culinary training. Most importantly, look for a quality training kitchen that is fully stocked and run by students. It should also be open to the public and, preferably, used in conjunction with a student-run restaurant or public dinner nights. The hands-on training will be essential to your development as a future chef. Next, look for experienced instructors or industry professionals teaching the classes. Finally, look for career-counseling and job placement services, as well as opportunities for internships and apprenticeships.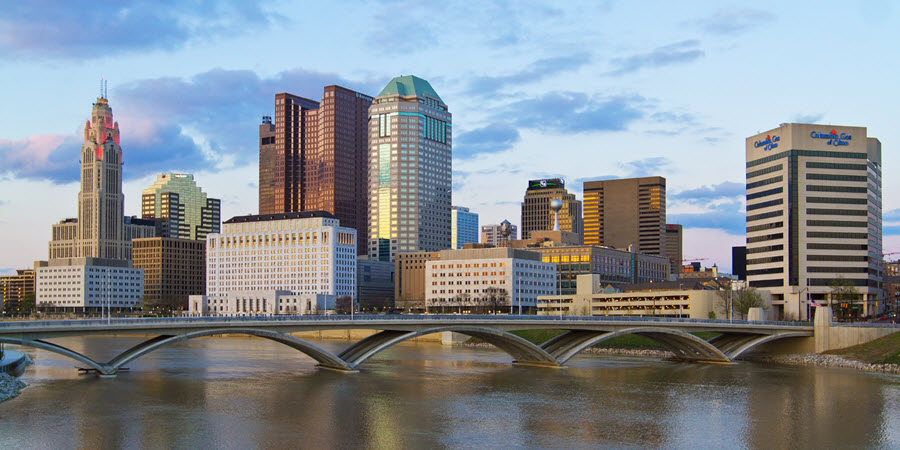 After you've decided on a program, the admissions process should be easy. Most culinary programs have an open admissions policy, meaning that students are only required to have a high-school diploma or GED for acceptance. If you decide on a program that is more competitive, you may have to submit to testing of basic kitchen knowledge and techniques. Work experience and other training, such as attendance at conferences or workshops, may also be considered.
Finish your degree in less time
You won't age like a fine wine in the time that it takes to finish your culinary degree. Most programs can be finished in half the time of a traditional degree – in about two years or less. Some schools, such as Sinclair Community College, have options for accelerated degrees, and offer certificates or diplomas that can be finished in a year or less. Also look for programs that have night and weekend classes, summer sessions or online classes if you need more flexibility for things like work or family.
Though most culinary programs are campus-based, there are some options for online degrees. Video instruction is available in some programs to learn some cooking techniques right in your own kitchen. More typically, online courses would be offered to compliment previous lab or kitchen experience to finish your degree. Hospitality and restaurant management courses are often offered exclusively online.
Starting your culinary career
Graduates are likely to find a job they love in any of the thousands of restaurants, resorts, schools, and hotels in Ohio. Typical food industry salaries in Ohio range according to position, city, and experience. A waiter/waitress will earn an annual average salary of $23,460; a Registered Dietitian earns $58,700; a first-line supervisor will earn about $33,640; a head chef will earn approximately $46,100; and a restaurant cook earns an average salary of around $26,100.
2019 wage data sourced from the BLS Occupational Outlook Handbook. Current wage conditions in your area may vary.
To improve your chances of getting the top jobs and the top salaries, start networking early in your career – even while you're still finishing your education. Get internships and apprenticeships, and enter competitions at local food and wine festivals to showcase your skills. Festivals will also give you a chance to meet local celebrity chefs and other industry professionals. Joining professional networks such as the Ohio Restaurant Association will give you the same opportunities, and will give you access to conferences and other industry events.
Campus-based programs
Ashland University
401 College Ave.
Ashland, OH 44805
419-289-4142
ashland.edu
Food and Nutrition
Hospitality Management
NCACS Accredited
Bluffton College
1 University Drive
Bluffton, OH 45817-2104
419-358-3000
bluffton.edu
Food and Nutrition
HLC Accredited
Central State University
1400 Brush Row Road
Wilberforce, OH 45384-5800
937-376-6011
centralstate.edu
Hospitality Management
NCACS Accredited
Cincinnati State Technical and Community College
3520 Central Parkway
Cincinnati, OH 45223
513-569-1500
cincinnatistate.edu
Culinary Arts
Pastry Arts
Personal Chef
Dietary Management
HLC Accredited
Columbus Culinary Institute at Bradford School
2469 Stelzer Road
Columbus, OH 43219
614-416-6200
bradfordschoolcolumbus.edu
Culinary Arts
Travel-Hospitality
ACICS Accredited
Columbus State Community College
550 E Spring St
Columbus, OH 43215
(614) 287-5353
cscc.edu
Chef Apprenticeship
Dietetic Technician
Foodservice/Restaurant Management
Travel/Tourism/Hotel Management
Baking
Dietary Manager
Meeting and Event Management
School Foodservice Manager
HLC Accredited
Cuyahoga Community College
700 Carnegie Ave.
Cleveland, Ohio 44115
800-954-8742
tri-c.edu
Culinarian/Cook – Professional
Food and Beverage Operations
Hospitality Management
HLC Accredited
Ehove Career Center
316 Mason Road West
Milan, OH 44846
419-499-4663
ehove.net
Adult Culinary Program
Dietary Manager
NCACS Accredited
Hocking Technical College
3301 Hocking Parkway
Nelsonville, OH 45764-9588
740-753-3591
hocking.edu
Baking
Culinary Arts
Hotel/Restaurant Management
International Hospitality
HLC Accredited
International Culinary Arts and Science Institute
8700 Mayfield Road
Chesterland, OH 44026-2630
440-729-2422
icasi.net
Culinary Arts
Pastry Arts
ACF Accredited
Kent State University-Main Campus
Kent, OH 44242-0001
330-672-3000
kent.edu
Hospitality Management
NCACS Accredited
Lakeland Community College
7700 Clocktower Drive
Kirtland, OH 44094-5198
440-525-7000
lakelandcc.edu
Culinary Arts Technology
Hotel and Lodging Management
HLC Accredited
Lorain County Community College
1005 Abbe Road North
Elyria, OH 44035-1691
440-366-4100
lorainccc.edu
Culinary Arts
HLC Accredited
Ohio State University
154 W 12th Ave.
Columbus, Ohio 43210
614-292-6446
osu.edu
Food Business Management
Food Science and Nutrition
Hospitality Management
HLC Accredited
Owens Community College
30335 Oregon Road
Perrysburg, OH 43551
567-661-7000
owens.edu
Culinary Arts
Hospitality Management
HLC Accredited
Sinclair Community College
444 W. Third St.
Dayton, OH 45402-1453
937-512-3796
sinclair.edu
Hospitality Management and Tourism
Foodservice Management
Baking Specialist
HLC Accredited
University of Akron
382 Carroll St.
Akron, OH 44325-0020
(330) 972-2348
uakron.edu
Hospitality Management
HLC Accredited
University of Cincinnati
2600 Clifton Ave.
Cincinnati, OH 45221
513-556-1100
uc.edu
Culinary Arts Science
HLC Accredited
Zane State College
1555 Newark Road
Zanesville, OH 43701-2694
740-454-2501
zanestate.edu
Culinary Arts
HLC Accredited
Online-based programs
American Culinary Federation
The ACF has over 200 chapters in the United States; its main campus is located in Florida
180 Center Place Way
St. Augustine, FL
904-824-4468
www.acfchefs.org
Continuing Education
Chef Certification
Chef Educators
Food Safety Certification
ACFEFAC Accredited
The Art Institutes of Pittsburgh – Online Division
The Ai has over 40 campus locations across North America, plus this online campus
420 Blvd of the Allies
Pittsburgh, PA
412-291-6200
www.aionline.edu
Hotel and Restaurant Management
Culinary Management
MSCHE Accredited
Ashworth College
430 Technology Pkwy
Norcross, GA
770-729-9400
www.ashworthcolleg.edu
Professional Gourmet Cooking and Catering
Hotel and Restaurant Management
DETC Accredited
DeVry University
This University has 90 campus locations in 26 different states
One Tower Lane
Oakbrook Terrace, IL
1-866-338-7934
www.devry.edu
Hospitality Management
HLC Accredited
eCornell
eCornell is an online program and subsidiary of Cornell University, located in New York
950 Danby Road, Suite 150
Ithaca, NY
607-330-3200
www.ecornell.com
Leadership and Strategic Management
Project Leadership and Systems Design
Financial Management
Management Essentials
Human Resources Management
Hospitality and Foodservice Management
Certificate in plant-based nutrition
HRCI and PMI Approved
Johnson and Wales University
JWU has campuses in Providence, Charlotte, and North Miami; its largest campus is in Rhode Island
8 Abbott Park Place, Providence, RI 02903
1-800-DIAL-JWU
www.jwu.edu
Baking & Pastry Arts and Food Service Management
Culinary Arts and Food Service Management
NEASC Accredited
New England Culinary Institute
NECI has two campuses in Vermont; its main campus is in Montpelier
56 College Street
Montpelier, VT 05602
877-223-6324
www.neci.edu
Hospitality and Restaurant Management
ACCSC Accredited
Penn Foster Career School
925 Oak Street
Scranton, PA 18515
570-343-9635
www.pennfoster.edu
Hotel and Restaurant Management
Catering
DETC & CHEA Accredited
Sullivan University
SU has three campuses in Louisville, Lexington and Fort Knox. The main campus for its Global e-Learning program is located in Louisville
2100 Gardiner Lane
Louisville, Kentucky 40205
502-413-8830
1-866-755-7887
www.sullivan.edu
Beverage Management
CCSACS & ACF Accredited
University of Phoenix
This University has campuses in over 40 states, and two locations in Canada
4602 East Elwood Street
Phoenix, AZ
480-968-0587
www.phoenix.edu
Hospitality, Travel and Tourism
HLC Accredited
Explore Local Schools Today
2 Responses to "Select an Ohio Culinary Education Degree"
Taysha browning Says:


I'm looking for a college where I can start with my basic culinary techniques, but then I would like to get my culinary degree along with a baking and pasty diploma. I do not know where to start looking ? Also looking for business classes along with it.

Brent Burgess Says:


Just want to get a diploma in cooking then keep advancing in my careerinto many different types of cuisine
Have Questions or Feedback?