Index of New Mexico Culinary Programs
New Mexico offers six culinary and hospitality management programs in the state for people who have ambitions of a life in the food service industry. The state offers Culinary Arts, Hospitality Management, and Food and Nutrition programs at state universities, community colleges, and vocational schools. Certificates, Associate's degree and Bachelor's degree options are available to students.
Culinary Arts programs are the most common, and typically provide students with an intensive introduction to the industry. Courses will generally cover food handling techniques, nutrition and food science, food preparation, kitchen management, food purchasing, and an internship for practical experience. Culinary arts programs most often offer Associates of Applied Science (AAS) degrees, and some offer Bachelor's of Science degrees. Baking and pastry courses may be included in the degree, or tacked on as an additional certificate option. At Santa Fe Community College, students earn an AAS in Culinary Arts and Certificate in Baking & Pastry separately.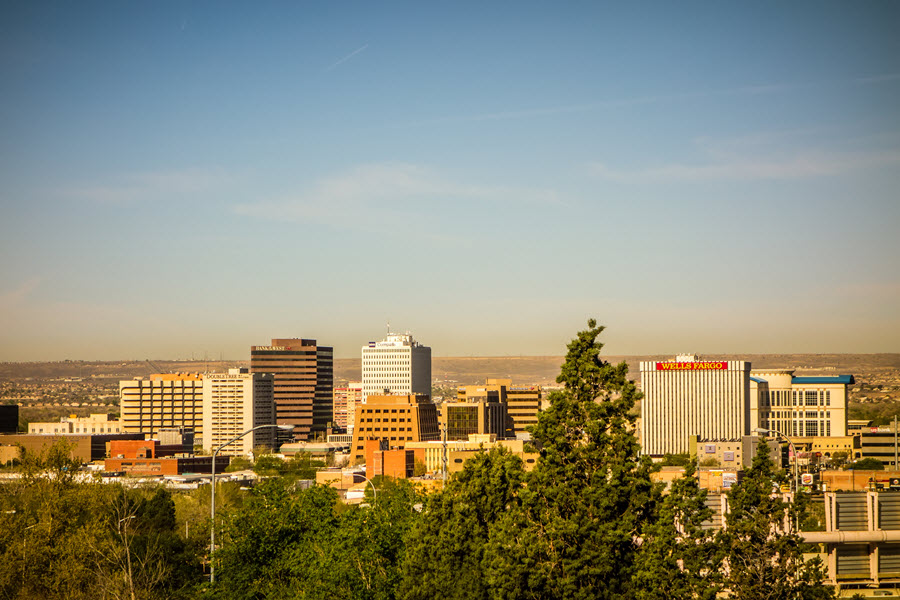 Hospitality Management programs emphasize the business side of the food service industry. Students learn about economics, business management, communications, marketing, food purchasing, human resources, beverage service, and other segments of the tourism industry. Many programs, like the one offered at New Mexico State University in Las Cruces, require students to complete a designated number of practical experience hours through in internship. This degree options is suited for those looking for management positions in restaurants, hotels, or resorts.
Nutrition and Dietetics programs, like the one offered at the University of New Mexico in Albuquerque, cover the science of food consumption, production, processing, storage and distribution. Students in this program earn a Bachelor of Science, and upon graduation are eligible to become Registered Dietitians.
Graduates are likely to find a job they love in any of the thousands of restaurants, resorts, schools, and hotels in New Mexico. Typical food industry salaries in New Mexico range according to position, city, and experience. A restaurant hostess will earn an average $24,010; a restaurant manager will earn about $55,320; a chef will earn approximately $51,530; and a Registered Dietitian earns around $61,270.
2019 wage data sourced from the BLS Occupational Outlook Handbook. Current wage conditions in your area may vary.
On-Campus Schools
Central New Mexico Community College
525 Buena Vista SE
Albuquerque, NM 87106
505 224-3781
cnm.edu
Culinary Arts
Hospitality Management
ACF Accredited
Luna Community College
366 Luna Drive
Las Vegas, NM 87701
505-454-2500
luna.edu
Culinary Arts
NCACS Accredited
New Mexico State University
P.O. Box 30001
Las Cruces, NM 88003-8001
505-646-0111
nmsu.edu
Hotel, Restaurant, & Tourism Management
ADA & NCACS Accredited
Santa Fe Community College
6401 Richards Ave
Santa Fe, NM 87508-4887
505-428-1000
sfcc.edu
Culinary Arts
Patissier
NCACS Accredited
Southwestern Indian Polytechnic Institute
9169 Coors Rd NW
Albuquerque, NM 87120-3101
505-346-2347
http://www.sipi.edu/
Culinary Arts
Hospitality Services Management
NCACS Accredited
University of New Mexico
1 University of New Mexico
Albuquerque, NM 87131-0001
505-277-4535
http://www.unm.edu/
Nutrition & Dietetics
ADA & NCACS Accredited
Online Programs
American Culinary Federation
The ACF has over 200 chapters in the United States; its main campus is located in Florida
180 Center Place Way
St. Augustine, FL
904-824-4468
www.acfchefs.org
Continuing Education
Chef Certification
Chef Educators
Food Safety Certification
ACFEFAC Accredited
The Art Institutes of Pittsburgh – Online Division
The Ai has over 40 campus locations across North America, plus this online campus
420 Blvd of the Allies
Pittsburgh, PA
412-291-6200
www.aionline.edu
Hotel and Restaurant Management
Culinary Management
MSCHE Accredited
Ashworth College
430 Technology Pkwy
Norcross, GA
770-729-9400
www.ashworthcolleg.edu
Professional Gourmet Cooking and Catering
Hotel and Restaurant Management
DETC Accredited
DeVry University
This University has 90 campus locations in 26 different states
One Tower Lane
Oakbrook Terrace, IL
1-866-338-7934
www.devry.edu
Hospitality Management
HLC Accredited
eCornell
eCornell is an online program and subsidiary of Cornell University, located in New York
950 Danby Road, Suite 150
Ithaca, NY
607-330-3200
www.ecornell.com
Leadership and Strategic Management
Project Leadership and Systems Design
Financial Management
Management Essentials
Human Resources Management
Hospitality and Foodservice Management
Certificate in plant-based nutrition
HRCI and PMI Approved
Johnson and Wales University
JWU has campuses in Providence, Charlotte, and North Miami; its largest campus is in Rhode Island
8 Abbott Park Place, Providence, RI 02903
1-800-DIAL-JWU
www.jwu.edu
Baking & Pastry Arts and Food Service Management
Culinary Arts and Food Service Management
NEASC Accredited
New England Culinary Institute
NECI has two campuses in Vermont; its main campus is in Montpelier
56 College Street
Montpelier, VT 05602
877-223-6324
www.neci.edu
Hospitality and Restaurant Management
ACCSC Accredited
Penn Foster Career School
925 Oak Street
Scranton, PA 18515
570-343-9635
www.pennfoster.edu
Hotel and Restaurant Management
Catering
DETC & CHEA Accredited
Sullivan University
SU has three campuses in Louisville, Lexington and Fort Knox. The main campus for its Global e-Learning program is located in Louisville
2100 Gardiner Lane
Louisville, Kentucky 40205
502-413-8830
1-866-755-7887
www.sullivan.edu
Beverage Management
CCSACS & ACF Accredited
University of Phoenix
This University has campuses in over 40 states, and two locations in Canada
4602 East Elwood Street
Phoenix, AZ
480-968-0587
www.phoenix.edu
Hospitality, Travel and Tourism
HLC Accredited
Explore Local Schools Today
One Response to "Index of New Mexico Culinary Programs"
Ann Zettl Says:


HELLO TO THE FUTURE CHEFS OF NEW MEXICO AND THE WORLD!
My daughter and I are going to visit your beautiful state of New Mexico at the end of March and the beginning of April.I would like to know if any of your cooking schools have restaurants or deli's which are run by the students? We have always loved going to these schools and trying their culinary delights!(Ex. Pgh.,Portland, Miami,Sarasota, etc)
Good luck to all those future chefs!My great grandfather immigrated from Italy in the early 1900's, without much in his pocket, but started a prosperous restaurant business in Pittsburgh. Much of our family's happiness is brought to the table with good food and drink. As the French say, It is the Joie de vivre!
Thank you so much for your time.
Sincerely,
Ann Baccelli Zettl
Have Questions or Feedback?