Chef Training for Your Child
Are your kids glued to the Food Network instead of the Cartoon Network? Do they like to be your helpers in the kitchen at dinner time? Maybe it's time to give them an outlet for their budding interests and enroll them in one of the many cooking programs available for children. Imagining children learning to cook may conjure images of hyper four-year-olds running free with sharp knives and playing with gas. But don't worry!
Classes and workshops are offered in your home or a controlled environment and focus on teaching children not only how to cook, but also how to be safe in the kitchen.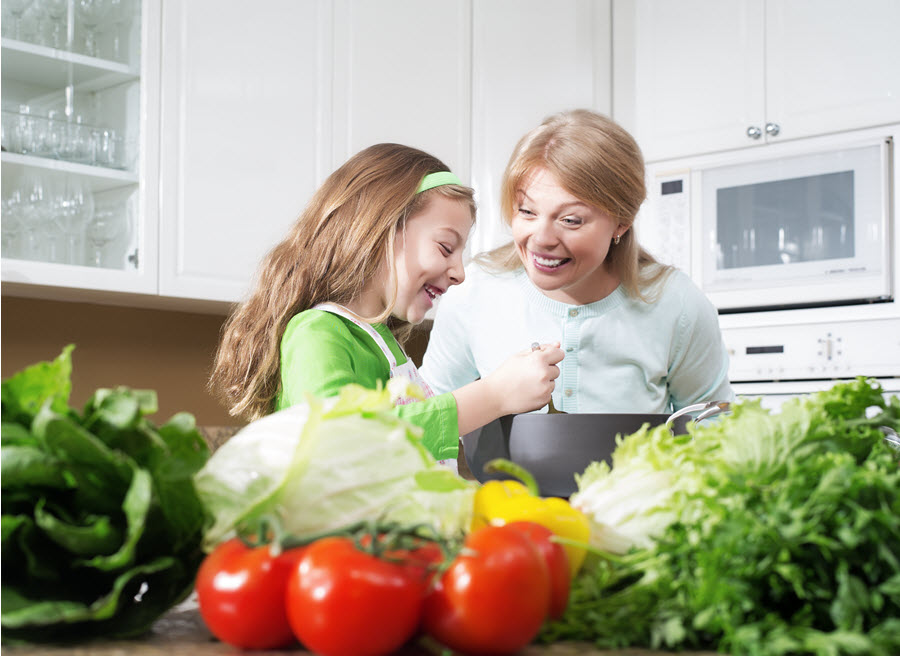 Here's what you need to know:
Types of Programs Available
There are a range of options for children of all ages to learn how to cook and have fun doing it. Don't think about stodgy desks and children taking notes and reading texts; cooking classes for kids are all about demonstration and hands-on learning. Instruction can come in the form of classes, workshops, demonstrations and camps. Classes can range from twenty minutes to two hours, and can meet once or over the course of several sessions or weeks. Often, classes will be organized around a theme, such as Americana or Italian cuisine. Students will not only learn how to cook by reading and following recipes, they'll also learn safe food-handling procedures, what ingredients work well together, how to develop their own recipes, and proper etiquette in the kitchen and at the table – a lesson that nearly any parent will appreciate.
There are many benefits to enrolling your child in a cooking program. There is a growing childhood obesity problem, and teaching your children about food and proper nutrition will better prepare them to lead healthy, active lifestyles. Learning how to cook can also give your child a sense of accomplishment and self-reliance, boosting self-esteem. In a classroom or camp environment, learning how to cook will also teach your child how to work well with others, a skill that will be useful for years to come.
Program Costs
Your investment in your child's newfound culinary knowledge will depend in large part on what kind of course you choose. One-time classes for individuals can cost as little as $20. Many programs only offer classes on a group basis and can cost several hundred dollars, depending on the size of the group. Birthday parties typically cost around $200-$400, and include terms for the number of children and what services are included, from cooking lessons to food to gifts. Many offer party services with a la carte options. Camps can range from one-day programs to week-long programs, and can be offered with half-day and full-day options. Costs are typically around $300-$500 for the full program.
If the costs make you hesitant, test the waters at home first. Try watching cooking shows with your children to gage their interest, or make time to cook with them or show them how to bake cookies or some other treat. If they're eager for more, it will probably be worthwhile to enroll them in a course or two. You could have the next Rachel Ray on your hands! Organizing group classes or parties with other parents can also help defray costs.
Available Programs
Blue Ribbon Cooking Culinary Center
2501 Fairview Ave. East
Seattle, WA 98102
206-328-2442
blueribboncooking.com
Cooking classes
Camps
C'est Si Bon Cooking School
1002 Brace Lane
Chapel Hill, NC 27516
919-942-6550
cestsibon.net
Cooking classes for ages 8 to 15
Chef Camp
PO Box 2321
Manteo, NC 27954
252-489-5959
chefcamp.com
Cooking classes for middle school & high school youth, as well as internship jobs for culinary students
Classic Thyme Cooking School
710 S. Avenue West
Westfield, NJ 07090
908-232-5445
classicthyme.com
Birthday parties
Summer camps
Classy Kids Cook
1240 NW Maynard Road
Cary, NC 27513
(919) 481-1645
classykidscook.com
Cooking classes
Week-long camps
Birthday parties
Create a Cook
53 Winchester St.
Newton Highlands, MA 02461
617-795-2223
createacook.com
Cooking classes for ages 3 and up
One-week summer sessions
Birthday parties
Workshops
Flour Power Kids Cooking Studios
 10930 Raven Ridge Road, Suite 105
Raleigh, NC 27614
919-889-2598
flourpowerstudios.com
Weekly classes for preschoolers to teens
Year-round camps
Birthday parties
Junior Leagues' Kids in the Kitchen
Over 200 locations in the U.S., Canada, Mexico and the U.K.
kidsinthekitchen.ajli.org
Locally organized cooking classes and demonstrations
NuCulinary
6523 California Ave. SW, PMB 250
Seattle, WA 98136-1833
206-932-3855
nuculinary.com/nukids.html
Asian cooking classes on request for ages 6 to 16
PCC Cooks
4201 Roosevelt Way N.E.
Seattle, WA 98105-6092
206-547-1222
pccnaturalmarkets.com/pcccooks/
Cooking classes by age group (2 to 15)
Sur La Table
Locations in 12 states
surlatable.com/category/cat500429/
Five-day summer camps
TasteBuds KITCHEN
109 West 27th Street, 10FL
New York, NY 10001
212-242-2248
tastebudskitchen.com
Cooking classes for ages 4 and up
Parties and special events
They also have a number of other locations across the United States, including Apex, NC; Miami, FL; Missoula, MT; North Andover, MA & Southlake, TX
The Chopping Block
Two locations in Chicago, IL
773-472-6700
thechoppingblock.com
Cooking classes for ages 7 to 11
The Way Cool Cooking School
16544 W. 78th St.
Eden Prairie MN 55346
952-949-6799
waycoolcookingschool.com
Cooking classes for ages 3 and up
Cooking camps for ages 7 to 16
Cooking parties
Field trips
Scout badges
Whole Foods – Minnesota
3060 Excelsior Blvd.
Minneapolis, MN 55416
612-927-8141
wholefoodsmarket.com/service/just-kids
Cooking classes
Parties and special events
Young Chefs Academy
Locations in the U.S. and Canada
877-341-1041
youngchefsacademy.com
Weekly Classes
Kindercooks
Jr. Chefs
Senior Chefs
Explore Local Schools Today
10 Responses to "Chef Training for Your Child"
Have Questions or Feedback?