A Catalog of Oklahoma's Cooking Colleges
You won't have to get your gun to learn how to cook up the best steak in Oklahoma – luckily, you'll be able to pick out the best cuts at the local market. But that doesn't mean you can't channel your inner cowboy and become an expert chef of traditional fare like steaks and bison burgers. Or you can't channel your neighbors to the southeast and try your hand at comfort food like fried chicken and grits. And after you've been trained in one of the state's many culinary programs, you'll be able to cook up any type of cuisine you like.
Getting started on your education
When you start shopping for culinary schools, keep a few things in mind: Make sure to look for a program that has a quality kitchen. After all, it's where you'll be learning most of the skills that will start you in your new career. Make sure that the school has a fully-equipped kitchen that is run by students and open to the public. Gourmet dinner nights and other events will give you the chance to hone your skills and show off budding talent. Also look for a program that is run by experienced professors and chefs. Finally, make sure your school offers job-placement services, including opportunities for internships and apprenticeships.
Once you find the school that's right for you, it should be a piece of cake to get in. Most schools only require a high-school diploma or GED for admissions, though some more selective schools will look at other factors like previous work experience in a kitchen or some sort of training through attendance at workshops or seminars. Some schools may also ask you to take an assessment of your knowledge of basic kitchen techniques.
Earning your degree
After you've been accepted, you'll be starting an accelerated track towards beginning your dream career as a culinary professional. The program typically takes only two years or less to complete – about half the time of a traditional degree. Some certificate programs are available that can be completed in one year or less, expediting your career entry even faster. And working professionals have a number of options for finishing their degrees, from night and weekend classes to online programs.
Though you can't learn how to virtually boil an egg, you can be taught how to do it virtually. Some online programs offer video instruction for learning cooking skills right in your own kitchen. Others offer courses that complement previous kitchen experience so that you may finish your degree online. Many more programs are available online that focus on management and hospitality.
Finding your dream job
Graduates are likely to find a job they love in any of the thousands of restaurants, resorts, schools, and hotels in Oklahoma. Typical food industry salaries in Oklahoma range according to position, city, and experience. A waiter/waitress will earn an annual average salary of $20,430; a Registered Dietitian earns $59,970; a first-line supervisor will earn about $30,960; a head chef will earn approximately $47,770; and a restaurant cook earns an average salary of around $24,750.
To get the edge on the competition, start networking early. Join professional organizations such as the Oklahoma Restaurant Association to meet other industry professionals and to gain access to industry events. Also attend food and wine festivals across the state to rub elbows with local celebrity chefs and other culinary professionals. You can even enter the competitions to start building your reputation, and maybe even take home a few trophies.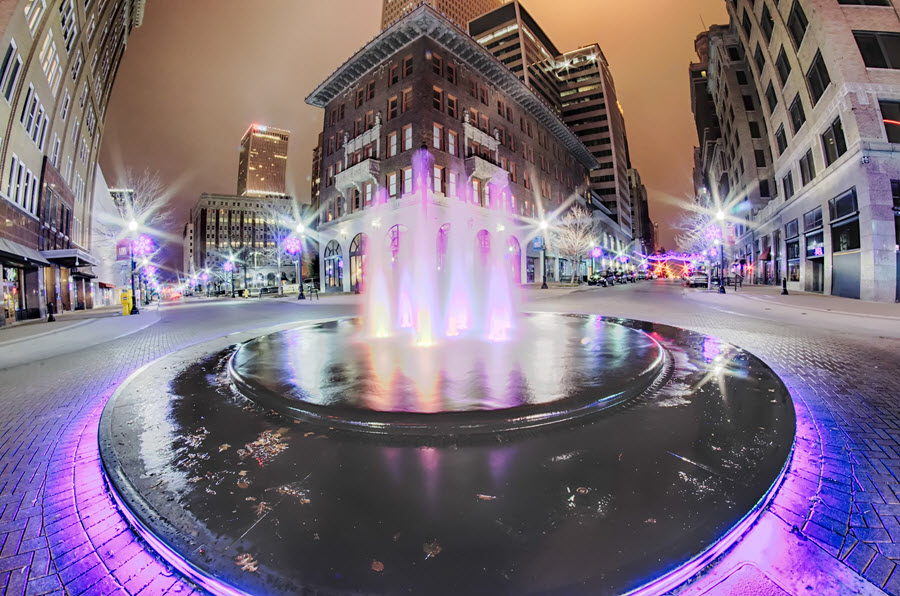 Campus-based programs
Autry Technology Center
1201 West Willow Road
Enid, OK 73703-2506
580-242-2750
autrytech.edu
Culinary Arts
No regional accreditation
Caddo Kiowa Technology Center
PO Box 190
Fort Cobb, OK 73038
405-643-5511
caddokiowa.com
Restaurant, Food and Beverage Services
NCACS Accredited
Carl Albert State College
1507 S. McKenna St.
Poteau, OK 74953-5207
918-647-1200
carlalbert.edu
Hotel Restaurant Management
HLC Accredited
Eastern Oklahoma State College
1301 West Main
Wilburton, OK 74578
918-465-2361
eosc.edu
Hospitality and Gaming Services
NCACS Accredited
Francis Tuttle Technology Center
12777 N. Rockwell Ave.
Oklahoma City, OK 73142
405-717-4900
francistuttle.edu
Culinary Arts
NCACS & OBCTE Accredited
Great Plains Technology Center
4500 W. Lee Blvd.
Lawton, Ok 73505
580-355-6371
greatplains.edu
Culinary Arts Management Assistant
Culinary Coordinator
Hospitality Service Assistant
Lodging Management Worker
NCACS Accredited
Kiamichi Technology Center
1004 Highway 2 North
Wilburton, OK. 74578
918-465-2323
ktc.edu
Culinary Arts
No regional accreditation
Meridian Technology Center
1312 S. Sangre Road
Stillwater, OK 74074-1841
405-377-3333
meridian-technology.com
Restaurant and Food/Beverage Service
No regional accreditation
Metro Technology Centers
1900 Springlake Drive
Oklahoma City, OK 73111-5240
405-424-8324
metrotech.edu
Restaurants, Food and Beverage Services
No regional accreditation
Northeast Technology Center
483 Airport Road
Pryor, OK 74362
918-825-7040
netech.edu
Culinary Arts
NCACS Accredited
Northeastern State University
600 N. Grand Ave.
Tahlequah, OK 74464
918-456-5511
nsuok.edu
Hospitality and Tourism Management
NCACS Accredited
Pioneer Technology Center
2101 N. Ash St.
Ponca City, OK 74601-1110
580-762-8336
pioneertech.edu
Restaurant, Food and Beverage Services Management
Culinary Arts Management
Culinary Arts Assistant
Prep Cook
No regional accreditation
Platt College
3801 S Sheridan
Tulsa, OK 74145
918-663-9000
plattcolleges.edu
Pastry Arts
Culinary Arts
Restaurant Management
ACCSC Accredited
Tulsa Community College
6111 E. Skelly Drive
Tulsa, Oklahoma 74135
918-595-7000
tulsacc.edu
Hospitality and Gaming Operations
OSRHE Accredited
Tulsa Technology Center
6111 E. Skelly Drive
Tulsa, OK 74147-7200
918- 828-5000
tulsatech.edu
Hospitality and Tourism
NCACS Accredited
Western Technology Center
621 Sooner Drive
Burns Flat, OK 73624
580-562-3181
westtech.edu
Restaurant, Food and Beverage Services
ACU Accredited
Online-based programs
American Culinary Federation
The ACF has over 200 chapters in the United States; its main campus is located in Florida
180 Center Place Way
St. Augustine, FL
904-824-4468
acfchefs.org
Continuing Education
Chef Certification
Chef Educators
Food Safety Certification
ACFEFAC Accredited
The Art Institutes of Pittsburgh – Online Division
The Ai has over 40 campus locations across North America, plus this online campus
420 Blvd of the Allies
Pittsburgh, PA
412-291-6200
aionline.edu
Hotel and Restaurant Management
Culinary Management
MSCHE Accredited
Ashworth College
430 Technology Pkwy
Norcross, GA
770-729-9400
ashworthcolleg.edu
Professional Gourmet Cooking and Catering
Hotel and Restaurant Management
DETC Accredited
DeVry University
This University has 90 campus locations in 26 different states
One Tower Lane
Oakbrook Terrace, IL
1-866-338-7934
devry.edu
Hospitality Management
HLC Accredited
eCornell
eCornell is an online program and subsidiary of Cornell University, located in New York
950 Danby Road, Suite 150
Ithaca, NY
607-330-3200
ecornell.com
Leadership and Strategic Management
Project Leadership and Systems Design
Financial Management
Management Essentials
Human Resources Management
Hospitality and Foodservice Management
Certificate in plant-based nutrition
HRCI and PMI Approved
Johnson and Wales University
JWU has campuses in Providence, Charlotte, and North Miami; its largest campus is in Rhode Island
8 Abbott Park Place, Providence, RI 02903
1-800-DIAL-JWU
jwu.edu
Baking & Pastry Arts and Food Service Management
Culinary Arts and Food Service Management
NEASC Accredited
Le Cordon Bleu
The group of Le Cordon Bleu Schools have 17 campus locations in the United States
1 800 457-CHEF (2433)
chefs.edu/online/
B.A. Culinary Management
ACCSC, CCSC & ACICS Accredited
New England Culinary Institute
NECI has two campuses in Vermont; its main campus is in Montpelier
56 College Street
Montpelier, VT 05602
877-223-6324
neci.edu
Hospitality and Restaurant Management
ACCSC Accredited
Penn Foster Career School
925 Oak Street
Scranton, PA 18515
570-343-9635
pennfoster.edu
Hotel and Restaurant Management
Catering
DETC & CHEA Accredited
Sullivan University
SU has three campuses in Louisville, Lexington and Fort Knox. The main campus for its Global e-Learning program is located in Louisville
2100 Gardiner Lane
Louisville, Kentucky 40205
502-413-8830
1-866-755-7887
sullivan.edu
Beverage Management
CCSACS & ACF Accredited
University of Phoenix
This University has campuses in over 40 states, and two locations in Canada
4602 East Elwood Street
Phoenix, AZ
480-968-0587
phoenix.edu
Hospitality, Travel and Tourism
HLC Accredited
Explore Local Schools Today
Have Questions or Feedback?