Types of Cooking Degree Programs in Alabama
Alabama is an icon of the south, with TV shows and rock anthem singing its praises in the heartland. Central to Southern culture is soul food: grits, fried chicken, greens, mashed potatoes, macaroni and cheese, pecan pie. Food has helped shape its regional identity.
Aspiring chefs have a rich tradition to draw from, and culinary schools across the state provide them the basic training to learn how to make the classic, as well as how to push forward into other culinary styles and into creating their own.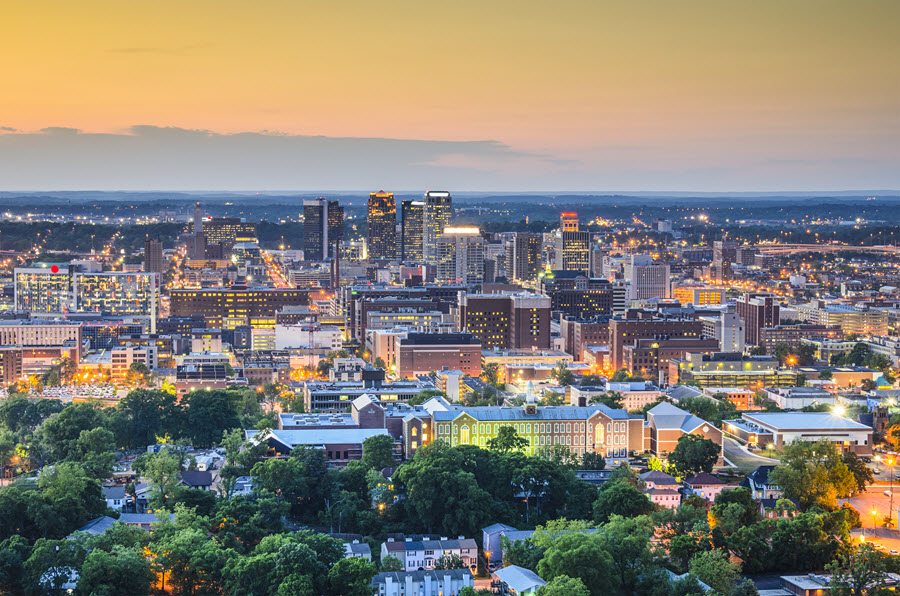 Choosing a program
There are some key elements you should look for in any culinary school you consider. First, the school should have a professional training kitchen that is fully equipped and run by students. It should be run in conjunction with a student restaurant or public dinner nights. Any program is only as good as its professors, and you should look for teachers that are experienced or who have worked as professional chefs. Finally, make sure the program has career support services, including counseling, placement services and opportunities for internships and apprenticeships.
Getting into a culinary school should be the easiest part of the process. Most programs only require that you have a high-school diploma or GED for admissions. If the program is more selective, students may be asked to take a test of kitchen aptitude. Work experience and training or attendance at conference or workshops may also be considered
Getting the Degree
Degree options offer working adults and those eager to get started on their culinary careers some flexibility. Most culinary degrees can be completed in about two years or less – about half the time of a traditional degree. Hospitality and restaurant management programs can take up to four years, depending on the degree. Many more options are available to fast-track a culinary degree, with some schools offering certificates or diplomas that can be completed in about a year or less. Night and weekend classes, summer sessions and online courses offer more options for finishing a program in less time.
More and more schools are offering online courses, and most focus on hospitality and restaurant management degrees. However, some schools do offer options for completing a culinary degree online. Video instruction is available in some cases, and other programs offer courses to compliment previous lab or kitchen experience to finish your degree.
Starting Your Career
Culinary professionals should be in demand over the next several years, as the National Restaurant Association predicts significant job growth – about 20 percent by 2019. Your success will depend on an umber of factors. Salary expectations will be influenced by where you work in the state – either a rural or metropolitan area – how much experience you have, and what type of position you take. A waiter/waitress will earn an annual average salary of $19,560; a Registered Dietitian earns $56,050; a first-line supervisor will earn about $32,140; a head chef will earn approximately $49,210; and a restaurant cook earns an average salary of around $24,360.
2019 wage data sourced from the BLS Occupational Outlook Handbook. Current wage conditions in your area may vary.
Often, finding a job or getting a promotion depends in large part on who you know. So stay competitive by making sure you know the right people. Join professional networks such as the Alabama Restaurant & Hospitality Association to meet other industry professionals, as well as to gain access to insider jobs, conferences and other industry events. Attending food and wine festivals will also give you the opportunity to meet industry professionals and local celebrity chefs. While you're there, you can also enter food competitions to show off your skills to prospective employers – and maybe prospective fans.
Campus-based Programs
Alabama A & M University
4900 Meridian St.
Normal, AL 35762
256-372-5245
aamu.edu
Nutrition and Hospitality Management
CCSACS Accredited
Faulkner State Community College
1900 Highway 31 South
Bay Minette, AL 36507
251-580-2100
faulknerstate.edu
Culinary Arts
Dietary Manager
Food and Beverage Management
Hospitality Administration/Management
CCSACS Accredited
Jacksonville State University
700 Pelham Road North
Jacksonville, AL 36265-1602
800-231-5291
jsu.edu
Hospitality and Culinary Management
SACS Accredited
Jefferson State Community College
2601 Carson Road
Birmingham, Alabama 35215
(205) 853-1200
jeffersonstate.edu
Culinary Arts
Hospitality Management
CCSACS Accredited
Shelton State Community College
9500 Old Greensboro Road
Tuscaloosa, AL 35405
205-247-SSCC
sheltonstate.edu
Culinary Arts
Commercial Food Service
CCSACS Accredited
Trenholm State Technical College
P.O. Box 10048
Montgomery, Alabama 36108
334-420-4200
trenholmstate.edu
Culinary Arts
ACCOE Accredited
Tuskegee University
1200 W. Montgomery Road
Tuskegee Inst, AL 36088
334-727-8011
tuskegee.edu
Food and Nutrition Science
CCSACS Accredited
University of Alabama
Tuscaloosa, AL 35487
205-348-6010
ua.edu
Food and Nutrition
CCSACS Accredited
Virginia College in Birmingham
488 Palisades Blvd.
Birmingham, AL 35209
205-802-1200
vc.edu/locations/birmingham/
Culinary Arts
ACICS Accredited
Online-based Programs
American Culinary Federation
The ACF has over 200 chapters in the United States; its main campus is located in Florida
180 Center Place Way
St. Augustine, FL
904-824-4468
www.acfchefs.org
Continuing Education
Chef Certification
Chef Educators
Food Safety Certification
ACFEFAC Accredited
The Art Institutes of Pittsburgh – Online Division
The Ai has over 40 campus locations across North America, plus this online campus
420 Blvd of the Allies
Pittsburgh, PA
412-291-6200
www.aionline.edu
Hotel and Restaurant Management
Culinary Management
MSCHE Accredited
Ashworth College
430 Technology Pkwy
Norcross, GA
770-729-9400
www.ashworthcolleg.edu
Professional Gourmet Cooking and Catering
Hotel and Restaurant Management
DETC Accredited
DeVry University
This University has 90 campus locations in 26 different states
One Tower Lane
Oakbrook Terrace, IL
1-866-338-7934
www.devry.edu
Hospitality Management
HLC Accredited
eCornell
eCornell is an online program and subsidiary of Cornell University, located in New York
950 Danby Road, Suite 150
Ithaca, NY
607-330-3200
www.ecornell.com
Leadership and Strategic Management
Project Leadership and Systems Design
Financial Management
Management Essentials
Human Resources Management
Hospitality and Foodservice Management
Certificate in plant-based nutrition
HRCI and PMI Approved
Johnson and Wales University
JWU has campuses in Providence, Charlotte, and North Miami; its largest campus is in Rhode Island
8 Abbott Park Place, Providence, RI 02903
1-800-DIAL-JWU
www.jwu.edu
Baking & Pastry Arts and Food Service Management
Culinary Arts and Food Service Management
NEASC Accredited
New England Culinary Institute
NECI has two campuses in Vermont; its main campus is in Montpelier
56 College Street
Montpelier, VT 05602
877-223-6324
www.neci.edu
Hospitality and Restaurant Management
ACCSC Accredited
Penn Foster Career School
925 Oak Street
Scranton, PA 18515
570-343-9635
www.pennfoster.edu
Hotel and Restaurant Management
Catering
DETC & CHEA Accredited
Sullivan University
SU has three campuses in Louisville, Lexington and Fort Knox. The main campus for its Global e-Learning program is located in Louisville
2100 Gardiner Lane
Louisville, Kentucky 40205
502-413-8830
1-866-755-7887
www.sullivan.edu
Beverage Management
CCSACS & ACF Accredited
University of Phoenix
This University has campuses in over 40 states, and two locations in Canada
4602 East Elwood Street
Phoenix, AZ
480-968-0587
www.phoenix.edu
Hospitality, Travel and Tourism
HLC Accredited
Explore Local Schools Today
Have Questions or Feedback?